'Mr. Waynedale' steps down as Bears' football coach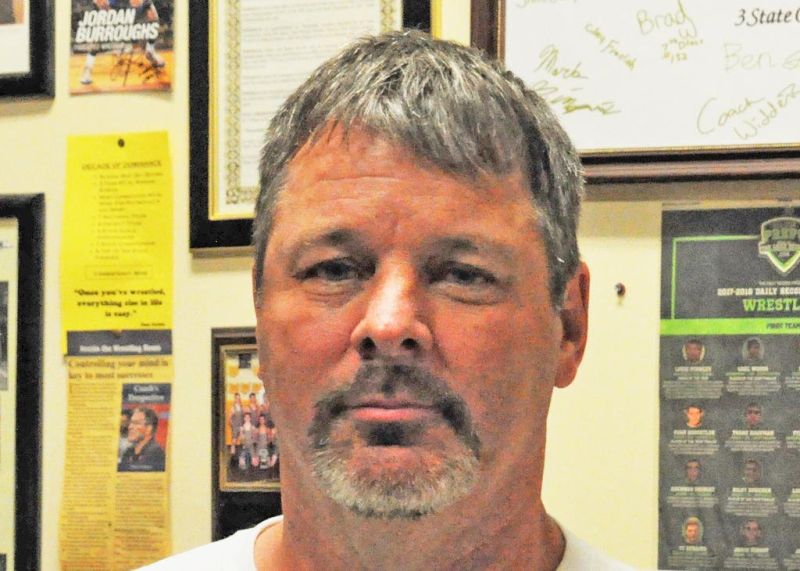 A few thoughts from the week in sports …
When one thinks of Waynedale sports, the name that probably comes to mind first is Louie Stanley.
For me, that's definitely the case. It's because Stanley has been at the school longer and accomplished more than any coach in Golden Bears' history.
Stanley has decided it's time to end the football chapter of his time at the school. He'll remain the wrestling coach and an OWE teacher with no plans of stopping any time soon.
"Obviously, the time commitment to be a head coach in two sports for the last five years was huge," the 54-year-old Stanley said. "It was definitely trying on my family, especially my wife, Lisa."
Stanley, who was inducted into the Wayne County Sports Hall of Fame in 2004, starred on Waynedale's Div. IV Final Four football team in 1985. He also went to state as a wrestler.
All totaled, he's been involved in coaching football for 25 years including the last five as head coach.
After taking over a program that went 1-9 in 2016, Stanley compiled a 16-36 record. That included 13-19 the last three years, highlighted by a 6-6 record and upsetting No. 4 seed Indian Lake in the 2021 playoffs.
"It was a lot of fun," Stanley said. "I will definitely miss Friday nights, and I'll miss the kids the most. The relationships I was able to have with the kids really meant a lot. Doing things like the senior campout, 7-on-7s in the summer, we spent a lot of time together even outside of the season."
One thing Stanley won't miss is the extra administrative work that comes with being a football head coach. However, the man who bleeds Brown and Gold is happy he'll still be working in the high school to help the new coach in any way possible.
"I'm glad that there is some good talent coming back for the new coach, and I'll help in any way that's needed," he said.
Waynedale athletic director Chris Lapish called Stanley the epitome of Waynedale athletics.
"Louie went to school here, was an athlete and has coached here for many decades," Lapish said. "For five years he really sacrificed to be the head coach in football and wrestling. I can't say enough about how hard he worked and his dedication. I think the football team is in a better place now."
Stanley is best known as a wrestling coach, and earlier this month the 29-year head coach won his 500th career dual meet, which is fourth best in OHSAA history. His current team is once again loaded and hoping to extend its Wayne County Athletic League championship streak to 11 straight. They'll host the league meet on Feb. 19.
Stanley has several years to go to reach 35 as a teacher and even start thinking about retiring. He hasn't really thought much about retiring as wrestling coach but takes great comfort knowing he has outstanding proteges who could all take over in longtime assistant Nick Widder and sons/assistant coaches Brenden and Reid.
Earlier this month Stanley became just the fourth OHSAA wrestling coach to win 500 dual meets. His many achievements also include winning the 2012 Div. III state individual tournament.
Interested applicants for the football head coaching position can email Lapish at soea_clapish@tccsa.net or mail Waynedale High School, 9050 Dover Road, Apple Creek, OH 44606.
Basketball races tighten up
The WCAL and Ohio Cardinal Conference boys basketball seasons have been a lot of fun to follow. The parity between the teams is near an all-time high.
Norwayne's 80-67 win over visiting Dalton on Jan. 21 really shook up the WCAL.
The Bulldogs (10-3, 7-1) and Smithville, which beat Chippewa 59-41, moved into a first-place tie, which will be broken on Jan. 28 when the two meet in Dalton. Norwayne (12-2, 6-2) kept its title hopes alive and set up a huge showdown with Smithville in Creston on Feb. 11.
On the same night, Northwestern beat Rittman 94-86 in double-overtime.
It was small-school basketball at its best.
There's not a dominant true post player in the WCAL as the teams are led by guards and forwards.
Dalton's Wenger brothers — Jalen (26.6 ppg) and Braylon (19.6 ppg) — are arguably the best duo in the league. Norwayne's guard trio of Isaiah Portis (18.9 ppg), Justin Rupp (15.2 ppg, 8.4 rebounds) and Ethan Hann present a matchup nightmare for opponents.
Smithville's Carter Piatt (18.4 ppg) and Carter Fath (15.2) have been shooting stars.
Dalton's Kaleb Reed, Norwayne's Brian West and Smithville's Corey Kauffman have all done an excellent job dealing with the ups and downs of coaching at the high school level.
The OCC has been even less predictable, where just about any team can, and has, beaten anyone else on a given night.
Ashland defeated Madison 77-70 in overtime on Jan. 21 to take over sole possession of first place in the OCC but had big man Luke Juruevic go down with what was feared to be a serious knee injury. The Arrows, who are led by reigning OCC MVP Luke Denbow, improved to 11-4 (6-2 OCC).
West Holmes swept Wooster this season for the first time since 2014, and the Knights own a 6-6 (3-4) record. West Holmes' Channer Wells (17.4 ppg) and Blake Morrison (4.3 assists) lead a balanced team that's fun to watch.
Wooster (6-9, 4-5) has received strong play from Drew Dossi (16.9 ppg, 4.5 assists) and Micah McKee (15.3 ppg, 11.4 rpg) to lead the way.
Parting shots
Lots of people who follow WCAL sports have been wondering who will be the next Northwestern football coach.
Mike Thut stepped down in December after a remarkable run as the Huskies' coach, compiling a 119-108 record in 22 seasons.
Thut inherited a program that had struggled mightily and guided the Huskies to new heights.
The Huskies had never reached the playoffs before Thut's tenure but went to the postseason seven times. They won WCAL titles in 2001, 2006, 2007 and 2013.
Northwestern athletic director Anita Jorney-Gifford said there were seven applicants to be the next Northwestern coach. One candidate withdrew, and the remaining six were all given interviews.
Superintendent Jeff Layton said the finalists are Joseph Cardinal and Gary Edwards.
Cardinal has experience as a past varsity football coach and is a teacher at Triad Local Schools in Champaign County. Interestingly, Layton's first administrative job was in the Triad district, and he still has many friends there.
Edwards is a longtime Northwestern teacher, former high school assistant coach at NHS and has led the middle school football program since 2001.
"We anticipate making an offer by the end of this week, with the board of education possibly making the official hire Jan. 31," Layton said.
—The NFL divisional round playoff games were the best I ever remember. All four games came down to a walk-off field goal or touchdown in overtime.
The NFL does the best job of any professional league of achieving parity between its teams, and that keeps fans coming back week after week and sitting on the edges of their seats or jumping to their feet.
I can't wait to see what happens in the conference championship games: Bengals vs. Chiefs and 49ers and Rams.
While watching the games as a die-hard Browns fan, it's also sad to think how much work Cleveland has to go to get to this level. The Browns' passing and kicking games have a long ways to go.
Aaron Dorksen can be emailed at aarondorksen24@gmail.com. Follow him on Twitter at @AaronDorksen.