A few surprises in May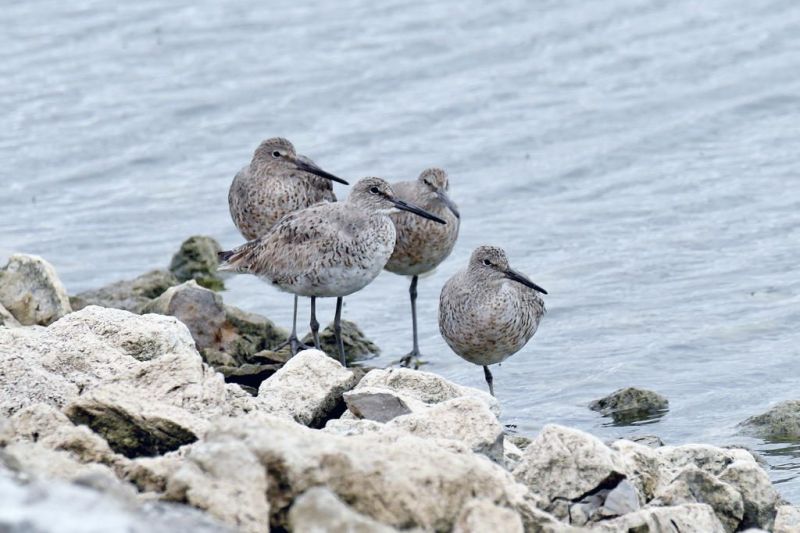 May started out with a few surprises. As expected, the orioles and rose-breasted grosbeaks descended on feeders all over town. One day we hadn't seen a single Baltimore oriole, and the next day there were six of them in the yard. A nice flurry of warblers had us thinking the big days were almost here. However, the early arrivals soon moved on, and by May 6 there were few migrants to be found.
In the meantime other birds took the spotlight. A friend called one morning, saying she saw an American avocet in a flooded field on her way to work south of Goshen. It took about 20 minutes to drive to the location, and sure enough there was one lone avocet in a small flooded patch of a large field, quite close to a busy highway. We later learned it stayed there all day, allowing other birders to see it as well.
A second call alerted us to a possible willet at the Wakarusa Wastewater Treatment Facility, a well-known birding hotspot. When we arrived, it was already mid-afternoon, and at first we couldn't see any shorebirds at all. Eventually we found the four willets, sleeping among the rocks at the edge of one of the impoundments. On the ponds were a few bufflehead, ruddy ducks and northern shovelers.
The day was warm and the wind from the southwest. Although it was already May and past the prime broad-winged hawk migration, I decided to spend some time looking for raptors. Before long a northern harrier showed up, followed by two ospreys, all of them soaring quickly off to the northeast. Next were two broad-wings and an adult bald eagle. It was getting exciting. About that time a group of local birders arrived on their bikes, looking for the willets, but they gladly joined the raptor watch. More broad-wings showed up, plus a peregrine falcon, a fast-moving merlin and two more bald eagles.
Four more harriers, two more ospreys and several sharp-shinned hawks kept us busy, followed by another peregrine that briefly circled directly overhead. The number of broad-wings grew to 22. Most surprising were the third and fourth peregrine falcons. By this time it was almost 7 p.m., and we were ready to head for home. One more bird came out of the south, flying fast right over our heads. It was another merlin. This was definitely the best raptor watching any of us had experienced in Northern Indiana.
The excitement continued on May 4 when a local birder found four Smith's longspurs in a corn-stubble field, only a few miles from our place in Goshen. Before long there were seven of us walking through the field, hoping to find the rare longspurs. Unfortunately, three hours and many miles later, we had to give up. The longspurs were gone.
On the morning of May 6, I was getting ready to leave the house at 6 a.m. when I heard a whip-poor-will calling from the woods across the street from our home in Goshen. That was quite a surprise to say the least. That evening the whip-poor-will again called just before dark. May is certainly a wonderful time of year.
Good birding!
Email Bruce Glick at bglick2@gmail.com or call 330-317-7798.