A great kiskadee delights many birders in Northeastern Indiana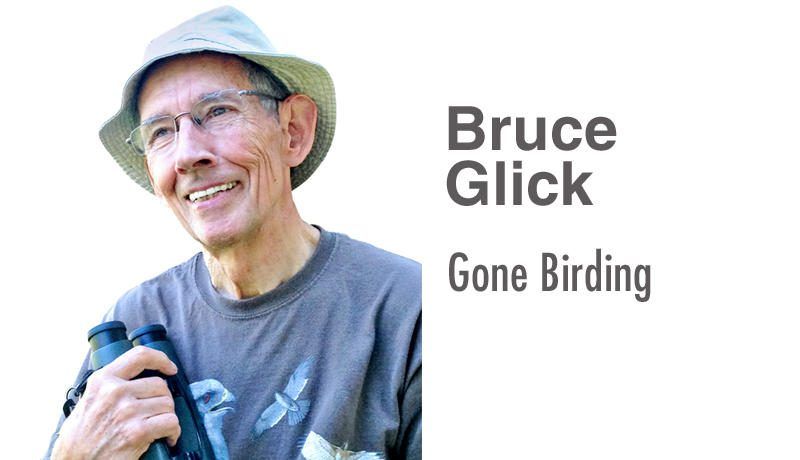 I love these kind of rare bird stories. Gary Keister, a Goshen birding friend, called me last week to say he was taking a group of birders down to Albion, Indiana to look for a great kiskadee. I asked how he heard about this mega-rarity. It seems a nonbirder family noticed a very noisy and conspicuous bird around their property. Not knowing what it was, they finally took a photo of the bird. Eventually the photo showed up on a Facebook birding page. That started a stampede, once it was clear the owners welcomed visitors.
The location, just south of the small town of Albion, was only 2 or 3 miles from where Gary had been the day before to visit his father. Since Gary's car was already full, Bob Guth and I headed down to the location at the same time the following morning. When we arrived, there were already a dozen cars there and birders stationed in several places close to the marshy pasture and open woodland. For several hours we listened for the loud calls of the kiskadee but only heard the local bluebirds, blue jays, woodpeckers and other expected species.
Finally we needed to head home, but some people stayed all day and were rewarded with a brief visit around 5 p.m., when the kiskadee stopped by briefly, evidently on its way to a roost for the night. For at least the next five days, birders were sometimes able to hear and see the rare visitor, usually briefly in the morning. A few times it stayed around for 30 minutes or so.
Great kiskadees are not migratory. They tend to stay in the same area all year. We have seen them in all the countries of Central America, and they also are common throughout most of South America, except for the southern part of Argentina and some of the Pacific coastline. Here in the United States, they are resident only in South Texas. There are just a few records away from South Texas.
When I looked in eBird for such records, the one location that stood out was in Ontario. On Sept. 8, 2018, a great kiskadee was located and photographed at Rondeau Provincial Park in Chatham-Kent, Ontario. The bird was then seen by many, many birders from Sept. 8 until at least Dec. 9, three months in all. It seems quite possible that this same bird finally left Ontario, only to find another location in Indiana that seemed like a good place to stay for awhile. I don't suppose we will ever know for sure.
With the unseasonably cold and snowy weather in November, the tropical kiskadee has already survived weather that is vastly different from South Texas and Latin America. We'll see if it stays into the new year. I may even head back over to Albion in the morning. If you want to see lots of photos of the kiskadee in Ontario and in Indiana, look online for eBird, click on the species map, type in great kiskadee and zoom in on the locations you want to see.
Holiday greetings to each of you.
Email Bruce Glick at bglick2@gmail.com or call 330-317-7798.