Chimney swifts and an unusual owl visit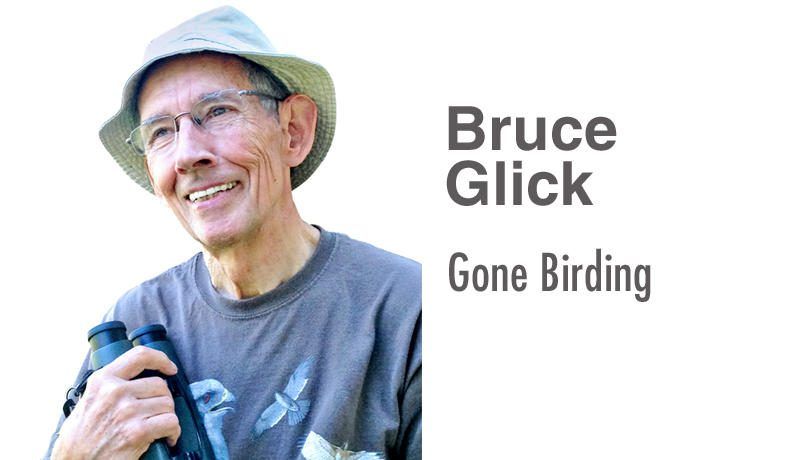 I'll start with the owl. Here in our wooded neighborhood on the south side of Goshen, we don't hear owls calling on any regular basis. However, less than a mile away in the Larry Beachy Memorial Forest, barred owls have nested regularly for years. We sometimes hear them when walking the trails through the woods and along the Elkhart River. Only a couple times in the six years we have lived here have the barred owls called close enough for us to hear them at home.
Strangely enough I have not heard a single eastern screech owl here in Goshen. I'm sure there are screech owls here, but for some reason they seem to be hard to find. When we lived in Goshen in the 1970s, there was a resident screech owl not far from where we now live. On big days in May, the best way to find a screech owl is to know where one is living. Recently that has been in downtown Lagrange, about a block from the square.
The other evening while I was getting ready to go to bed, I thought I heard an owl. Because it was a cold evening, all the windows were closed, and the bird bath was still gurgling outside. I opened the sliding glass door in the kitchen, and sure enough a great horned owl was hooting in a tree close to the house, probably in the huge oak in the neighbor's yard.
At that time of night in a residential neighborhood, I decided not to take a bright flashlight outside to try to see the owl. A few minutes later the owl moved to a tree on the other side of the house. The calling continued for five minutes or more.
I haven't heard a great horned owl in Goshen before, although it shouldn't have surprised me. Where this one came from is a mystery. My best guess is the owl was hunting and just happened to stop at our place. I'm not sure why it was calling repeatedly in October.
This is the time of year when my friend Bob Guth spends part of each evening checking out the chimney swift situation in Goshen. I help him when I can. This involves about 30-45 minutes each evening at dusk. In downtown Goshen we know of at least five or six chimneys that are used by swifts. During the first half of October, the swifts are gathering, getting ready to leave the area when the insect population dwindles. Bob has been doing this for years, but he still is finding new chimneys that are being used.
A friend of ours called the other evening, saying he saw over 70 swifts going into a chimney across from the Kroger store. The next night I watched that chimney while Bob was checking one of the "regular" chimneys near the square in Goshen. I saw around 40 swifts go into the Kroger chimney, but there were many more downtown.
The Lincoln Avenue chimney had over 200 swifts for several nights in a row and then, surprisingly, was not used the next night. Meanwhile, several blocks away at the Maple Indian chimney, Helen and I saw 228 swifts funnel into the relatively small chimney. The Kroger site continued to have about 50 swifts for several nights in a row, but then Bob discovered over 80 swifts were using a nearby chimney at Quality Glass.
The swift numbers seem to diminish between Oct. 10 and 15, depending on the weather. This year there were still over 250 on Oct. 13. We'll see when the last ones leave, probably later this week. Our northern Indiana birding guide states the peak for swifts is late September with the normal departure date on Oct. 9. The latest swift ever reported was on Oct. 29.
On a different note, I plan to write this column twice monthly, normally on the first and third weekends of each month. If something unusual comes up, there is flexibility to add a column now and then. Thanks very much to you, the readers, for your support and encouragement over the years. I continue to enjoy hearing from you, and I am always open to suggestions for topics to write about.
Good birding!
Email Bruce Glick at bglick2@gmail.com or call 330-317-7798.