A tanager was coming to the feeder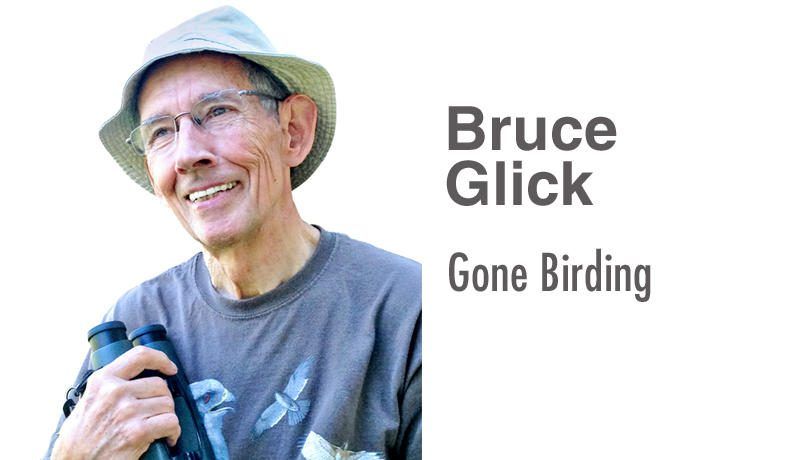 It was an interesting week to say the least. I got a call from a friend saying a male western tanager was coming to a feeder in South Bend. The homeowners were welcoming birders from 5-6:30 p.m., and it was already 4 p.m.
It took about an hour to get to the location, a quiet street with expensive homes and a lovely stream behind the house. There were eight or more birdfeeders in the yard and at least 20 people watching the feeders.
As soon as we got out of the car, one person said the tanager was just at the feeders. Unfortunately it had flown up into a tall tree and then disappeared. For the next 30 minutes we waited for the tanager to return while also checking the surrounding area.
At one point three birders arrived on bicycles, having biked two hours including right through the city of South Bend. They ended up on the next street and had briefly seen the tanager from there. Evidently the bird had been visiting a feeder over there.
About that time Annie, another Goshen birder, located the tanager high in a tree across the street from us. We were able to watch it for the next 10 minutes, although it didn't come back down to the feeders while we were there.
In Arizona this winter we didn't see any western tanagers because the closest wintering locations are in Mexico. This tanager arrived in Northern Indiana in April, having flown from Mexico or Central America, ending up far to the north and east of the normal western tanager summer range. Amazing.
Meanwhile a group of birders from Holmes County had an amazing raptor-watching day at Conneaut, along Lake Erie near the Pennsylvania line. This was on Thursday, April 18. The conditions were perfect with south wind and enough cloud cover to make it easier to see the hawks as they came by, heading northeast along Lake Erie.
This is the time to see broad-winged hawks, and they saw lots of them, a total of 4,241 for the day. This is the second highest count in the 30 years or so birders have been going to Conneaut. The record was 5,687 broad-wings on April 24, 2009.
Sharp-shinned hawks also kept the birders busy with over 562 for the day. Other birds included 50 ospreys, 36 northern harriers, 82 kestrels, 11 merlins, two peregrine falcons and one golden eagle. The best birds of the day were two northern goshawks, always very rare in Ohio. The biggest surprise might have been hearing and seeing three fish crows come by.
A few days later I drove to Maumee Bay State Park, east of Toledo. The wind was out of the south and the temperature in the 60s. Surprisingly we didn't have a big flight of raptors, although we did see ospreys, harriers, sharpies, broad-wings, turkey vultures and red-tailed hawks. There was a nice flight of blue jays and blackbirds.
I especially enjoyed watching a dozen American white pelicans as they soared lazily overhead. Lots of double-crested cormorants had arrived, and on Lake Erie there were still at least 2,000 scaup. It's always a lot of fun to spend time at Maumee Bay, especially this time of year when the trees are starting to leaf out and birds seem to be everywhere.
Good birding!
Email Bruce Glick at bglick2@gmail.com or call 330-317-7798.