Shining a light on winter trail travel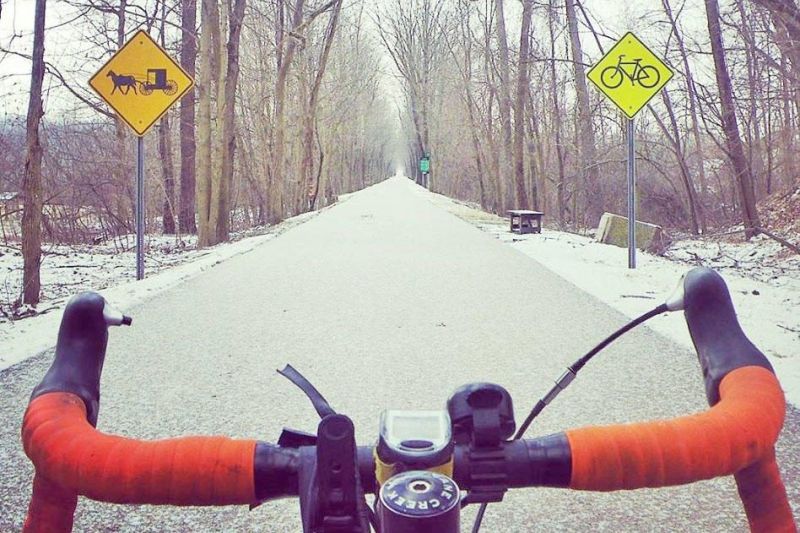 Despite the short days and cold temperatures, there are plenty of interesting things to encounter in traveling the trails at this time of year.
Running, walking or riding a rail trail in the wintertime offers a chance to largely have the place to yourself. The population of travelers plummets when temperatures plunge, and that can offer unique opportunities for the hardy few that venture out regardless of the weather. Wildlife that may otherwise shy away from the trail corridor for fear of human contact softens its stance a bit as the commotion and clatter evaporate in the cold. I've ridden right up on everything from raccoons to red fox in the quiet still of a winter's morning.
Close contact with birds is a great possibility at this time of year. Cardinals in particular seem to be unalarmed by close approach. The deep-red plumage of our state bird set against a backdrop of new fallen snow is one of the most striking contrasts to be found in an Ohio winter. In beholding this beauty, one might do well to ignore the fact that the birds congregate in number along the Holmes County Trail in particular because of the delicious, nutritious, seed-laden "road apples" left behind by horses. For the cardinal, along with the occasional black-capped chickadee and dark-eyed junco, the trail is a miles-long bird feeder.
Nighttime winter travel on the trail offers even more excitement. I've been close enough to deer to nearly slap them on the behind. I've ridden beside a gray fox at full speed and even been buzzed by an owl. That encounter very nearly spooked me into the rough at the side of the pavement. If you've ever thought of hitting the trail for a night hike, this is the perfect time of year to do it, as you can head out right after suppertime to find pitch-black darkness.
A tip for the traveler: carry a good light that can be seen from front and back and wear reflective clothing. You may steep yourself in the darkness all you like, but if you see a guy on a bicycle approaching, please make sure you light yourself up. I've had a handful of close calls in the past. Even now that I'm sporting enough forward lighting to land an aircraft, it's still important to know there's someone ahead.
Another great lesson I've learned the hard way in the course of my daily bicycle commute, which at this time of year includes at least one leg either before sunrise or after sunset, is to take along a back-up light. I'm here to tell you a smartphone flashlight might help you get the key in the slot at your back door, but it doesn't do much more than show you where the hand that's holding it should be gripping the handlebar as you are riding a bicycle down the trail.
While on the subject of bicycle lighting, I can say unequivocally we are now awash with fantastic opportunities to light up on both road and trail. Lighting technology has advanced rapidly in the past 10 years. (A true punster might say "at the speed of light.") And we now find ourselves with a whole buffet of products from a number of different manufactures.
And while I have my favorites, I won't name names here. I will tell you, however, that if you intend to use the light often, then go for a USB rechargeable unit. That will enable you to recharge darn nearly anywhere there's a wall socket, dashboard slot, solar panel or desk computer. It used to be that the savings in batteries alone justified the extra expense of the lithium ion power pack in a rechargeable unit, but the technology has now arrived at the point where there's little if any difference in initial purchase price.
Where one light is good (mounted either on the handlebar or helmet), two lights (one in each location) is fantastic. The steady forward beam on the bars will always show you where you're headed, but the light on your helmet illuminates exactly where you're looking. Trust me: You'll understand the true utility of the latter the first time you're being chased by a barking dog. Bicyclists would always do well to run at least two tail lights as well: one on the seat post and one on the helmet.
Now that I've gotten you all fired up about venturing out into the cold, dark night, I'll hope to see you — note that I didn't say "hope to run into you" — out on the trail soon.
Remember, if you have questions about the natural world or comments on this column, email the Rail Trail Naturalist at jlorson@alonovus.com.