Bring out the dust mop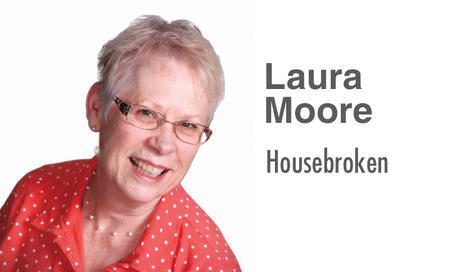 Most of our new place has wood floors that are partial to being dust mopped. They seem to love the softness of the mop and give up their grime willingly. They do not like being vacuumed and make loud, painful noises when they are. So to keep our house and her floors happy, we bring out the dust mop when a bit of tidying is needed.
Our dogs prefer the dust mop too. They seem to think it is a small animal checking out their house. Because they try to catch the mop and make off with it, it is best if they are put behind closed doors when cleaning day comes.
Once the cleaning is finished and the mop hung up, the dogs are released to search for that invasive creature. They totally ignore the mop hanging in the laundry room. I guess they think we killed it and hung it up to dry.
What is truly amazing is what is revealed when the mop is pushed under the furniture. We discovered where our little dog, who steals treats from the big dog, hides them. She had gathered quite a trove in just a week.
The big dog had pushed his smaller toys under the breakfront in the dining room to hide them from the little dog's thieving tendencies. He was thrilled to have them back if just for a few minutes.
The little dog grabbed those treasures she could manage and took off with big dog in fast pursuit. Our house loves these situations; they make her laugh.
Tomorrow is dust mop day, so who knows what that mop will reveal? We rather enjoy the ensuing fun, as long as what is revealed is not a dead critter. Though it would thrill our dogs, we and our house would not be happy.