It's a rare thing to get 2 weeks off a year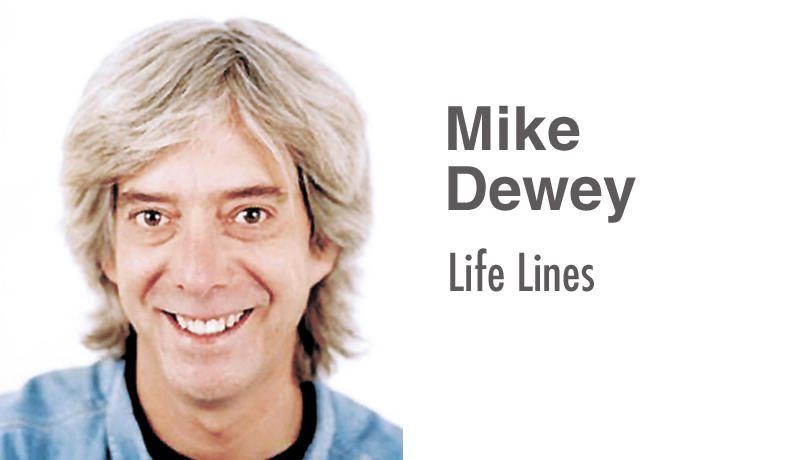 I must be doing something wrong.
When I was a kid, summers meant three months off, the whole Alice Cooper's "School's Out" vibe, 90 days and nights stretching out like a wall to be spray-painted however I wanted.
Now, as I approach late middle age, it's a rare thing to get two weeks off a year, and that's only if I'm incredibly lucky.
And none of those 14 days ever seem to fall in the summer.
I work all the time, and it's not because I want to. I have to.
When I was making a living in newspapers, it never occurred to me I was part of the last-gasp death rattle of print journalism.
To me it was as essential as some of the other pillars of career-building, right up there with being a teacher or a baseball player.
I never had much interest in business.
In high school about the only reason I passed economics was the fact I found the Xeroxed master of the final exam in the trash can and aced the thing.
Of course I ran off copies for my friends and charged a flat rate of 20 bucks apiece, thus reaching the zenith of my business acumen.
The same thing went for science.
I just couldn't seem to grasp the essentials. Oh, I did OK in chemistry and biology, but I knew physics was lurking out there just waiting to devour my brain cells for no good reason.
And math? I could compute my batting average, which was major.
Beyond that, all those numbers just floated around like Alpha Bits in warm skim milk, unappetizing and impossible to digest.
So where did that leave me?
How was I going to make it in a world that offered few options for an English major?
This, thankfully, ceased to be a problem once I'd graduated from college because that very summer — this would have been right around the time Elvis died — I was asked to join a softball team.
Now you're probably thinking, "Huh?"
And that's the proper response.
College grads traditionally have their career paths planned, if even in the faintest brush strokes, owing to their scholastic dedication to a field of study that funnels them into lots of lucrative possibilities.
Conversely my years at Notre Dame were spent on the outskirts of academia, far from the job factory, and that turned out to be just fine, though my girlfriend's parents weren't impressed and suggested rather emphatically she set her sights a little higher.
But before she dumped me, we spent a few weeks together in my little town, she working part-time in a tavern, me cutting grass for the parks department. Lots of things happened that summer, most of them pleasant, some volatile and all of them pointless.
She dumped me before she'd begun her junior year in earnest.
But by that time I'd taken a position with the local newspaper, covering sports on a week-to-week basis. I was a stringer.
This happened because a high-school friend who interned there that summer suggested my name when it came to filling out the rag-tag roster of a softball team the sports editors were going to enter in the city tournament.
Thus, because I could play first base pretty well and could hit the occasional line drive into the gap, I got the chance to write, driving my 1969 Chevy Impala to rural high schools on Friday nights and watching as kids played football surrounded by corn fields.
I loved it all.
No place says goodbye to summer better than a small-town stadium packed to the rails on a September evening, the band and the cheerleaders, the players and the coaches and everyone there.
By the winter of 1977, I was promoted to full time, and by that next fall, I was running the sports department.
And here's the thing about that job.
You could still get your summers mostly off, if you managed your extra-curricular activities properly.
Allow me to elaborate.
In 1978, I think it was, I could run the sports department while also managing a Pony League baseball team and playing for a church league softball team. Additionally I was getting ready to start in a weekly bowling league, was playing a lot of golf and had begun seeing a kind-hearted woman who would somehow put up with me for the next 10 years.
All this and putting out a paper every day. Well, not Sundays.
We didn't publish on the Lord's day.
It was a day of rest and reflection, a time to count one's blessings.
Forty years ago, working for a family-owned newspaper in your hometown was the best job in town. You could put your kids through college setting type, building pages, selling ads or writing about council meetings and football games.
You became part of the fabric of life.
You felt valued.
With that, though, came responsibility, the dictum to act as a professional, even when you weren't in the building, especially when you were in public.
Some failed to act properly and, well, got edited out of the story.
Most of us thrived, though, and when something cataclysmic like the blizzard of 1978 occurred, we'd do everything we could to get downtown so there were enough of us to put out a paper.
Sports guys designed news pages, copy readers conducted interviews, reporters took pictures and photographers doubled as circulation guys. We all pitched in because we all cared.
That, my friends, was what building a career was all about.
It would have been nice to have more time off, especially during the summer, but the longer you stayed loyal, the more it accrued.
By the end of the '90s, I was getting four weeks of paid vacation a year. These days that's impossible to even comprehend.