Looking back on the life of a loyal man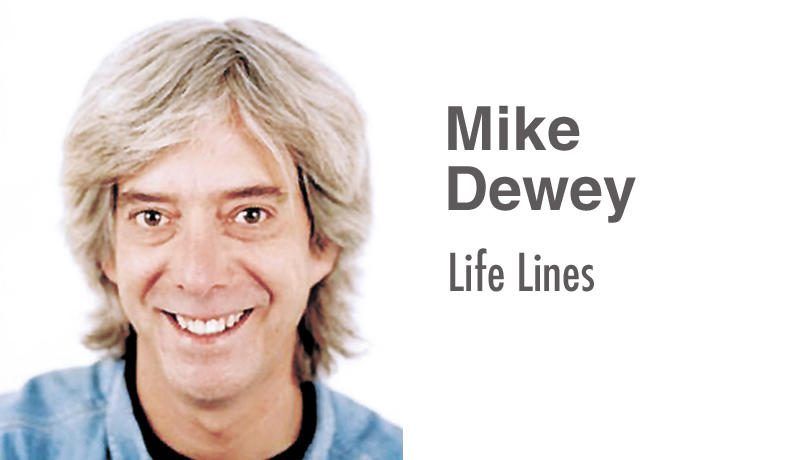 Dad's death deserves this, at least.
After having devoted decades to recalling, recapturing and resurrecting my mother's long fade into eternal rest, it has occurred to me I've never written much about my father's passing.
That changes now.
If you're depressed enough during this rotten month of January, then I suggest you stop reading right now. If, however, you'd like to learn a little bit more about the man who taught me about decency and the pursuit of knowledge, about integrity and curiosity, about love and loss, then by all means join me and my words.
Mom had smoked most of her life, and even after the surgeon general's long-overdue warning in the early '70s that the habit was potentially lethal, she defied his advice to quit.
Not 10 days before she died, in fact, with our home decorated for Christmas and her cookie dough waiting for the oven, she pushed back the chemo-bandana from her forehead and fired up.
"You mustn't tell your father," she said to me at the kitchen table.
And I didn't.
Dad would have understood, though. If there was one thing he adored, it was the woman he loved and her iron will. It would have come as a shock to him had I broken Mom's trust, which I couldn't.
My father knew about that too. Loyalty was something he treasured, and it was certainly on display in the days after he died on Jan. 30, 1999. All that he showed to others was reflected in how they remembered him in the aftermath of his passing after 82 years of being true to what he believed and to those he cared about most.
My father's code of conduct had its roots in the military, I suppose. After having been rejected twice for service in the Army, owing to his 6-foot-plus height and his rather lean build, he was finally inducted and distinguished himself even as he never talked about it.
Dad was part of the decisive invasion, being on a glider that went in on D-Plus Two Day, dropping behind enemy lines, ready to join soldiers with whom he would remain friends for years and years.
I couldn't — and still can't — wrap my mind around that kind of devotion to duty. When it came my turn to serve, as Vietnam became more and more a lost cause and my 18th birthday loomed, I looked for any way out of dying for nothing. When my lottery came up unlucky No. 1, I got really scared.
Fortunately, President Nixon ended the draft before I had to make that momentous decision — flight or fight — but I'm certain Dad would have backed me, whichever way I made the call.
My father, you see, wasn't the kind of man who shouted things like, "As long as you're living under my roof, you'll obey my rules" or "My way or the highway." That kind of corrosive parenting went against his moral compass, one that always pointed to his true north, an ideal that had its basis in trust, truth and accountability.
I cannot tell you how many times I tested those boundaries, from the time I got caught breaking into a school gym to play basketball with my friends to getting busted for possession a few years later. Dad wasn't looking to blame me for my transgressions, but he did want to understand why I'd done what I did.
It's a complex thing, requiring the explanation of "why," but that was as much a part of my father's personality as was his one edict — no onions, ever — when it came to his wife's cooking. It just was.
I remember walking out of the movie theater in South Bend where we, as a family, had just watched "The Godfather" in 1972 and Dad had only one question.
"What," he asked as my mother, sister, brother and I walked to the Country Squire, awed by what we'd just witnessed, "was their motivation?" Suddenly, it was like being in a classroom in the sun.
It wasn't the brutality — the gruesome and glorified violence — that the Corleones employed to maintain their underworld superiority. No, it was the "why," the bedrock beliefs that made it seem right, even when they obviously weren't.
Dad didn't believe in sinning for sin's sake. If you crossed that line, he insisted, there had to be a reason, and he wanted to understand it.
Which is why what happened to him, all those dark Januarys ago, was so cruel and so wrong and so — dare I say it? — preventable.
In the Catholic faith, New Year's is a Holy Day of Obligation, meaning you must attend Mass. It commemorates and celebrates the "Solemnity of Mary," the mother of God.
It had been a week since Christmas, and hoping Dad would be in church that Friday morning, I decided to drive downtown and pay tribute, knowing it was the anniversary of Mom's death.
Afterwards, in the parking lot under a cold January sun, I hugged him and my stepmother, wishing them both a Happy New Year.
The following Monday, my father went to the emergency room with a chest cold, complaining of insomnia and a slight cough.
He would never leave that hospital alive.
The sheer and sorry litany of everything they put Dad through — from the unnecessary use of a ventilator to the botched insertion of a feeding tube that collapsed his lung — would have formed the foundation of a pretty solid malpractice suit against his attending physicians, but there was no way to prove any of it.
I have two vivid memories of that awful January.
The first was a brief conversation I had with my sister as we stood shivering in the wind-blown snow under the garish glare of a parking lot light, across the street from our old family home.
"I think," I said to her, knowing she was the most willing of us to believe Dad would recover and be fine soon, "that you'd better prepare yourself for the worst."
I hated doing that because she was always her father's favorite.
And then it got even darker. On a Saturday afternoon near the end, I joined my stepmother in a private space where we had to decide whether or not to sign a Do Not Resuscitate order. She and I had been at his beside every day and every night since the nightmare began, and we knew all too well what was being required of us.
Fortunately for both of us, Dad died before he could ask, "Why?"
My father believed in family, he believed in friendship and he believed in faith. He achieved his dream of becoming a college professor when aspirations like that weren't commonplace. He loved and lost and then loved again. He was never unkind or refused to help someone in need. He did his best, always, to be the kind of man of whom it could honestly be said, "I'll miss you."
If you didn't know him, I hope my words can help fill that void.