We all have it in us to be better than we think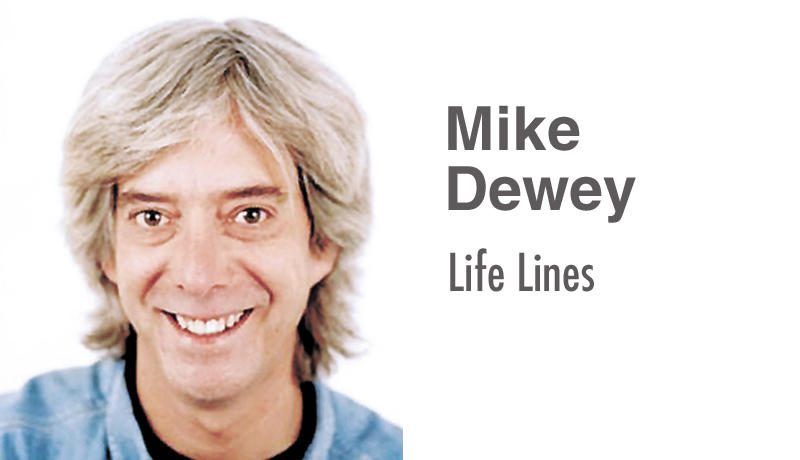 Some summers mean more than others, especially the bad ones.
I don't know if it's just me or if it's basic human nature, but sometimes what endures is the misery, not the joy, the lows, not the highs, the losses, not the victories.
For example, in the summer of 1969 when I was 14 years old, I had the good fortune to play on a baseball team that won 18 games in a row.
That's like two months without experiencing the feeling of defeat.
And it was an amazing time.
When you're staring down the barrel of a major transition — in my case, moving from the familiarity of Catholic grade school into the great unknown of public education — you're hoping to make the most of your summer because you know that come September you're going to find yourself in a foreign place with no road map.
Mom had the best perspective on it and offered this bit of advice, a mere nine words I've tried to keep in my heart ever since.
"Michael," she said, looking up from her Crime Club novel as the tuna boats baked and the tomato soup simmered, "don't worry until you have something to worry about."
Of course this was coming from the same woman who, while volunteering to cook hot dogs and bag popcorn in the Pony League concession stand, steadfastly refused to watch when I came to bat.
"I just can't bear to look," she'd say, "but I'm always proud of you, no matter what happens."
"Gee, thanks Mom," I'd say. "I guess."
But that was one magical ride.
You know that feeling you get when you can't lose?
It doesn't happen very often in life, but when you're on a roll like that, you can't wait to keep it going. I don't remember ever thinking something like, "This can't last forever," but I do recall distinctly believing it just might.
Now I'd like to be able to report that during that summer of winning 18 consecutive games — a record I believe still stands in my hometown — that I met a girl and we got close and life was blooming like a Fourth of July fireworks finale, but that'd be a lie.
However, I did try to make that happen.
You'll think this is pretty pathetic, but it's true.
My 14th summer started with the eighth-grade farewell party, a sort of last gasp of parochial school conviviality, a final chance to share a bond that would be altered in the fall. That was a special night, and it ended with me slow-dancing with a very pretty girl, one who'd been nice to me since I was the new kid in fourth grade.
The song was "Love is Blue," and my mind still snaps back to that feeling of holding her in my arms whenever it comes on the radio.
Anyway, every Sunday morning that summer, I got up early and walked to church because I knew she and her family always went to the 7 o'clock Mass and sat in the same place.
I made it a point to position myself so I could see her, and I'd smile and she'd smile and, well, that was as much courage as I could work up. I never even said a word to her in the parking lot.
That was the summer of Apollo 11 and Chappaquiddick, Woodstock and Helter Skelter, a time of seismic shifts.
Heck, even the Chicago Cubs were in first place that August, something that hadn't happened since the Wright Brothers conquered the air at Kitty Hawk.
Well, that's a bit of an exaggeration, but you get the gist, and when it happened that our family happened to be in Wrigley Field when Ken Holtzman threw a no-hitter against Hank Aaron and the Atlanta Braves, the excitement almost brought down the house.
Of course, in the weeks to come, the Cubbies would blow an 11-game lead, opening the door for the Miracle Mets, but no one could have possibly known that then.
No, at that moment the Lovable Losers were riding high, and the Friendly Confines were alive with unquenchable hope.
That's the thing about baseball, though. It's a long season, a six-month slog, the truest test in sports, and everyone knows there are bound to be bad times.
But that's what makes the good times so great.
Which brings us back to my little town, a memorable summer and that remarkable baseball team.
We'd actually lost our first game, and I can remember thinking, "Well, that means we're only going to be able to win 19."
And then, with the championship already wrapped up, we lost our last game too. Funny how I can remember every detail about those failures and not so much about our incredible winning streak.
As I've said, I guess that's human nature.
When success becomes a habit, it's those unexpected setbacks that find a way of keeping you up at night.
I remember taking a course at Notre Dame, one taught by a pre-eminent James Joyce scholar, a guy who had the reputation of being one of the best in the entire English department.
By that time in my junior year, I'd gotten nothing but A's in my major, so I was jolted when my first essay — 10 pages on symbolism in "Dubliners" — was returned with angry red marks all over, a nasty B-minus circled at the top of the title page.
"Confused as well as confusing," the professor had scrawled.
I've never forgotten those five words and how much they stung.
True, I managed to bring my grade up to an A-minus by the end of the semester, but I was going through the motions by then. It was that first paper that bugged me, though I never doubted myself.
We all have it in us to be better than we think we are, and that's what keeps us going when life decides to smack us upside the head with a baseball bat.
Fifty years ago in a small Ohio town that had been nearly wiped off the map in an Independence Day flood, a dozen or so 13- and 14-year-old kids lost their first game of the season.
That could have been the start of something very bad.
Instead, we decided some summers deserved to be remembered more than others, so we just kept on trying.