I hope you will look for old collections of cultural recipes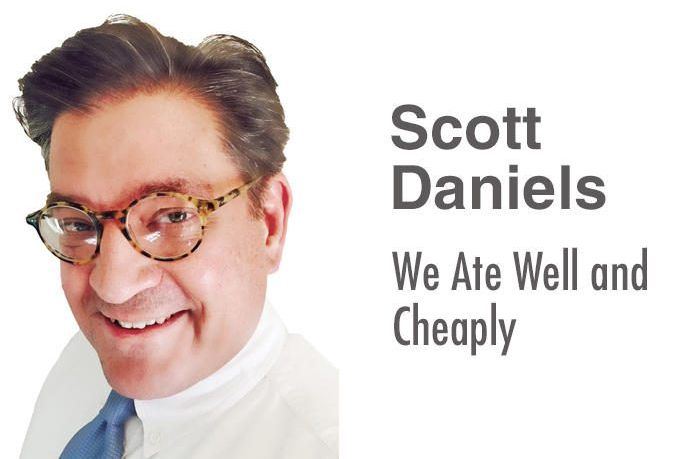 One of the surest signs of life returning to normal is the reopening, at least for the time being, of the Book Cellar, operated by the Friends of the Dover Public Library. We made it a traditional Saturday morning foray to go there every week, and when the pandemic closed it down, we were lost for something to do instead.
Of course, there was nothing to be done instead because we were all confined to quarters. But the ladies there have restocked the shelves with donated books on the cheap, and we were ever so happy to leave with a couple of bulging bags on a recent Saturday visit.
One of the volunteers there, a reader of this column, called me back in March to say she was setting aside a book for me as a gift, and it is only just now that I've been able to retrieve it, with tremendous gratitude.
It's "The Art of Greek Cookery, By the Women of St. Paul's Greek Orthodox Church," published in 1963. Waiting to get my hands on that book is the reason I've been calling the poor librarians every week to ask "is the Book Cellar open yet?"
This is the kind of cookbook I like to find. At least theoretically, the recipes are coming from grandmothers who, in the early 1960s, had seen their own grandmothers making these dishes in the late 1800s, when Greece was plunged into a period of dire poverty relieved only by emigration to someplace else, mainly the United States, where countless Greeks passed through Ellis Island in search of a better life.
In such a cookbook, you hope to get some sense of the lives of those refugees from difficulty and hunger, and of the dishes they brought with them.
With full chapters on traditions, feast days and the liturgical calendar, this book doesn't disappoint. There are oddball recipes we aren't likely to make, like marinated lamb brains with lemon sauce, but there are plenty of good things to try, with page after page of fish recipes, soups, and plenty of desserts.
In our modern, foolishly xenophobic era, we are throwing away with both hands something that is invaluable to the American experience. When we disparage immigration and raise barriers to a better life for refugees, we deny one of the chief prizes in our own DNA. We are all, every one of us, immigrants.
Our family stories are immigration stories, which we plumb with interest in genealogical research. We find with pride that first traveler who stepped onto American soil to begin fresh in pursuit of happiness and who built generations of a new American family.
That family is you, and you would not be here without them. They brought their cultural quirks, their funky head wraps, unintelligible language and their grandmother's recipes and they are rightfully honored in our families.
What a great thing it is that your great-great grandfather arrived and built what became you and yours, and that he was not instead caged, forgotten and sent back home to suffer on in hunger and hopelessness.
I hope you will take up my advice and look for old collections of cultural recipes. I think the cookbooks published today, which try to convey this or that cuisine are usually greatly Americanized and blanded down.
You might not ever make marinated lamb brains, but it's a good education to understand how and why such a dish existed. Look for those firsthand sources, and compare them with the more modern recipes you know.
This book gives me elaborate recipes for stuffed grape leaves, eggplant casseroles and egg and lemon soup. It also tells me Orthodox mothers brought their newborns to the priest to be blessed 40 days after birth in observance of the broader Hypapante Candlemas on Feb. 2, marking the blessing of Christ by the Prophet Simeon.
Our country is awash in such traditions and marvelous stories. I fear we are closing off such stories for the yet unborn children of those who want the rich experience of being a free American, and of gifting their heritage to their own children through struggle and hard work.