No jars, no mixes, no boxes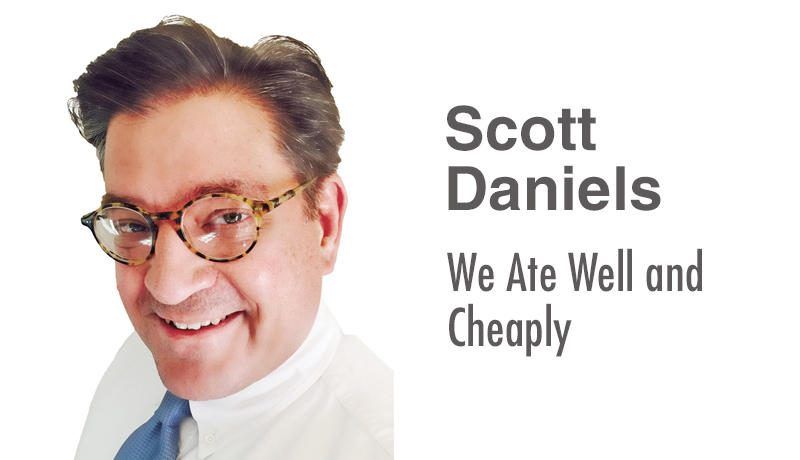 I don't know if there is such a thing as a perfect weekend, but it's possible I just had one. It arrived at a very welcome time, following a couple of stressful weeks, the kind where all these needling things keep happening to set everyone on edge and you just want to call time-out and send everyone to their corner.
The weekend centered on a sort of zen therapy of cooking, reading and generally avoiding electronic devices, except to provide background music and movie show times.
Friday night was steamed bao buns. We had dough already made up and the filling ready to go, so it wasn't hard to assemble and steam them without having to rush things. We made it to the North Canton movie theater in plenty of time to see the new psycho-thriller, "Greta," at 9:30 p.m. Back at home after, we stayed up looking for something similar to stream the following night.
Saturday followed the indulgent favorite routine: stop for coffee and hit the Dover library to scour the books for sale in the cellar and check out the new releases on the main floor. We came home with several new books including a thick, oversized one offering a well-illustrated tour of French cuisine, "Let's Eat France." It's now on the "must buy" list.
After a quick brunch, the serious work of relaxation began. First came the simple dough for French bread, which would spend all day in rising and resting.
Then my wife undertook something I would never even think to attempt: homemade rigatoni pasta. How would you even replicate such a thing? So much work! Of course it is work, if you want to look at it that way. But it's also a kind of mind yoga.
We all really need an activity we can turn to that allows our minds to disconnect and settle a bit. The repetitive and arm-tiring action of kneading the egg yolk rich pasta dough until it comes together in the perfect golden ball releases physical tension and the frustrations of the week.
Rolling out wide ribbons of perfect dough brings quiet satisfaction. And then cutting the small squares, over and over, rolling each into a tube and giving it deep, sauce-holding ridges on a gnocchi board, all these jobs done in a quiet space with just a little music for background noise and the world kind of goes away.
While the pasta dried for several hours, she made a slow-cooked bolognese sauce for which we used beef and pork that we trimmed and ground ourselves. Before everything came together and we were at last able to sit and eat a late dinner, the benefits of such a day settled in.
Everything we'd made (or I should say she'd made while I background fussed over cleanup, music, dogs and wine flow) was created from nothing: no jars, no mixes, no boxes.
We'd finally arrived at the right method for getting baguettes into the oven without sacrificing their shape. The sauce carried just the right sweetness, and the pasta cooked up perfectly.
It was a satisfying day during which we kept the television off until late, picked up phones only to speak with family, and filled the house with slowly unfolding, delicious smells of our own making. After watching another whacked-out French movie about more whacked-out French women, we fell asleep, pooped out from a perfect day.
Some people paint or create sculptures; some labor for weeks on heirloom furniture pieces. You might knit, keep a journal or just take long walks. Each of us must find the thing that pulls the plug on worry and care and get busy at it.