The name comes from the obvious fact they're short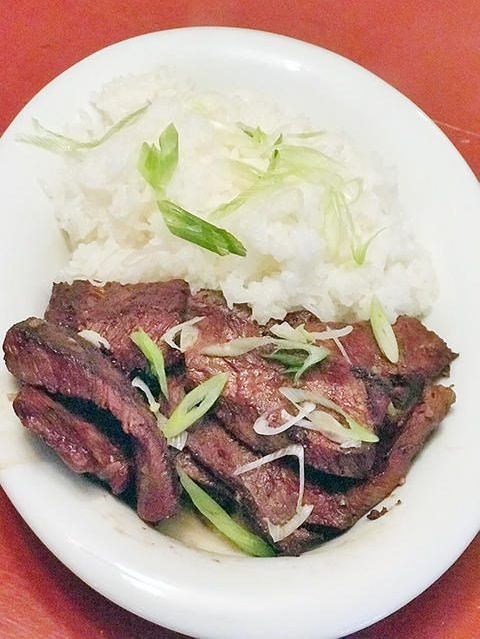 It was an especially packed day at the always packed Walnut Creek Cheese with two huge tour busses in the full parking lot and no room to move inside the store unless you turned sideways and started singing "excuse me" nonstop after fighting for a basket at the entrance.
I'm glad I'm not the one to have to clean up the store at closing time. Just putting things back where they belong must take hours. And that's just in the atrium.
It required perseverance and sharp elbows, but getting to the meat section way, way in the back, I noticed beef short ribs in the case. They were boneless, which means they're a dumbed-down version of the real thing, but they were appealing anyway.
I thought I remembered seeing a recipe for a Korean dish I could use them in, so I got a few before battling back to the middle of the building for the long line at the checkout a half football field away.
Back home the short ribs went into the fridge with the ham hock we also picked up for a soup later.
If I hadn't gone into the same drawer for bacon a few days later, heaven knows how long they would have sat there, forgotten. It was a forced decision: make them right away or freeze them.
In my days spent talking to people about their upcoming events or fundraisers, I'm seeing a lot of menus that include braised short ribs. Menus for such events have gotten much fancier over time and have moved far away from the old rigatoni or pot roast. Beef short ribs are relatively inexpensive to buy and can be the star of a variety of dishes, which is why caterers have taken them up as a go-to menu item.
The name comes from the obvious fact they're short. They come from the ends of the rib cage at the underside of the animal. The ribs are either cut perpendicular with the bones or sawn off in 1- or 2-inch segments. Or they can be mysteriously boneless. I have no idea how those come into being. Short ribs can be pretty fatty and chewy, which means they're normally best suited to braising over a long period to get them tender. And that's not what I did with them at all.
In Korean cuisine there's a fair amount of barbecuing with very thin slices of meat over an open flame. That sounded appealing, and I found a decent recipe online. I sliced them as thinly as I could and had to discard quite a bit of it as it was just too fatty for what I planned. They sat in the marinade for several hours, and I grilled the strips over charcoal. The result was tasty enough, but again, this can be a chewy cut of meat, and taking out the bones only made that situation worse. The cut I was using would have been far better in a traditional braise.
I think this recipe would work fine if you get your hands on the actual bone-in ribs.
KOREAN SHORT RIBS
2 pounds beef short ribs
6 tablespoons soy sauce
3 tablespoons brown sugar
2 tablespoons rice wine or dry sherry
1/4 tart apple, grated
2 tablespoons minced onion
1 tablespoon minced garlic
1 teaspoon minced ginger
Mix the marinade ingredients together. Place the ribs in a large, sealable bag and pour over the liquid. Seal and marinade in the refrigerator for 4-6 hours. Grill or cook under a broiler until browned, about 2 minutes per side.
(Recipe from mykoreankitchen.com)