Then there are food bloggers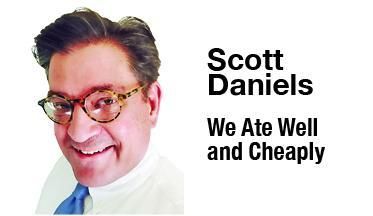 In sharing with a group of cookbook junkies online, I noted my wife is a chef and I am a food columnist. Both of those should be a little glamorous, certainly more so than in reality, but there were comments from people who thought we have the perfect jobs.
They're right, of course, at least in my case. And then others wanted to know how they also could get into the world of writing about foodie things. I had no wisdom to share. How did I get started? "They asked me to" was the best I could come up with.
It made me think again about the alluring trap of putting together a cookbook. Writing is a compulsion for me, something I've always found I have to do in one way or another, whether anyone is paying attention or not.
I was entering writing contests in grade school and dabbling in uncredited advertising copy as a teen. It seems logical after writing hundreds of columns that a cookbook might be a next step.
Aside from knocking the idea of a collaboration around with friend and fellow compulsive writer Jerry Marlowe, it's a pit I don't plan to fall into. Jerry has great ideas for such a book while I surely do not.
In the United States alone, about 3,000 new cookbooks are published every year, with records being set in the pandemic years since 2020 when so many began baking at home.
That's an awful lot of voices to try and shout over for attention. I can't imagine more than a handful ever recoup enough money to reach anything like a minim wage equivalent.
Of course, Ina Garten deservedly socks away a giant sack of cash every time she jots a paragraph on a dinner napkin, but for the rest of us on the fringe of cookery, not so much.
I don't write expecting to get rich because that's a fool's errand, but It's nice to feel your work is getting in front of at least enough eyeballs to fill out a lunch party.
Then there are the food bloggers, God bless their little hearts. My goodness, what a crowded segment that is. There must be a thousand bloggers for every paper cookbook published. I'm not swimming in that pool, either. I want to write about food, not my yellow childhood bicycle for 17 paragraphs.
The trick, as has been wisely pointed out to me as something I sometimes lack, is a degree of self-awareness and the ability to spot your own limitations.
I think recipes shared in a cookbook should be tested and retested under numerous circumstances until they are ironclad and foolproof. I don't want to spend a month making Alfredo every day.
And what possible recipe could I share? Not many of the things I make are total originals, and I'm just enough of an old aunt Maude that I'm not sharing those secrets with anyone. My aunt Katherine's secrets for making her candy pie went with her to her grave, and I intend to do the same with my amazing marinara.
Cookbooks also are not the cheapest of things to produce. I like a cookbook with lots of pictures, and I'm hyper critical of those pictures. A food photographer would have to be engaged — and a book designer and cover artist.
You'd have to procure sensibly ironic dishes for plating your creations attractively, fancy French glassware and some nifty one-of-a-kind cutlery. It is an enormous undertaking.
I do know my limitations, and I am old enough to know how to rein in my demanding background ego. Aside from the fun collaboration I mentioned, I'm going to shy away from such an alluring mistress. After all, I have a couple of fat novels to finish.