A rags to riches story in the course of the weekend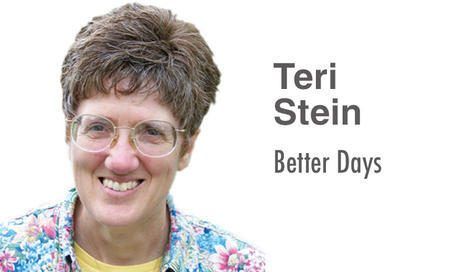 It was a busy Saturday; I was cleaning up a spare room that had turned into a catch-all for everything I didn't want to deal with immediately. I was only going to work on it in the morning but made so much progress I spent all afternoon there too.
Then I went out to mow for the first time in two weeks. I love this time of year when we are not mowing every three days. Afterward, it was getting later in the evening and my stomach was already growling, so I decided to go to a local fast-food restaurant. I grabbed a coupon, purse and keys and drove to the restaurant. After placing my order, I drove around to the pickup window. I grabbed my purse, reached in to pull out my billfold and I had nothing.
Boy, that feeling when you have no money, no credit card, nothing — it's pretty desperate.
I had this happen once before. A co-worker floated me a loan after I found myself moneyless at the mall food court. But now was different; I had no back-up.
Then I remembered what happened. I had put my billfold in my camera bag the day before but, obviously, never put it back in my purse.
I frantically waved through the pickup window; I wanted to let them know I was going to have to go home and get money and ask if they could hold my order until I got back.
After hearing my situation, a wonderful person at the restaurant took my coupon, paid for my order and wouldn't hear of letting me return with money. "Happy birthday," she said as she handed me my order. And even though my birthday was in June, I was feeling pretty happy and relieved — grateful and appreciative too.
After that unexpected act of kindness, my weekend was sure to go well, I thought. So Sunday night I fired up the gas grill to cook some steaks.
Isn't life crazy? One night I don't have a cent and the next night I'm doing well and cooking steaks.
Once the grill heated up, I put the steaks on and went back in the house. I set a timer for a few minutes so I wouldn't forget to check on the steaks. Then I set about making a side dish in my pressure cooker. This week I discovered some good side-dish recipes for the pressure cooker and was excited to try them.
In the meantime, the timer starts beeping; back outside I lifted the lid off the grill and jumped back. Goodness, flames were shooting up about a foot and a half above the grill.
I was able to move one of the steaks to the other side of the grill, but the other steak was hopelessly enveloped in flames and beyond the reach of tongs.
What to do? Call 911 or call Joe? I called to Joe in the house and then decided the best course of action would be to turn off the gas at the tank, although as I stuck my head under the grill to do this, it suddenly didn't seem that good an idea.
Joe appeared and looked at the hapless steak, which wasn't just being flame kissed; it was a full-on smooch. It was his steak actually because he likes a different seasoning than I do. "Move that steak," he advised.
"I can't. The flames are too high," I said while thinking it would be better if we had some marshmallows right now.
"Where's your water bottle sprayer? You're supposed to have a water bottle sprayer. And why are you in the house when the grill is on?" he was raising his voice as he rattled off these helpful grill tips.
Well, if he has a fault, it's my fault because I wanted to spoil him 42 years ago when we got married and do all the cooking. This was not a good idea. He does "cook" occasionally, but it comes hot out of a box after he's taken a short trip away from home.
The flames still rolling, Joe disappeared back into the house after remembering we have an empty spray bottle somewhere. The fire had died down a bit when he returned and extinguished the remaining flames.
The steaks had only been on the grill a few minutes, so Joe insisted on firing up the grill again to finish cooking them as opposed to my idea of finishing them off in the oven as I had seen on a recent cooking show. Turning the grill on again made me nervous, but it worked out, except for Joe's steak, which had one crispy black side. Well-done anyone?