Better days: It's good to have goals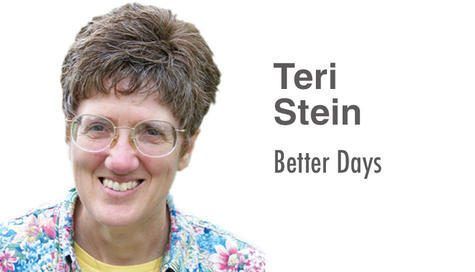 This is my first summer off since at least 1974, and I'm going to enjoy it no matter what. And there sure is a lot of "what" to deal with this year. So I decided to put some goals in place to make sure this would be a great summer for me.
My first goal is to wear shorts every day during the summer. Nothing is better than relaxing all day in a pair of shorts: frolicking around the yard, sitting on the porch swing, strolling around for a walk or even cleaning the house in your shorts. You get the idea: Whatever you are doing, it's just better in shorts.
When you are employed, wearing shorts is usually a big no-no, so this was going to be great — a whole summer of wearing shorts. I can't remember the last time that happened. When I was working a day job, my goal was to wear capri pants every day of the summer, but now I have moved up, literally.
The first thing I did was go through all my shorts to see what I had available. I didn't have a lot of shorts in my drawer, but some of them probably dated back to at least the early 1990s. Would they still fit? Ha!
I don't know if you've noticed, but over the years all sizes of clothing have gotten larger. And the proof was in my shorts drawer. I found two pairs of shorts that were labeled a size larger than what I now wear. I tried these shorts on and couldn't even get them buttoned; it wasn't even close. Then I put on the smaller size shorts purchased just a year or two ago. They fit, and I even had some extra room for those big summer picnics.
Wearing shorts isn't all fun and games though. There are more nasty razor cuts to deal with, a greater chance of getting poison ivy, and I've already suffered from more bug bites.
The world would be a better place if bugs would socially distance and stay 6 feet away at all times. Bugs don't even try to respect your personal space at all. They invade inside your clothing, and the next thing you know, you have a half-dozen itchy red spots in areas that rarely or never see sunlight.
We are well into July, and I've worn shorts nearly every day since the weather warmed up. I had to put a few escape clauses in there, like wearing capris would count as shorts if the temperature dropped to around 60 F. This all depends on the humidity, so I guess if it just feels too cold to me to wear shorts, then capris will count and I won't break my streak.
If a total fall-like cold snap moves in and I have to wear long pants, then those days won't count as summer and I won't break my streak. It's my goal, and I can make the rules. So can you when you set your own lofty goals such as this one.
Of course, I might want to wear capri pants if I go to do some article interviews because they look more professional. I did that earlier in June, but now after digging through the shorts drawer, I found what I consider to be "business casual" shorts. These are shorts that come down to your knees. It's going to be very hot this summer, so I hope I'll get a pass from interviewees when I show up in my business casual shorts. Of course, I'll pair them with more than a T-shirt.
With being off for the summer, I am doing more writing. It is great, but then I realized I am doing much more sitting around in the house. This is not good. In the past I've gotten an extension cord set up to provide power to the front porch so I could spend more time working outside.
This leads us to goal two: spend more time outside and/or on the porch. Walking would be good too. Mowing doesn't count as extra time spent outdoors. You have to be outside to mow; it's not a choice.
When the outside temperatures hit 95 F, that's grounds for a rule change too. Substituting for going outside is going to be opening more window blinds, and not just the one the cat has to have open.
You think I would need more goals to be happy, but not in this year's COVID-19 environment. There is no goal three. Wearing shorts every day and spending more time outside are good enough for 2020. Travel and adventure? Maybe next year.