Getting to know the people from your home's past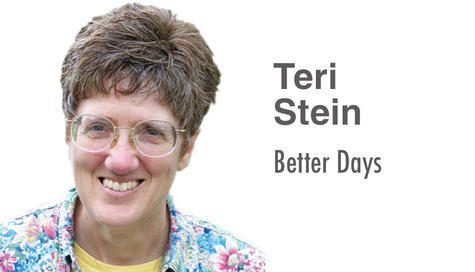 Living in an old house is a wonderful adventure. There are so many families who lived there before you, but while you only have your own memories of the space, the house definitely holds so many more that were made there by others.
Last summer I stepped on what I thought was a rock and found the end of an old baton. So many memories came flooding back. It was certainly mine or my sister's or one of the other girls in our neighborhood who lost it, and now here it was, back again.
We've made a few discoveries inside the house too, which is probably now more than 100 years old. Joe was crawling around in the attic one day and found an old granite ware bowl in the rafters. I later found out the wife of a former resident had wondered what had happened to the bowl. It was left there by her husband one time when the roof sprung a leak.
Another time, Joe was digging around in the closet under the stairs and found a small antique lock hanging on a nail. It was just above the door and out of sight to anyone using the closet. You needed to get inside and look up. It was locked and there was no key but still it was such an interesting find. We never have discovered the story behind why it was left behind in such a secretive spot.
One time when Dad put in a basketball court at our family home in the same neighborhood, we hauled some dirt from the area to our house to put in a flower bed. While working the dirt, I found an arrowhead. That certainly was lost long ago by a former neighbor.
Other times I've found interesting clues to the many lives that inhabited our home in the past outside in the yard — old pieces of pottery, china, and small chunks of coal and clay sewer pipe. These pieces of memories sometimes end up as decorations in my flower bed.
Recently, I found some printed evidence of a story I'd known about since I was a kid but had forgotten the details. It proved there is more than one creative writer that has lived in our house.
It all started when the 11-year-old son of a former owner was helping his father with a home-improvement project in summer 1970. They were tearing out the old wooden porch floor when the son found a note in a bottle.
In the jar was a toy gun, a domino and the note that read:
"Donald G. put this here while dad is making the porch. That gun is my favorite gun. Don't steal the domino in this glass or a curse to you. It is mine. I am 14 now but remember my threat. The date I am writing this is June 11, 1936. Whoever finds this note, Good Luck, but don't steal my domino."
Of course, the family put the domino back under the new front porch. I don't think anyone will ever steal the domino, though, because the "new" porch from 1970 is a cement slab. That domino is probably there for all eternity.
Unfortunately, Donald G. died when he was only 23. From what I've discovered, he contracted malaria while serving in World War II and was granted a medical discharge.
But there's more to this story. Donald and his parents were friends with my father, my grandmother and my great-grandmother, who all used to live in the house next door. I've seen a photograph of my great-grandmother and Donald's mother, Helen, talking over the back fence.
I would have loved to have met this family that once inhabited the place I call home. Donald's creative spirit certainly proved he was a lively and interesting person, and his service to his country proved he was a responsible one.
Donald G. sent my father a stuffed toy koala bear during his time of service in the Pacific. Dad would have been 9 years old when Donald passed away. Dad still has a greeting card sent to my great-grandmother by Donald and a photo of Donald as a child.
Fast forward about 60 years from Donald's death, Dad's youngest son (and my "baby" brother) met and married a relative of Donald's mother, so I now have a sister-in-law, niece and nephew who are directly related to the family that once lived in my house.
Dad kept the koala bear for years and then gave it to my youngest sister-in-law for her bear collection and to keep it in Donald's family. She has the bear on display in her living room. You can't make this stuff up. Who would have thought our families would be so connected in the future?
I'll keep digging, and you should too if you live in an old home. There are so many unique and amazing stories to uncover, and the things you find speak in whispers, echoing the lives that once were.