married to a model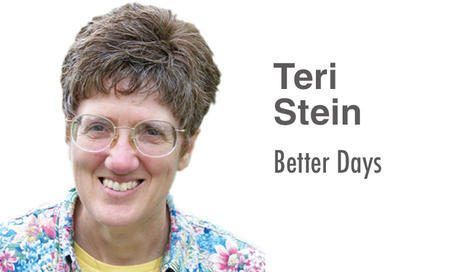 In my last column, I wrote about the benefits of volunteering — despite that spider that was running around inside my clothing for an hour at one event. But volunteering has now allowed me to cross another item off the old bucket list — modeling.
I answered the call for modeling for promotional photos that were being taken at one of the places where I volunteer. I was happy to have the opportunity. I never thought I'd get to be a model, but here I am. Even better, my husband, Joe, can now say he is married to a model.
I was totally cut out for this modeling assignment because it was a full-coverage modeling job. I was ready for my shot in 1700s period colonial clothing — a long dress, apron, long-sleeved shirt, white work cap and, of course, the essential scarf that goes over your shoulders and pins in the front to make sure no skin is showing beneath the neck. It was sure to be my best photo ever.
We models, there were five of us, had to arrive early to get the best light at 7:45 a.m. But how long could this take?
First, we had to wait around until our photographer and the PR person in charge of the shoot figured out where the best place to take the photos would be. It really didn't take that long until we were called out to the garden area.
Then I found out what professional models have been saying for years is actually true: Modeling is hard work.
I was trying to be in character of how I thought a colonial person would look while gardening. I thought they would look pretty serious. After all, gardening in colonial times was serious — one bad crop and you don't have anything to eat. You would starve with no grocery or dollar stores or colonial-style fast food restaurants nearby.
But I was wrong again. The photographer wanted me to smile like I was having the time of my life reaching for that green bean tendril I was pretending to wrap around a pole.
Soon there was another problem with my shot. My glasses have lenses that darken in the sunlight, and they were starting to turn gray. Sure, I'd look like a really cool colonial lady in sunglasses, but it was not period correct. These lenses were not something that was available in colonial times. The glasses had to go.
I slipped them into the pocket of my skirt. I was still good for taking directions just as long as the photographer told us exactly what he wanted us to do. Otherwise, he was a fuzzy blob. A time or two, I had to ask the other models what direction he was pointing for us to move.
We picked up our props to pose for photos in the garden, and then we kept switching places until everyone had used every tool and been in every position in the garden.
For the next shot, we were standing together behind the garden, holding our tools, chatting and smiling. This was pretty easy as I didn't know my co-models well, so we had a lot to talk about.
Then there were a couple more locations we took shots at, and what I had envisioned as being only about 20 minutes out of my day turned into two hours. Whew — modeling is hard work.
I got to chatting with the photographer, who is someone I have known since elementary school. It was then I learned if I got paid to model, I could say I was a professional model. How exciting. He was willing to pay me the standard amount to be considered a professional model — $1.
I didn't even have to think about it. Deal.
I even signed a contract without reading it first, then decided better. Basically, the contract said, "We can legally use the worst picture you've ever taken in your life, one you will totally hate, and there's nothing you can do about it."
But now that I'm a professional model, that comes with the territory.
I took my dollar home to save forever. Joe didn't seem very impressed to learn he was now married to a professional model. Probably he was in shock. He's sure to be bragging about his good fortune soon though.
In the meantime I'm taking good care of my rustic colonial outfit to be ready for my next big photo shoot. Cindy Crawford, look out.