You grew it, now you lift it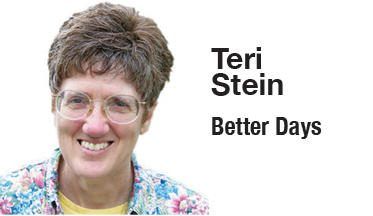 In case you don't remember, in my last column I discussed how much I hate plank exercises when doing yoga. But it didn't take long to discover another exercise that isn't as much fun either. That exercise would be the Superman.
In this exercise you are on the floor laying on your stomach with your arms outstretched in front of you. The point of the exercise is to lift both your arms at the same time while they are outstretched like you are flying just like Superman. When I was younger, I used to be able to do this. But now, as much as my brain tries to communicate with my shoulder and arm muscles, nothing is happening. My arms are lying there lifeless.
In my brain I was taken back to the early 1980s when I was a big fan of the Joanie Greggains Morning Stretch exercise show at 6 a.m. Monday through Friday.
Oh no, after looking up her name to make sure I had the correct spelling, I just saw she passed away in May 2022. Now I'm sad. She had such a positive impact on me and everyone who watched her show and exercised along with her and an ever-changing group of friends.
Anyway, Joanie's influence will carry on forever. One of her favorite sayings on the show was "You grew it, you lift it." So now I'm thinking to myself, I grew these arms, and I can't lift them. Augh!
Yoga instructor to the rescue though. I think she saw my struggles or total inaction in lifting these arms, and she switched the exercise to lifting opposite arms and legs, one set at a time, which I could do. Whew!
The Superman isn't as bad as the plank. With practice I have hopes of being able to some day do the Superman correctly — if I can make it to class that is.
By the time you read this, I will have missed two yoga classes in a row. There's a very good reason for this. It's called no memory.
Because I love exercise, I knew I would always put exercise first, so I did not write down the class on my calendar. I can't live without my calendar, which I like to keep on paper and then take photos of with my phone. Call me old-fashioned.
I was out and about one day and needed to set up an interview. I checked the calendar photo on my phone. Nothing was written on the particular day in question, so I set up an appointment.
A few hours later when I went to write the appointment on my paper calendar, I realized my mistake. Coming to the disappointing realization that I couldn't depend on my memory (this is not a surprise to my husband Joe; he should have warned me), I went ahead and wrote "yoga" on every yoga day for the rest of the year.
In the meantime I have been using a senior fitness app to catch up on some exercise. I discovered a new instructor who does strength training, and he is really good. One of the things I like about the senior fitness app on Zoom is that instructors start the class early and stay late so you can ask questions via the chat. Many people comment on what a great class it was or thank the instructor for their time after the class. I thought the class was so good I actually put a comment on there myself, even though it's something I don't usually do.
Then the instructor began thanking the people who commented by name.
That took me back to my "Romper Room" days when the hostess would look through her magic mirror and say, "Magic mirror, tell me today, have all my friends had fun at play?" And then, as we kids would jockey for position in front of the TV, the hostess would rattle off a few names of kids she "saw." I think she only ever said "Teri" once, and she probably meant "Terry." And how could she see only one of us and not all of the siblings standing there?
Here I am reduced to "Romper Room" days at the age of 65 and waiting for a person on the other end of Zoom to recognize me. Did it happen? Of course not, because there are dozens of people all commenting at the same time. I am dealing with that same "Romper Room" disappointed feeling. But, maybe later, the next class is on at 5:30 p.m.