Afghanistan update: 1 year after the fall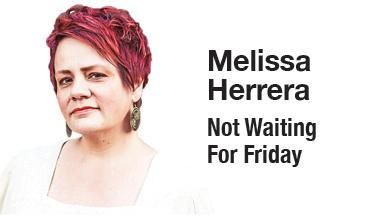 It's been one year since Kabul fell backward into the hands of the Taliban. The U.S. withdrew from Afghanistan like a thunderous clap in the night, and the lives within its borders have been upended.
I've had many people ask me how my son-in-law Sediq is doing, and by extension how his family is faring in Kabul. It's a complicated question that has no easily understandable answer.
In front of me lies a stack of six letters from the U.S. Citizenship and Immigration Services that arrived two weeks ago. The answer inside these letters is one they've been waiting on for close to a year, a chance at emergency humanitarian parole, a chance to be taken out of Kabul to safety. Sponsors had been secured, monies had been paid for the fees and every detail had been double-checked.
But inside each of the six envelopes were these words typed out in tiny print: parole denial notice. I sent Selena the news, and from Ohio, to Virginia, to Kabul, his family received the message that help would not be coming.
"Roughly 76,000 Afghans came to the U.S. in the immediate evacuation," said Selena, now a refugee housing specialist for Church World Service in Harrisonburg, Virginia — an agency created after WWII.
In Virginia their focus is refugee resettlement. Many are commemorating this day by calling it Black Day or Free Afghanistan Day.
"One year later cases are slow, even with the Afghan families I'm working with," Selena said. "So far we've only had one client get approved to attain refugee status. One thing to remember is that the Afghans that were evacuated to the U.S. have no clear path to citizenship. We were working as quickly as we could to send in paperwork to have them attain refugee status."
Since the fall of Kabul, Selena's branch of CWS has received 200 Afghans in the first wave, and the second wave has been a much slower trickle. The third wave will come from a more normal process of refugee resettlement.
Sediq came to the U.S. from a refugee camp in Greece. Recently, that same refugee camp he lived in — Eleonas Camp — was closed by the government, displacing innocent people who have nowhere to go but the fringes. He takes a deep breath before speaking.
"There is nothing much changed in Afghanistan, Mom," said Sediq, who when he calls me Mom makes my heart squeeze. "They have been trying to pressure women not to go to school. They've been closing schools for women. Yesterday I saw a young girl who wanted to go to her university for an exam, and they didn't let her in because she had a red hijab. The Taliban didn't even let her into her class for her exam because she didn't have a black hijab.
"The Taliban has taken every city of my country. My family doesn't leave Kabul because of my father, who worked for the police. The last two months the Taliban and Al-Qaeda have been setting off bombs inside the mosques of certain sects of people. It's terrible right now, even worse than when they first came."
"Currently, everyone is unemployed, so no one is making money," Selena said. "For Sediq's family we are their main source of income. That holds true for everyone there. No one is making money because the economy has fallen apart. Hunger is a big thing. People are starving because there is no money to buy things."
"They won't open any border from Pakistan or Tajikistan to import products for the people of Afghanistan," Sediq said.
"Major things have happened since the fall of Afghanistan, with Ukraine at war with Russia," Selena said. "There has been a very different approach that the U.S. has taken in accepting refugees from Ukraine. Every Afghan that I've worked with at CWS had to fight their way onto a plane to escape. Some people say that the way it played out was a way for the U.S. not to have to assist the country. It's like forgetting the repercussions of doing something halfway. We didn't bring half the people that worked for the U.S., and they are still left behind unless they're already dead.
"In comparing the two crises that happened, 66,000 applications were filed by Afghans. The ACLU filed a lawsuit against USCIS telling them that they needed to make public the number of persons that were approved or rejected. Most people haven't heard anything or have received rejection notices.
"That's where the public information came that out of the 66,000 applications filed by Afghans, only 123 cases were approved. That's in comparison to the Unite for Ukraine program, where 68,000 applications have been approved. I want to say that the government works fairly, but it doesn't feel that way."
If you do the math, that's 66,000 applications at $575 a pop. From the emergency humanitarian parole applications, the USCIS possibly netted nearly $38 million with only 123 applications from Afghan citizens being approved. That's a lot of money to absorb for people's desperation.
Sediq's immediate family includes his father, mother, sister, brother, brother-in-law and niece.
"We've been frustrated," Selena said. "His family was very disappointed and disheartened upon hearing about the rejection letters. It had been their one hope. All the borders are closed, and smuggling them out would be so expensive. There are no longer many flights out of the country, possibly only to Pakistan and Turkey. It's a mess."
In the last year, Sediq has lost three separate family members to cancer. The other day he had watched a video of a family in Kabul trying to survive. A little girl was asked where her father and mother were, and she said they were up the street trying to find work. Then they asked what she was doing, and she said she was trying to sell plastic bags. At this Sediq broke down, because without the support from Selena and him here, his family would be in the same situation.
"I've never seen a people more prideful of their country than the Afghan people," Selena said. "They love their country and culture. It's too much to bear right now. The Taliban are everywhere. His family keeps a low profile so they aren't noticed."
And as I finish this update, I stuff six rejection letters into a bigger envelope to send down to Virginia. Selena is not giving up and wants the immigration lawyers at CWS to look at them, maybe find something in the details. Hope doesn't die easily.
Melissa Herrera is a columnist, published author and drinker of too many coffees based in Holmes County. You can find her book, "TOÑO LIVES," at www.tinyurl.com/Tonolives or buy one from her in person (because all authors have boxes of their own novel). For inquiries or to purchase, email her at junkbabe68@gmail.com.