At midway point, WCAL tops area grid power rankings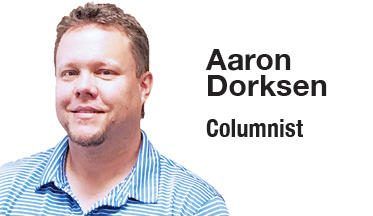 A few thoughts from the week in sports …
We've reached the halfway point of the high school football season, and a pair of Wayne County Athletic League teams are on their way to having potentially great seasons.
Utilizing the Fantastic50.net statewide rankings compiled by College of Wooster professor Drew Pasteur, Norwayne and Dalton are the top teams in the Wayne-Holmes area, regardless of division, and Hillsdale is fourth.
The area's Fab Five utilizing Pasteur's ranking system, which is explained on his website, are as follows:
1. Norwayne (5-0, No. 75 in Fantastic50.net statewide rankings, Division 5/Region 17) — The Bobcats, ranked fifth in Div. V by Pasteur, have been clicking on all cylinders and have outscored opponents by a 49-13 margin. Norwayne is favored big against Rittman (4-1) on Friday and will then face struggling Waynedale and Chippewa before hosting Dalton in week nine in what should be the area's game of the year.
Senior quarterback Jaxon Siegenthaler has been outstanding as a first-year starter, passing for 1,044 yards and 13 TDs with only one interception. Five different receivers have caught TD passes, led by Dylan Smith (17-405, 6 TDs) and Lucas Dudte (14-247, 3). Dillon Morlock leads the ground game with 71 carries for 399 yards and 5 TDs. Smith leads the defense with eight interceptions.
2. Dalton (3-1, No. 84, D7/R25) — The Bulldogs lost their opener against state power Kirtland but have followed that up with three convincing wins including a 47-14 triumph over Mogadore (401). Dalton, ranked second behind Marion Local in Div. VII by Pasteur, will host a key game against Hillsdale on Friday.
After both eclipsing the 1,000-yard rushing mark last year, Greyson Siders (52-497, 10) and Sammy Tomlinson (41-339, 6) are both averaging more than 8 yards a carry. Colin Pearson has passed for 463 yards and two TDs while also rushing for 104 stripes. Brady Hignight has 14 catches for 204 yards and a score while Gavin Annen and Collin Jones are the leading tacklers.
3. West Holmes (3-2, No. 190, D4/R14) — The Knights lost two straight after seeing their school-record 23-game regular-season winning streak snapped but bounced back with a shootout victory over winless Madison (56-35) and will host Wooster on Friday.
Coach Zach Gardner shared with his team that entering the Madison game they were actually averaging more yards on offense per game (496) than their 14-1 team in 2021 or top-scoring team in Ohio from 2022. If the Knights can clean up some offensive mistakes that have stalled drives and improve on defense, they will have a big second half of the season.
Quarterback Morgan Smith is the area's top dual-threat quarterback, with 2,012 yards passing, 19 TDs and five interceptions to go along with 269 rushing yards and five scores. Kyle Maltarich (24-450 rec., 5 TDs), Logan Zollars (41-696, 3) and Lynn Cline (25-479, 4) are all big-play receivers. Gus Warner leads the defense with 58 tackles.
4. Hillsdale (4-1, No. 260, D7/R25) — The Falcons will go from the proverbial frying pan into the fire, moving on from Norwayne to face Dalton. Hillsdale has big-play capabilities with QB Jack Fickes passing for 637 yards and 10 TDs while also carrying the pigskin 39 times for a team-high 254 yards and five more scores. Braylen Jarvis is a go-to player as a ball carrier (41-217, 1) or receiver (15-193, 3), and Hayden McFadden (15-377, 6) is the leading pass catcher.
5. Wooster (2-3, No. 308, D2/R7) — The Generals are the area's biggest school but barely crack the top five after a tough 42-27 loss against Lexington. Wooster showed resilience to bounce back from a 20-0 early deficit to take a 21-20 lead after three quarters but couldn't make the key plays in the fourth.
The Generals can turn around their season in a big way with an upset at West Holmes. Julian Franklin (87-462, 7) has established himself as the primary ball carrier, but Wooster needs to give A.J. Likowski (61-95, 700 yards passing, 7 TDs) more time to throw downfield on occasion. Watching the Lexington game, Likowski usually had to unload the ball in a hurry to beat a heavy rush. Hayden Meese (22-342 rec., 4) is one of the area's fastest players and paces the defense in tackles along with Franklin.
MR. 300
Norwayne honored Gary Daugherty prior to the Bobcats' win over Hillsdale for serving as the Bobcats' statistician in his 300th game. Coach Adam Indorf surprised him with a team signed football, letter of appreciation and two dozen cookies.
Daugherty is in his 28th year as the Bobcats' stat guy, having officially started in 1996 when Mike Staggs was the coach after sitting in the stands and doing it in 1995.
The former co-owner of Engineering Associates Inc. has missed only one game during his nearly three decades as the "stat guy."
"I can't even remember why I missed it, but I compiled the numbers later that weekend after watching a game film," Daugherty said.
Asked if he's ever been paid for keeping the stats, Daugherty said, "Yeah, I get paid. I get into the games for free, and I get a T-shirt every year."
Volunteers like Daugherty help make up the fabric of high school sports, giving their time behind the scenes to help promote the sport and make it more special for the players, coaches and fans.
Norwayne football wasn't very good when Daugherty started helping out. They had an 0-10 season in 2000, followed by 1-9, but little did he know the Bobcats would beat Kenton 48-42 to win the 2011 Div. IV state title and continue to be an area powerhouse to this day.
Why does Daugherty keep doing it after all these years?
"Well, I enjoy it," he said. "It's fun to see the kids do well and to help get a lot of their records up into the (OHSAA) records. It's nice to go to the awards banquet at the end of the year because all I ever know the boys by is a number. At the banquet I can put a face with a number."
Daugherty ranks with the top couple stat keepers who I've worked with in 25-plus years as a reporter, and he's also a great guy. We sat side by side at many big Norwayne playoff games, and I truly thank him for helping me meet press deadlines with accurate stat sheets.
The longtime stat keeper isn't sure how long he'll keep going, citing technology changes as an issue this year. However long Daugherty keeps crunching the numbers, it will always add up to a win for the Norwayne community.
Parting shots
Devastating is the best word to describe the season-ending knee injury to Nick Chubb. I watched the replay on social media and won't watch it again. Best wishes on a healthy recovery to one of Cleveland's most respected athletes of my lifetime.
—The time for excuses is over for Browns quarterback Deshaun Watson. He gave up two touchdowns himself with turnovers and had two facemask penalties in the 26-22 loss to the Steelers. The Browns went all-in on Watson, and unless he can turn things around, it's looking like this may be their worst gamble ever.
Aaron Dorksen can be emailed at AaronDorksen24@gmail.com.