Home is where the lilies bloom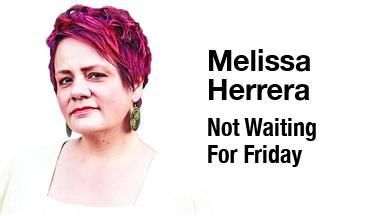 It's late July, and I'm sitting in the parking lot of a McDonald's near Cleveland typing this column. Yesterday I was sitting in my favorite chair on the porch feeling a ripple of unease, like the vague smell of something rotting in your car — you know something rolled under the seat but you can't quite remember what it was. I want to let go of everything that pains me. I want healing to go faster. I remain patient.
Our eldest flew home last weekend to see her dad. We walked through my garden and looked at all the flowers, and she patiently listened to George as he described the small trees and branches he lost in the big storm — things that matter to those of us who remain in place.
My lilies are riotous, and I cut some hothouse coral stems to put in a vase in her old room. Those rooms are haunted by their presence now, and when they come home to visit, another layer of years is added on to the time they've been absent from them.
We haven't seen her in person for one year, and the lines on our faces etch a bit deeper each time we come together — despite the serums and creams we use to resist.
I assembled avocados, cold brew coffee, Oatly, Dave's Bagels and vegan cream cheese prior to her arrival for her morning routine. Blessing Acres, always abundant this time of summer, gave me fresh zucchini, potatoes and peppers galore.
Sunday afternoon we put on cute outfits and visited Gervasi Vineyard, where she had never been. We drank sangria and meandered the pathways there, where we snapped photos and she posed with her dad and me. The air was hot and humid, not unlike her home in Florida, where the air you breathe is a force.
When we came home that evening, my sister and brother-in-law came over and sat at our table for hours and caught up. We mixed up some new beverages with Jarritos (a Mexican soda), mineral water and vodka. Each rim of the glass had a tingly coating of chamoy and Tajín, and our faces grew warm as we talked into the night.
We sat for hours on the front porch Monday morning, hashing over our lives, even though technology affords us weekly face-to-face calls. It was good to hug her and feel her solid presence.
Later on we went for a drive on back roads, the lush summer surrounding us as we delved deep into the countryside. We dipped in Rodhe's for some wine — thanks, Dave Matthews, for the red — and I lucked out and found local Incredible sweet corn. On the cooled-down patio, we devoured a dozen ears, just the three of us, along with a spicy Asian cucumber salad and jalapeño cheddar sausages.
This morning I'm sitting in this McDonald's parking lot sipping my third coffee of the day, having just dropped her off at the airport to fly south. It was a quick pocket of time, and I asked her how she saw her dad, and she said, "Frail but good." And I knew just what she meant.
Kids are your life until they leave and remind you who you were. They dip back in, ruffle it up a bit and leave again — taking their entire presence along with them. When I get back home from the airport, there will inevitably be some remnant of her left behind. It never fails to jar me and experience a pang of what once was.
Yet I don't long for that time to come back. We are settled yet filled with an unease at the prospect of big change. That unease settles into excitement when I can lay down what tethers me to this very land my riotous lilies grow on. The coral, lemon yellow, maroon and buttery yellow that come up every year in July — the ones that came from Mom's garden. Where I end up, I will have a start of those lilies so the next place we land feels like home. Home is where the people you love are, but if we're honest, it's where your flowers bloom too.
Melissa Herrera is a columnist, published author and drinker of too many coffees based in Holmes County. You can find her book, "TOÑO LIVES," at www.tinyurl.com/Tonolives or buy one from her in person (because all authors have boxes of their own novel). For inquiries or to purchase, email her at junkbabe68@gmail.com.