Slipping through the brain fog of motherhood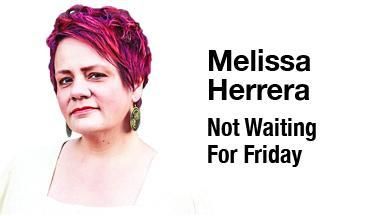 When my mom was dying, I held a phone up to her in bed so she could FaceTime my son from New York. "Hunter, I'm going to go to heaven, and I want to see you there," she said.
I turned away from his face on the solitary glowing screen because the weight of her words had pierced me. They never saw each other in person before she died a day or two later. Esabelle had flown home to be here in her last days, and I looked over at her face as eons of mother to child neurons flickered and flared in the room.
It's weird not having a mom. Despite the push to be free from the strings that bind us, a mother's love holds on the tightest. Some moms can't let go of their offspring easily, and they scratch and hold tight with an iron fist. Some moms send them off like a mama cat. In the feline world, when the time comes for them to be done feeding and guiding, they simply shrug them off, knowing they'll make their own way. I've watched litter after litter of kittens grow confused, pining plaintively for their mama and her milk. It only takes a few days for them to learn. I'm somewhere in the middle of this.
I need to be honest about motherhood at this stage of the game: It is a relief to not be involved in every step they make. I am no longer entangled in every emotion and peril they face. I will ever remain a soft place for them to land, but not to remain. If they seek me out needing words of empathy or wisdom, I'll share with them what I can. I will always have the time. But I am no longer the person that can make things right and smooth. If I catch my mind speeding up into mom-solves-all-things mode, I take a deep breath and let that feeling fade away.
I don't want to leave my kids with the weight of my own words ensnared in their minds.
I walked in my garden last evening and poked around a bit to see what was coming up. With all the cold weather we've had, I was surprised at how tall the hostas were, their green leaves unfurling by the day. I think of Mom when I see the hostas in my garden. She had every variety money could buy, and I benefited from that with a tiny start from them any given year I had a patch of soil to plant one in. She would show up with a folded down brown bag with tendrils of hosta leaves staring up at me. Because of Mom, there's a trail of hostas from Walnut Creek to Sugarcreek to Berlin.
"Don't wait too long to plant them," she'd say, "They'll die if you let them in the bag too long."
And I'd roll my eyes because I didn't want her to tell me what to do.
But somewhere along the line, they became my hostas. They had to become my own because if not I'd never take ownership of anything that was mine. Mom didn't tend and care for them. I did. I couldn't depend on her to bring me starts of things for the rest of my life. Somewhere in those years of breaking away from her, I took control of what was in front of me — my plants, my children and my marriage. And I think that's what she wanted all along.
Now it's my turn to let go and enjoy. I listened to a podcast that explained about women going through some brain fog after menopause and coming out with an enhanced clarity. The expert explained that our brains are rebooting themselves from reproductive mode, rewiring itself for the next phase of life. I sat very still as I absorbed this new thought, thinking about my mom and wondering if she had felt the same thing.
Last week Selena texted me at 10:15 p.m. and said, "Ugh, you and Dad are never allowed to die." She had just watched an episode of "This Is Us" where Rebecca was declining in health and appointed her daughter to take care of her wishes. I chuckled at the text but knew she was serious. I knew what the emotion felt like.
I will always be a mom. I chose to be a mother to Esabelle, Selena and Hunter. I will always be the daughter of Mary Kathryn and granddaughter of Mabel and Mary.
But my name is Melissa, and she is who I am.
Melissa Herrera is a columnist, published author and drinker of too many coffees. You can find her book, "TOÑO LIVES," at www.tinyurl.com/Tonolives or buy one from her in person (because all authors have boxes of their own novel). For inquiries or to purchase, email her at junkbabe68@gmail.com.