Here's a little reminder that it'll be OK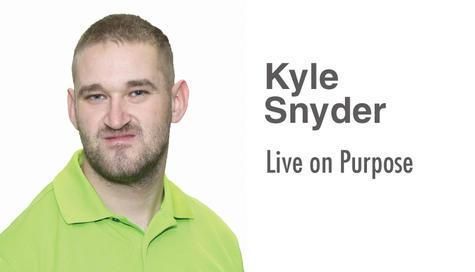 "We shall never surrender." — Winston Churchill.
Thanksgiving is right around the corner, and I wanted to write about being thankful. Then I heard the governor talk about the new cases of COVID-19 and how it is on the rise. He was talking about closing bars, restaurants and gyms down for the second time this year. I know it sounds awful, and I would agree with that, but part of his job is to keep us safe.
People are forgetting to stay 6 feet apart or to not shake hands. I have people touch my arm or back before I have enough time to tell them not to. I am not worried about little germs, but I don't touch others because I don't want me or them to get the virus. In the October issue of the Killbuck Encourager, I read, "We have had a tsunami of discouragement this year." I am writing this as just a reminder to all of my readers that everything is going to be OK.
First, God is still in control. He hasn't left us to ourselves; he is right here with us. He sees everything, and none of this has caught him off guard. He is still ruling on the throne of heaven. We may wonder where God is in all of this. Is he near? James 4:8 says, "Draw near to God, and he will draw near to you." I see that verse as telling us to draw near to him first. He wants us to engage him, and he will meet us where we are. Here is the secret: He never leaves us, but we leave him. He is always right there with his arms wide open, ready to take us back.
I also want to remind people not to lose hope. I have heard people more than once say to me, "I don't want to wear a mask for the rest of my life." That is a very short-term view. Yes, wearing a mask is here for a little while, but not for life. I don't know how long, but our lives will be back to normal one day. Hope is something we need right now, just to read that word in the paper. I hope it will give you a new outlook on this world we are living in. We must have hope that we will shake hands and give hugs one day again. People also have told me we will never shake hands again. Yes, we will, just not now.
Have faith in God, yourself and others. There is a lot of misinformation out there and a lot of blame on others. However, we are only responsible for our own life and our family. To be mad at people for the situation the world is in now won't do any good. To have faith God has control and will give wisdom to the doctors and scientists to hopefully find a vaccine in the next year, that's all we can do. It does no good to blame others for where the world is today. We must have faith that things will get better.
Finally, care about others. Look out for family and friends. If you know anyone who can't go to the store, go for them. If they are not comfortable being with other people, just leave the things you pick up for them on their doorstep. People might be OK around you, but they don't want to have contact with a lot of different people. Go and visit them. Play games and watch TV with them. If they can't be around others, call them. A nice phone call goes a long way.
The great Charlie Chaplin sums it all up: "Nothing is permanent in this wicked world," the legendary entertainer once wrote, "not even our troubles."