Long for life's simple things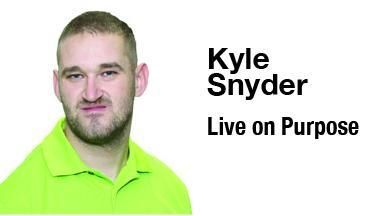 "Let me tell you something: I'm just a simple person who lives a simple life." —Bill Cowher
Why are we so afraid of simplicity? Ask the average person if they would like to have a simpler life. Most of us would jump at the chance. Unfortunately, like most people, it's just merely something to long for — maybe in the sweet by and by we will slow down and enjoy the simple things in life.
While we are on this Earth, so many of us think it is our job to run around like a chicken with its head cut off. Besides, so many times the word "simple" can be associated with someone who is not too smart or something not to challenging.
It seems to me that we think everything has to be complex in order to be meaningful. We have to be busy people in order to be worthwhile. We have to run around as fast as we can, or we think we will lose out on what life has to offer. We have to have the nice house, car, family, the well-kept lawn that is mowed just right. And what will people think if we don't have our life just the way it is supposed to be?
Let me clue you all in on what people will think if something is not just so — they will not think anything because they all have lives of their own. They are not even paying attention or worrying about what someone else is doing.
The longer I live, the more I realize how life is not all that complicated, that it's us who make it more complex than it has to be. As I was thinking what to write about for my column, at first I was going to write about the need to listen to others and not dismiss people we don't agree with. I will write about that one day, but I will not get political about it.
I started to look around at all the beauty of spring and thought about slowing down. Then I saw a woman with a shirt that read, "Take time to smell the roses." It was like God was trying to tell me to write on this topic.
Slowing down can be difficult at first, but like all worthwhile endeavors, it takes time to adjust. Start by going on a walk and try not to have a time when you need to be finished. Let it be a meaningless walk. Look around at all nature has to offer. You will be amazed at what you see.
The other day I walked into my kitchen and and saw a dark sky out the window, and for some reason, the tree in my neighbor's yard popped with all its green leaves. Also, just sit and relax outside, looking around or reading a book. Nothing is better than getting lost in a good book or doing whatever you love to do.
But remember — if we rush through life, then are we really living?