Self-quarantine is a good time to reflect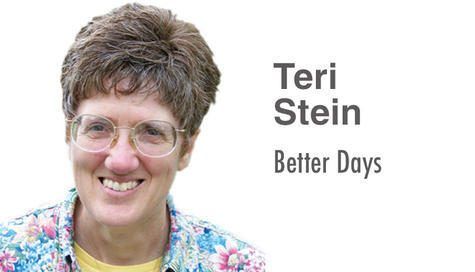 Since we are safe at home during the pandemic, it's been tough to get on any kind of schedule. We are winging it every day. Then do we really need a schedule as official high-risk group members because there really isn't much to do but those fun medical appointments? We have been having a few take-out meals and doing our own grocery shopping, but only when necessary.
Don't think we are just sitting around without accomplishing anything though. Nothing could be farther from that. We're getting to know our cat on a much deeper level.
When we were both following our own schedules during the day, we didn't notice so much what she was doing. Lately we noticed that after we've been quietly watching television in the living room and then start talking, kitty springs into action.
Here's what happens: We start talking. Then we hear a loud thump from upstairs as kitty jumps from her nap spot on the bed. Seconds later the little gray furball appears in the living room and looks around with her wide greenish-yellow eyes like she is missing something. She realizes the thing she is missing out on is — treats.
Because we started talking, it's time for a treat. It makes sense to this cat. Kitty starts meowing loudly and swishing her tail in our faces until we smack ourselves in the forehead and realize it's time for a treat. We get the treat, and everyone's happy.
Self-quarantine is a good time to reflect, but mostly it's questions you never thought you would have. Like the following day, you think about the survivalist you watched on television compete in an off-grid challenge, but then he got medically tapped out for eating semi-poisonous mushrooms that apparently should have been cooked before eating.
He thought they looked like edible mushrooms, but they were really fried chicken mushrooms. So my question is: If you cook them, do they taste like fried chicken? This is now something extremely important to ponder.
I did a quick internet search and found relatively little on the fried chicken mushroom itself and a lot of chicken and mushroom recipes. As far as taste, one site said it had a faint radish taste, and another said it was a mild mushroom with a crisp texture.
Despite what the survivalist learned the hard way, only one site said it needed thorough cooking. And even with that, it could cause stomach upsets. I'm going to pass, and you should too. There are way too many nice cartons and cans of mushrooms in grocery stores.
Anyway, I did come across a clever saying: There are old mushroom hunters, and there are bold mushroom hunters, but there are no old, bold mushroom hunters. Something to keep in mind!
I'll be happy when we can all get back to the way we used to live. The other day I went out to be in a surprise wedding car parade. It was one of the most fun things I've done since quarantine started. I made some homemade signs and decorated my car. I joined other friends and relatives who were uninvited from the wedding, thanks to the coronavirus, and we had a great time surprising the happy couple.
On my way into town though, I stopped at a store to look for an item. I was in a hurry because I didn't want to miss the parade and absentmindedly hopped out of my car without my cloth mask. I didn't think of it until I entered the store and saw the other shoppers wearing masks.
A feeling of dread struck me as I don't want any part of causing this pandemic to go on one second longer than necessary and quickly left emptyhanded. It's unsettling that something so foreign as wearing a mask is now part of everyday life but let's hope it's something we can soon put behind us. Stay safe out there.