So, you think you're a fantasy baseball manager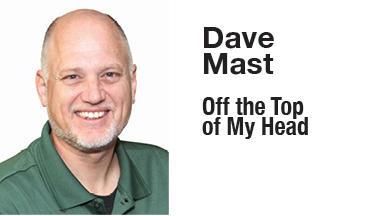 For those who love to hear the crack of ash on a leather ball or the wonderful slap of a horsehide baseball in the catcher's mitt, the allure of spring training being right around the corner brings with it the excitement of a game I adore.
Baseball has always and will always be near and dear to my heart.
I reveled in the Cleveland Cavaliers winning a title in 2016. I would rejoice if the Cleveland Browns ever won a championship.
But I would be in seventh heaven should the Cleveland Guardians ever win a World Championship.
They've come close. Those mid-1990s teams were incredible. It was right there for them to take down the Florida Marlins until Jose Mesa served up a loser.
The special run in 2016 resulted in what I consider one of the all-time greatest World Series showdowns ever with the Chicago Cubs.
I still have a replay of Rajai Davis' World Series game-tying eighth-inning home run call by announcer Tom Hamilton on my phone. Whenever I want to get chills, I simply fire that bad boy up and listen to the crowd rock downtown Cleveland.
Even though Cleveland lost, it was an incredible sports moment.
There's just something extremely romantic about baseball.
I'm not sure if it's because it's been around so long or because I have played the game all my life and images of the all-time greats remain entrenched in my psyche like stars from no other sport.
You don't even have to be a star to rein supreme in my mind and heart. You only need to be Brook Jacoby or Manny Sanguillen or Tommy Herr — perhaps Joe Rudi, Bill "Spaceman" Lee or Pee Wee Reese.
With the invention of Bill James' rotisserie baseball back in the 1980s, baseball took on an even greater appeal because fanatics like myself could draft and trade players. OK, actually we could draft and trade their statistics.
That made us all general managers of our very own team of MLB players. We could draft promising rookies and watch them flame out in fabulous ways, like Eric Yelding.
Who, I hear you ask, is Eric Yelding? Exactly.
Those early years brought friends together in the late 1980s, and we were all managers, the greatest ever seen, or so we thought. Friends became rivals, then anxious enemies as Kenny Griffey, Jr.'s cost skyrocketed.
"I've got to have him," the right side of your brain screamed as the left side said, "Don't do it or we'll get stuck with four crappy pitchers at the back end of the rotation."
Meanwhile you tried desperately to feign disinterest as the bid rose, your heart pounding as managers dropped out, and it was suddenly you and Jerry Foster mano-a-mano for the right to own Griffey's immense talent.
Pencils were thrown in disgust, and foul words were bandied about by owners who were outbid for their guy.
To get a good idea of what any single moment might look like, picture Darth Vader at the end of "Star Wars III" as he rose from the table, was told his wife Padme was dead and fires off an ear-piercing "Nooooooooooooo."
That's what it sounds like when Mike Piazza slipped through the hands of some poor sucker, now stuck with the catching likes of Andy Allanson and Junior Ortiz behind the dish.
That is the joy and sorrow of fantasy baseball. You live and die with each bid, you struggle with every player who could have been yours, and you anguish over each trade offer that comes your way. Young stars for seasoned veterans? Will Rob Brantley hold onto his closer role in San Francisco?
Today I am embroiled in heated battles with the other managers in the Gabe Paul Fantasy Baseball League, a conglomeration of baseball know-it-alls from Holmes and Tuscarawas counties and even one who lives in Denver.
Each spring as baseball draws near, we go to bat at an auction draft, full of life and hope that we find this year's Vinny Pasquantino while avoiding Karim Garcia.
The Gabe is looking for some new blood. If you love fantasy baseball, the league is now accepting applications to join — well, not so much an application as a request.
This storied baseball league has been around since 1988. That's 35-plus years of baseball lore.
It's an AL-NL league consisting of between 16 and 20 teams. As of now we exist on the lower end and would love to see that grow back to the 20 teams it was prior to this.
It's a live auction, where we all sit together and spend fake money, filled with local owners and a big jackpot where the winner collects close to $1,200 and the also-rans have a chance to make some money if you make your way into the top six.
But buyer beware, these diamond sharks are pretty sharp.
If you think you can swim with the big boys, email me at dmast@alonovus.com or Ari Yoder at atwyoder@gmail.com.
We look forward to welcoming you into the fold to enjoy the game we all love, whether on paper or on the dirt and grass.