Tasty Extension programming coming soon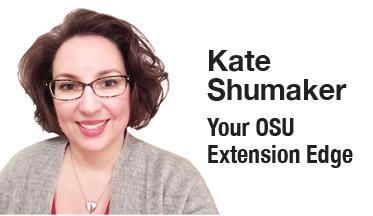 Join us for these upcoming programs in Family and Consumer Sciences:
Cooking with
Kate Fall 2023
Do you dread the thought of deciding what to make for dinner … again? Do you ever look at recipes in magazines or online and wonder if it tastes as good as it looks?
Join me, an OSU Extension Educator and Registered Dietitian, at "Cooking with Kate" for a fun and tasty time. Watch new recipes being prepared. See helpful kitchen gadgets in action. Gain practical cooking tips and techniques. Best of all, sample all of the foods prepared!
Here's what's on the menu: Sheet pan meatloaf; zucchini casserole; baked cinnamon apples; shrimp scampi; baked sweet potatoes and apples; bread pudding; teriyaki chicken; Mrs. B potatoes; and shoo fly cake. And maybe an extra surprise or two.
This 3-week program series will be held at the Love Center Community Room, 1291 Massillon Road (sR 241) in Millersburg on both Thursday evenings and Friday mornings. The program will be the same both times. Program dates/times are Thursdays, Sept. 21, 28, and Oct. 5 from 6-8 p.m. or Fridays, Sept. 22, 29, and Oct. 6 from 9:30-11:30 a.m. Cost is $15 per person for the entire series.
To register for this program, call 330-674-3015, email shumaker.68@osu.edu, or stop in the Holmes County OSU Extension Office at 111 E. Jackson St., Millersburg, OH 44654. Pre-registration and prepayment are requested.
Visit holmes.osu.edu/cookingwithkate for additional details and past cooking demos.
Dining with Diabetes
In late October/early November we will be partnering with Pomerene Hospital to offer "Dining with Diabetes," a cooking school and nutrition education program designed for people with diabetes and their family members or caregivers. Programs include cooking demonstrations to help participants learn healthy techniques and sessions each evening with a dietitian or Certified Diabetes Educator about skills to manage diabetes.
Those with diabetes or pre-diabetes and their family members or caretakers are encouraged to attend. Dining with Diabetes will be held on Monday evenings Oct. 16, 23, 30 and Nov. 6 from 6-8 p.m. All classes will be at the Clark Community Center (former Clark Elementary School), 1390 sR 83, Millersburg. The cost of the program is $40 per person and includes all four classes, educational handouts, and a meal at each class that features a variety of recipes. You are encouraged to also register one support person to attend with you for no additional cost. Paid registration is required. Registration is limited.
To register visit https://go.osu.edu/dwdholmes2023 or contact OSU Extension at 330-674-3015 for more information.
Who Gets Grandma's Yellow Pie Plate?
Our Holmes County Library program for October is one that can benefit so many people called "Who Gets Grandma's Yellow Pie Plate?"™(WGGYPP).
WGGYPP is a program from the University of Minnesota about passing on non-titled personal property. "Non-titled property" refers to personal property or possessions without a legal document (such as a title) to indicate who officially owns the item (Dad's fishing gear, a baptism gown, a yellow pie plate).
The WGGYPP program acknowledges that decisions about transferring personal possessions are often a source of family conflict; seldom simple or trivial; filled with emotional and social dynamics; navigated in the context of long-standing and often complicated intergenerational family structures; and complicated by multiple meanings of "fairness."
The program will be on Tuesday, Oct. 17 at 6 p.m. To join this program, call the Holmes County District Public Library at 330-674-5972.
Food preservation
As the leaves change and the weather turns cooler, I know many of you are still working on preserving fruits and vegetables from this year's harvest and maybe meat and soup. Please make sure you are doing so safely. We have many resources available to help. There are over 30 recorded webinars on a variety of food preservation topics at https://fcs.osu.edu/programs/healthy-people/food-preservation/food-preservation-webinar-series. You can also find a listing of all of our food preservation fact sheets at go.osu.edu/FPfactsheets. If you have food preservation questions or need your pressure canner tested, please call our office at 330-674-3015.
I hope to see you at a Family and Consumer Sciences program in the future!
Kate Shumaker is an OSU Extension Family & Consumer Sciences Educator and may be reached at 330-674-3015. Like and follow on Facebook @OSUEXTHolmes or visit at http://holmes.osu.edu.