Adventures of traveling in a runaway home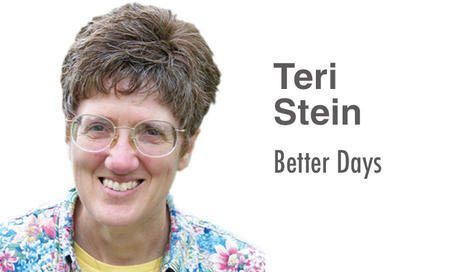 In sixth grade my favorite book was the "Runaway Home," part of a series by Elizabeth Coatsworth and illustrator Gustaf Tenggren.
The book was the story of a family who had fallen on hard times. They were invited by a relative in Washington state to join them in their apple orchard business. The family sells their house, buys a travel trailer and has many new adventures while traveling across the United States.
I don't remember all the details, just how much I enjoyed the book. From information online the main characters were the Harding family, Mom, Dad, Mark, Lucy and Jim. They forgot to list my favorite character: a big yellow tiger-striped cat named Persia.
That is why I was so excited on a recent out-of-town trip to cross paths with two similar travelers.
We were sitting at a traffic light, and turning in front of us was a truck attached to an Airstream trailer that read, "The Tin Can Travelers." We wish we would have had a chance to talk with them in person, but we were going in different directions in heavy traffic.
They had all the little social-media symbols under their name, so I immediately pulled out my phone to look them up.
Turns out they are a couple living in their camper full-time and traveling the United States for fun and adventure. Wouldn't we all love to do that? And they really get around. In about a week from when we saw them in Northeast Ohio, they went to Wisconsin to visit family and then to New Orleans.
I haven't had a chance to catch up on all the blogs on their website, but it looks like their schedule is mostly their own. It has to be a great life.
I'd be envious of the Tin Can Travelers without a pandemic, but even more so now. Since we have been cooped up for the past year, I'm up for a trip to anywhere, even if it's across town.
This sighting made the trip, which was already successful, even better. I've followed the Tin Can Travelers on social media and look forward to reading about their adventures, even if I am not doing the "Runaway Home" thing myself.
Besides this highlight, it was so nice to take a day to get out of town. We got our usual favorite groceries, and I made a major score. After sifting through dozens and dozens of shoes on a clearance rack, I found two pairs at a discount. Yay!
The best part was lunch. We stopped at a warehouse store's lunch stand for hot dogs. We had not had them in more than a year, and they sure tasted great, although it was another fun meal in the car.
The highlight of spring, hands down, was a recent in-person visit with Joe's mother, who lives at an area healthcare center. Thanks to COVID-19, we had not had an in-person visit with her since last September, and at that visit there was absolutely no touching. Everyone wore masks, we had to sit 6 feet apart outside the building and staff were monitoring us to make sure no one broke the rules.
We didn't mind the restrictions — better safe than sorry. But when Mom first moved to the center just prior to the pandemic, we had plans of visiting her often, taking her for outings and ice cream and maybe even a day trip to her favorite place, Lake Erie.
COVID-19 has ruined all that so far, but at least in-house visiting is open. Masks are still a necessary safety requirement, but we were able to visit Mom indoors for an hour. It was so much nicer and a lot better for everyone than standing outside her room window in frigid weather and writing notes.
We were able to sit close together, and the best thing is touching and hugs are now allowed. We can't wait until our next visit, and when COVID-19 restrictions are lifted completely, we hope to "runaway" with Mom and make that Lake Erie trip happen.