Dinosaur on a bicycle proves less exciting than pile of dirt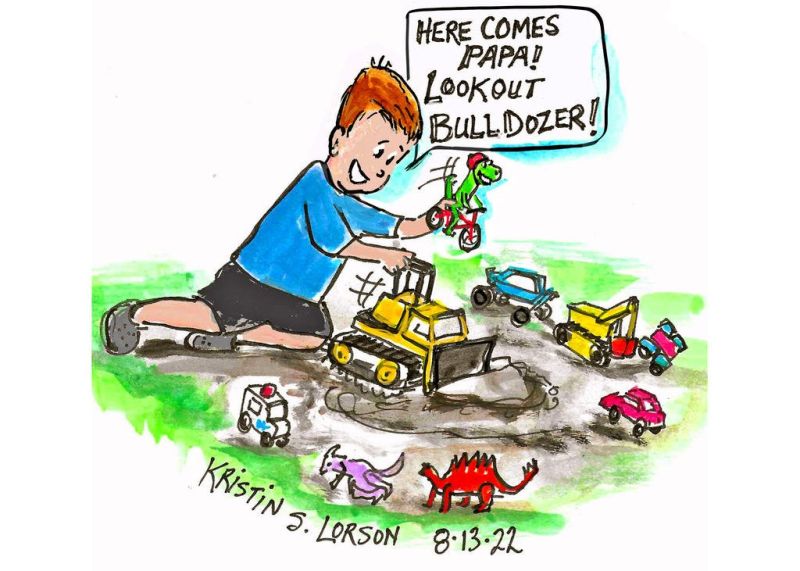 If I remember it correctly, Kristin and I were very careful in making sure our kids weren't spoiled. We did our best to keep their little hands, minds and hearts occupied while at the same time consciously resisting the urge to give them everything they ever asked for.
We are now watching our daughter carefully and judiciously apply that very same strategy to children of her own. As parents we are honored Charlotte would emulate her own upbringing. As grandparents, however, we find it nearly impossible and, frankly, completely unnecessary to say "no" to the cutest kids in the world. Although I'm not one to point fingers, I'm the one at the keyboard here, so I'll just say Kristin is far worse than me.
Shopping for 2 1/2-year-old James is pretty simple at this point. An obsessive thrift store shopper, Kristin has for months now been depleting the aisles of any and all toys in the following two categories: plastic dinosaurs and toy construction vehicles. (If you're planning a yard sale including those items, go ahead and double your prices because she shops without limit or conscience.)
For James' part, he's a happy recipient. I'm not so sure he's even aware every time he comes to our house there's an additional truck in the fleet or dinosaur in the herd. All he wants to do is get to the mulch pile out back, bury the dinosaurs with toy dump trucks and bull dozers, and then dig them back up with track hoes and front end loaders — all of which must be called by their entire and correct names. (Don't even call a "tracked excavator" a "backhoe" or you're liable to have a fight on your hands.)
So obsessed is the lad with this business of playing in the dirt that last weekend as I was destroying myself in the 87 F heat to win a mountain bike race, presumably to impress him, James barely looked up from his track-side excavation project to see me pass. When I tried to scoop him up onto the winner's podium with me for a photo op, he dug in with both heels and hands screaming about "construction vehicles" and "saving the dinosaurs."
You'd have thought the spectacle of a "living dinosaur" on a bicycle would have conjured at least a tiny bit of enthusiasm, but I proved about as interesting as a paper doll to the boy.
Ah well, things could obviously be worse. I've seen plenty of toddlers content to cling to an iPad for hours at a time — and parents that are perfectly happy to provide that distraction. There will be none of that nonsense here. There's a lot to be said for playing in the dirt, and if an endless parade of second-hand plastic dinosaurs and toy track hoes can continue to fuel that creative fire, we're going to need a bigger toy box at Gee Gee and Papa's place.
Kristin and John Lorson would love to hear from you. Write Drawing Laughter, P.O. Box 170, Fredericksburg, OH 44627, or email John at jlorson@alonovus.com.