A tip of the cap goes to Nashville Elementary kids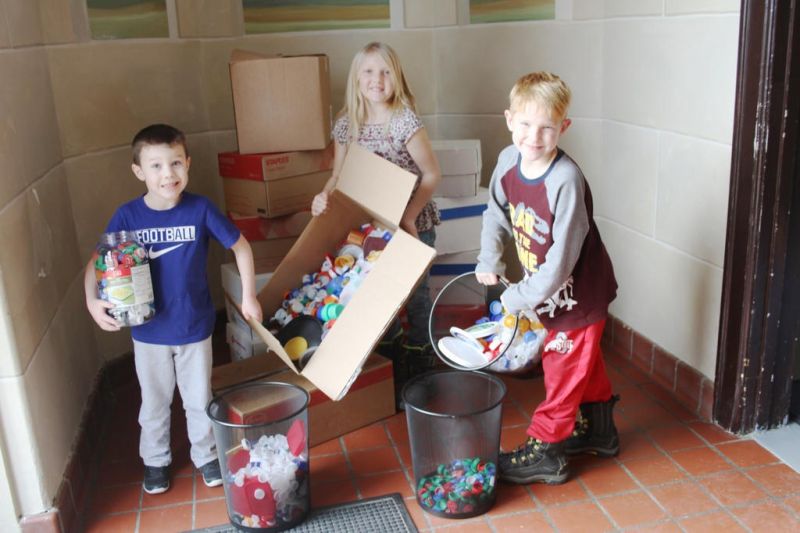 Nashville students are turning caps and lids into something useful as they participate in a grand recycling effort that is good in so many ways.
This year Nashville Elementary School is participating in a recycling program that can turn something most people throw away into something useful for its school.
The Bottle Caps and Lids Program was created so that schools can collect clean, recyclable lids and caps and turn them into benches for the playground, and after a massively successful campaign, Nashville Elementary is ready to reap the fruits of its labor.
"We had an unbelievable response from the kids, their families and even from outside sources," Nashville Elementary principal Brian Zimmerly said. "We have received more than 400 pounds of lids and caps, and we are excited about the way the kids responded to this opportunity."
According to Zimmerly, the program helps the environment and is educational for the students, who will have an opportunity to learn and grow in several ways through the program.
"The kids will count, sort or weigh the caps that their classroom collects," Zimmerly said. "In addition the students can learn about the importance of recycling and keeping our environment clean. It's a wonderful way to accomplish a lot of things, and in the end we can purchase something that will be very useful to our school. For one 4-foot bench, we need to collect 200 pounds of caps and lids."
​Zimmerly said the response was so huge and so quick they have ceased the collection process and are now ready to move toward a purchase.
"We probably have enough to purchase at least four benches right now," Zimmerly said. "Our goal is to buy one now for the school playground, and the PTO will buy one and raffle it off later. We will hold on to the rest of the lids and caps until next year when we can revisit purchasing another bench or two. It was an exciting undertaking that the entire school got behind and supported."
People were asked to send as many clean caps and lids as possible to the school. Nashville Elementary collected the caps and lids and turned them in to help create a fund that will help them place recycled benches in their school. The school teamed up with Plastics R Unique out of Wadsworth, a company dedicated to creating high-quality, environmentally-friendly products that has made great efforts to team up with schools.
Acceptable lids for the drive included medicine bottle caps, drink bottle caps, flip top caps like the ones used for mustard and ketchup bottles, detergent caps, spout caps, hair spray caps, spray paint caps, toothpaste and ointment caps, deodorant caps, and all caps with the recycling numbers of 2, 4 or 5.
In addition acceptable lids included container lids from cottage cheese, whipped cream, mayonnaise, coffee cans, yogurt, cream cheese, peanut butter and other food items like those.
The school will eventually take the caps and lids north to Plastics R Unique, where their pre-ordered bench will be waiting for them to take back to school. The caps that Nashville Elementary supplies will pave the way for the company to build a recycled bench for some other school, which will in turn do the same, which is how the system continues to create benches and tables for schools all over the state.