Academic Challenge features lots of action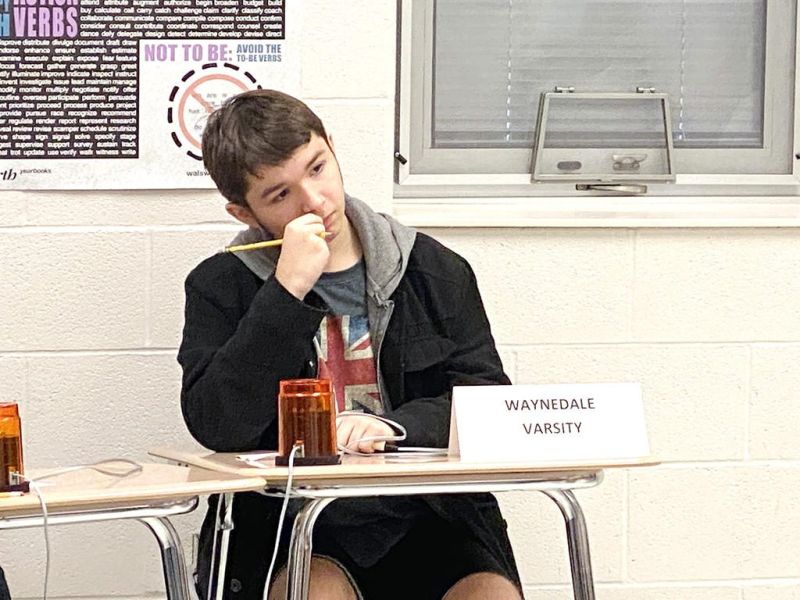 The annual Tri-County Academic Challenge Tournament that took place at West Holmes High School on Saturday, Jan. 7 featured plenty of action, but instead of high school students knocking heads with helmets, trying to spike or hit a ball and running fast, it featured students using their brains to help their respective teams try to claim a title.
Like any competition, this one takes plenty of practice and dedication. While most teams practice a bunch as a unit, most Academic Challenge teams dedicate one day per week at school to practicing, but the bulk of their improvement relies on them committing to learning and studying on their own.
The results of their efforts showed in the day's nine rounds, where students answered questions of which most people would have no idea.
For Waynedale sophomore Capt. Lincoln Nichols, the chance to exercise the brain and compete against other area students who share a passion for learning is worthwhile.
Nichols, who was dominant for the Golden Bears throughout the day, said every event is a chance for him, his teammates and all the other competitors to increase their knowledge and challenge themselves as they not only had to know answers but recall them quickly.
"There's a lot of preparation on your own," Nichols said. "I think as a team we all bring our own area of expertise to the table. There's a lot of great schools here, and we enjoy the opportunity to compete."
Hiland's Kendall Weaver, a junior who effortlessly led her team to a strong day, said calming the nerves, overcoming self-doubt and having the confidence to put oneself out there despite possibly making a mistake are critical.
"There's such a wide area of topics that it's impossible to hit it all," Weaver said. "There are things you learn in school and things you learn on your own, but you can't know it all, so you can't beat yourself up for not knowing something or getting an answer incorrect."
She said qualifying for nationals was one feather in the team's cap this year, and the chemistry between the team members helps make each event enjoyable.
Then there is the age and experience factor, both of which come into play in a team's effort to improve, compete and win.
Nobody knows about experience more than West Holmes coach Aaron Reining, and the reason he knows about experience is because his team doesn't have much of it. Reining's varsity team consists of three sophomores and a freshman while his JV is peppered with seven freshmen, two sophomores and a junior.
"We are so young," Reining said. "My team captain on varsity is a freshman. It's a big advantage to have that experience on your side, but we have a great group of young students who are excited about learning and competing."
He said one of his students is a literary avant-garde while others excel in different areas. He said seeing his youthful team compete hard and post a strong point total is encouraging.
"It's another experience, and having a young team is challenging but fun," Reining said. "For the most part, it's on them to dig in and learn and study, but these kids have, and I haven't had to push them because they push themselves."