Adults choose to return to the classroom for many reasons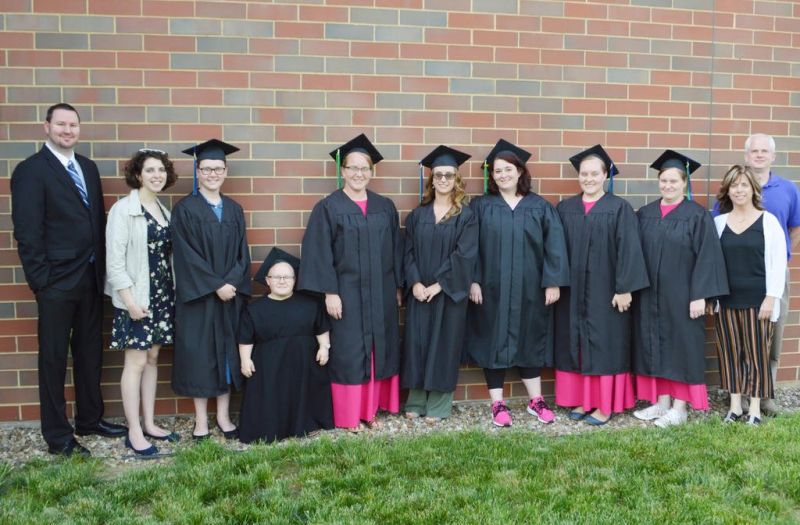 There may be a variety of reasons an adult may choose to return to the classroom to continue basic education classes, and Buckeye Career Center in New Philadelphia offers free classes to match just about any need an adult may have to help reach personal goals.
The Aspire program, which is a state-wide adult-education program geared toward helping adults achieve educational and career goals, is offered in several locations in Tuscarawas County and the surrounding area.
Nate Hackenbracht, who is coordinator of the Aspire adult-education division of Buckeye Career Center, said students in the classes may be there to catch up, brush up or move ahead.
"We have students in their 20s and 30s through their 60s. Most of the students don't have their high school equivalency and just need to get that part of their education completed. But others are in a transition period," Hackenbracht said. "Maybe they've been out of school for a few years and just want to brush up on some basic subjects before going on to higher education. Or they may need to do so for work."
Classes also are offered for men and women for whom English is not their native language.
The classes begin with a three-day orientation, during which students and instructors work together to determine goals. "That means goals for what they may need to achieve academically and future career goals," Hackenbracht said. "Through testing we determine a good starting point for each student, and that guides the lesson plan going forward. Most will be working toward advancing at least one level in their weakest subject."
The Aspire location at Hiland High School in Berlin is a particularly active center of adult education. "There are a number of Amish or former Amish who may have stopped their education at eighth grade but who want to continue to learn and bring their education up to date," Hackenbracht said. "Berlin has been a very successful site for us for a number of years."
Overall the Aspire program, which was formerly named Adult Basic Literacy Education or ABLE, has been in place in Ohio for more than 30 years. It is funded by the Ohio Department for Higher Education.
Locally 221 adult students were served at Buckeye Career Center through Aspire in the last year. Hackenbracht said that number is normally around 250-300.
The Aspire program assists adults with basic and secondary reading, math, language skills, preparation for the High School Equivalency Test, career pathways, English for Speakers of Other Languages and transitioning to post-secondary training, and education and employment.
Orientation is held four to six times each year at locations around the area. To register for classes, call Buckeye Career Center at 330-308-5720. Registration inquiries also may be made to Hackenbracht by email at nhackenbracht@buckeyecareercenter.org or by visiting Buckeye Career Center in person.
Classes are offered in New Philadelphia, Dover, Uhrichsville, Newcomerstown and Berlin. Classes are held to fit both day-time and evening schedules. Orientation sessions are scheduled during the month of November at several of the locations. Four of six locations offer classes year round while two are closed for the summer break.
"There are many situations in which a person may want to take adult-education classes through the Aspire program," Hackenbracht said. "It's not only for those preparing for the High School Equivalence Test."
Buckeye Career Center's website is at www.buckeyecareercenter.org.