Wooster schools' alternative sites offer in-person option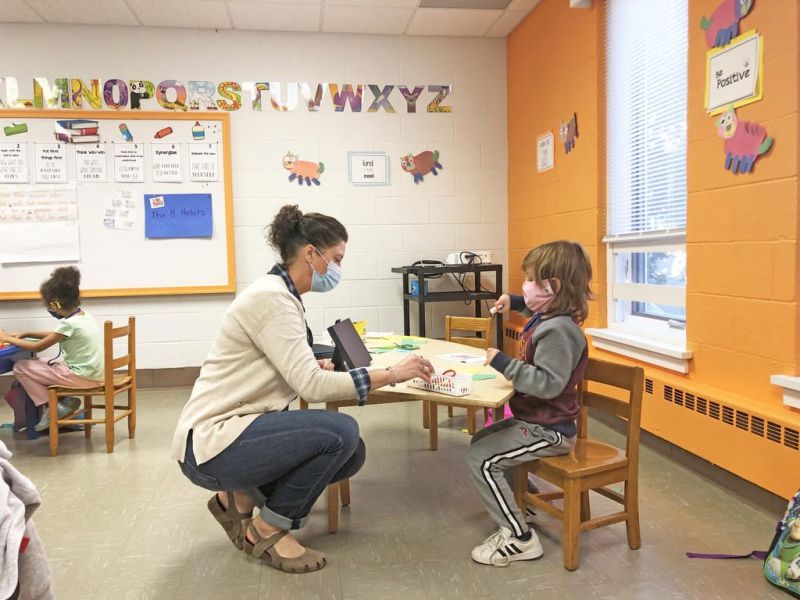 "I like school because there's lots of yummy food and it's fun," 5-year-old Ares Blake said. He went on to name all his friends in the classroom and added, "Even my teacher is my friend."
Blake's observations are just the kind of reason the Wooster City School District knew it was imperative to provide an in-person option for children and parents in the district. The alternate sites allow for a five-days-a-week option.
"This gives a childcare option for parents who work full time and need to have their child in school, who want their child to continue to learn and have that socialization that's so critical," said Kaylee Harrell, principal of Melrose Elementary.
The alternative site at United Methodist Church, which Blake attends, is one of three in the district for elementary students. Other sites are at Cornerstone Elementary and Grace Church. Students from Kean and Parkview attend the site at Grace Church, and students from Melrose attend the United Methodist Church site. Cornerstone houses the site for its students.
Students at both Edgewood and Wooster High School attend the alternative sites at their respective schools. The Littlest Generals preschool program also hosts an alternative site for the district's youngest learners at the Early Learning Center at Cornerstone Elementary School.
"We're meeting our target to provide a five-day-a-week option to support our families," said Karen Arbogast, director of elementary education for the district. "We're so happy to do this in a childcare/day camp model that gives students engaging learning experiences throughout the days and weeks."
Arbogast said in addition to teaching and learning, the schools provide meals, before- and after-school care, and critical social-emotional experiences.
Families choosing option A1 of the district's plan have their students report to school for in-person learning two days a week and to the alternative sites for the other three days. Option A2 has the students learning remotely from home for three days. Option B is all online learning through the Generals Academy, which this year was expanded to include elementary students. Roughly 300 families have chosen that option.
Amid all the changes to the educational models for the schools, COVID-19 preventative measures remained first and foremost.
"We've been very vigilant with regard to wearing masks, distancing, rigorous cleaning and sanitizing, and frequent hand washing," Arbogast said.
The sites are staffed by teachers, paraprofessionals, Boys and Girls Club staff, and volunteers.
"I can't say enough about the dedication and flexibility of our staff," Arbogast said. "There's no way this could be a success without them doing such a great job with our students."
On Wednesdays, art, physical education and music teachers rotate into the alternative sites, Arbogast said.
Several community partners are helping with the schools' programming, according to Arbogast.
"Anazao, Boys and Girls Club, The College of Wooster, and the Wayne County Library have been a couple of our great partners," Arbogast said.
"Once we found our locations and facilities to house our alternative learning centers, we needed to staff them," said Dr. Michael Tefs, Wooster's superintendent. "The staff have been amazingly committed, flexible and caring. The daily experience is fun, rewarding and wonderfully developmentally appropriate. All in all, though, a heavy lift, these centers are achieving our original vision and then some. I know our families who use these centers are very grateful."
Another area that had to be coordinated was transportation. Students who normally would have ridden the bus still do, and parent pick-ups and drop-offs have been staggered.
A typical day for students has them being served breakfast as soon as they arrive and then settling in. They then participate in their morning circuit, which would include Edmentum (an online learning management system), learning activities, physical education, and arts and crafts, with variations for grade levels. Staggered lunches are followed by recess and then story time for kindergartners. Independent reading is complemented with things like cursive writing and learning sight words, which paraprofessional staff members coordinate with classroom teachers and literacy coaches.
Arbogast said the district is very grateful for the opportunity to utilize learning space at both Grace Church and the United Methodist Church. "Their welcome and support is so gratefully appreciated," she said.
"Our alternative learning centers have been a real labor of love," Tefs said. "We, as a community, envisioned these centers as a support for our families who needed a five-day-a-week option (childcare) during this global pandemic. Grace and WUMC have been remarkable partners. Their partnership will leave a legacy and truly resembles the supportive and philanthropic culture of this amazing city we call Wooster."
With the staggering amount of planning and teaching going into the alternative sites, it's no wonder a 5-year-old like Blake might answer the question of why he likes school with the response, "Because now I know everything."