Area ag entities help fifth-graders get the dirt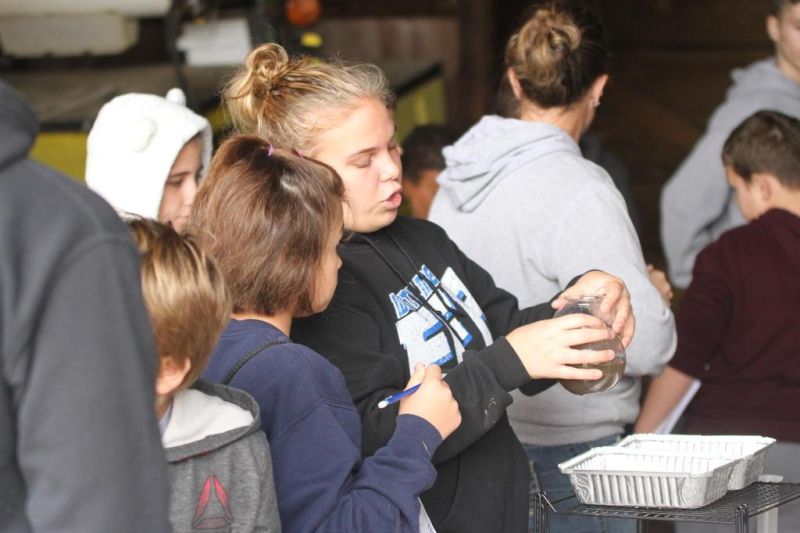 For more than a half-century, Holmes County's fifth-graders have been rambling through the grounds of Holmes County farms as part of the annual Tom Graham Fifth Grade Farm Tour.
Over the years the tour has experienced changes, but the one constant has been the idea that teaching the students about the value of farming and conservation is vitally important, considering the agricultural community that makes up so much of Holmes County.
On Tuesday, Sept. 25 and Thursday, Sept. 27, fifth-graders from throughout Holmes County ventured outside to a working farm where the concept of presenting a hands-on educational tool for the students continues to be the theme.
The Miller's One-O-One Ranch beef farm near Berlin was home for the East Holmes Fifth Grade Farm Tour on Tuesday while on Thursday the Wachtel family's 700-acre Spring Walk Farm near Nashville provided a perfect set-up for the West Holmes students to encounter a working dairy farm.
The tours at both ends of the county included forestry, water quality, soil, dairy farming and wildlife, and both included a farm-safety presentation from the respective high school FFAs. Volunteers and professionals from all walks of agriculture and conservation united to provide the information that will go into the students' posters and essay projects.
Holmes Soil & Water Conservation District decided to split the farm tour in half as it widened its outreach to include a number of parochial schools in the county.
New to the farm tour this year were parochial schools like Walnut Valley, Legacy Christian, Honey Run Christian, Zion Christian and Stoney Meadows.
"We liked the idea of accommodating even more kids, and if we are going to make this kind of an effort to educate, we want as many kids to experience it as possible," said Michelle Wood, SWCD program administrator.
Also new to this year's farm tour was the addition of the Holmes Farm Bureau. Kayla Jones joined Scott Rodhe of Rodhe's IGA at East Holmes to talk about how milk and beef get from farm to market. They showcased the many various products aside from just meat that can come from a cow.
"They have always had some element of a farm stop on the tour, but we wanted to get involved with it, and we are excited to have an opportunity to share through the tour," Jones said. "I love the idea of continuing to build our relationship with Soil and Water, and we appreciate them inviting us in to share our knowledge with the students."
Out west students took notes and experienced farm life up close. "I love the hands-on aspect of the farm tour because the kids get to see things that they rarely get to see," said Curt Wachtel, a member of the family farm at Spring Walk Farm.
While getting up close and personal with the cows in the barn is one thing the students experienced during their time talking to Wachtel, they also gained some insight into how the industry has evolved from the days of simply throwing a bale of hay into the stall for a cow to munch on.
One of Wachtel's main objectives was to show the fifth-graders how the mixture of silage used in today's feed has helped elevate the nutritional value of the feed. He put five containers out, each with a different ingredient in the feed mix they provide to their cows, including dry hay, high-moisture shelled corn, chopped hay, the bunk supplement with extra protein and corn silage. The mix gives the cows a blend of protein in their feed, which makes for healthier cows and leads to better milk.
"The kids just see cows and don't give much thought to the fact that they need nutritional feed or need milked every single day," Wachtel said. "Now it is all analyzed to create the best possible blend for the cows."
Wood said creating more hands-on opportunities for the students is always something they seek to do because that is what they believe stands out the most in the students' minds as they go through the day. One of those opportunities was a chance for the kids to look at rocks and soil through a microscope. While at the forestry sites, kids had a chance to feel and identify a number of different leaves and flora.
"There is something that sticks in your mind when you can actually touch and feel what is being talked about," Wood said.
Dave Woodring, a retired teacher, has been involved with the tour since 1980, so for 38 years he has been involved with the educational portion of the tour. He said the hands-on aspect is vital because saying something is one thing, but showing it and allowing students to actually hold props makes things sink in better.
"In all of the years I taught in East Holmes, I took every opportunity to get the kids outside for teaching moments," Woodring said. "Just giving kids that hands-on experience makes learning more enjoyable and memorable. Kids are full of energy, and they want to move around, and you want to take advantage of that and make learning as fun as possible, and it also gives us as educators a chance to get energized. And when we are more excited about what we are doing, the kids sense that, and they in turn get excited."
At each 10-minute stop along the tour, students took notes, which will in turn help them prepare their essays. Each fifth-grade teacher will then choose the two best essays to present to the SWCD committee, which will in turn pick the first-, second- and third-place essays. The winning essays will be presented later this year during the SWCD banquet.
"We enjoy hosting, and a lot of these kids never have been on a farm, so for them to get out here and interact with an actual working farm is new to them, and agriculture is such a big part of our county that they need to continue to learn about it," Tom Miller said.