Auditor tours Ashland County-West Holmes Career Center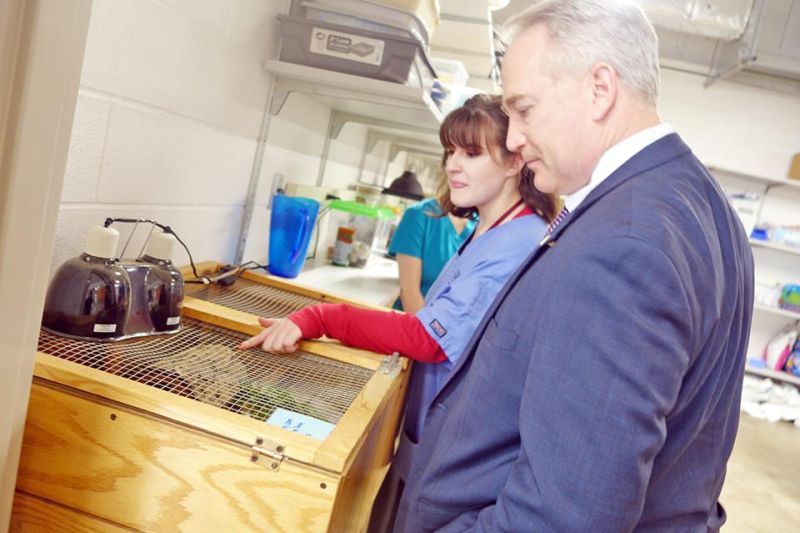 Keith Faber, auditor of the State of Ohio, was a visitor to the Ashland County-West Holmes Career Center on Thursday, April 11 in the afternoon.
According to Treasurer Julie Smith, the auditor's staff notified school officials the prior week that the local career-technical school would be a stop on the "Listening Tour" Faber is taking around the state. Two or three days a week are set aside for the newly elected state official to travel the state spending time with state governmental agencies including schools, townships, counties and more.
Faber and his staff are looking at the three e's — efficiency, economy and effectiveness in operation — as he conducts what he calls "performance audits." These tours may consist of a roundtable, a facility tour or attending a meeting as he reaches out to agencies that are the subject of state audits.
Career center interim superintendent Rodney Cheyney and Smith led the building tour, visiting five career center programs before the students were dismissed and touring other sections of the building after dismissal.
Instructor John Staats and students in the construction technology program showed off the house they built for the auction to be held on May 11. Faber was full of questions about the construction process and praised the program for recouping the house construction cost through sale of the house.
The next stop was the robotics and advanced manufacturing and engineering and design technology labs, where students demonstrated their skills with robotic arms, "Rob" the robot and the robodrill. Instructor Jim Simmering's students presented to Faber and his staff with personalized wooden card holders made by the program's robodrill and the program's signature laser-cut key chains.
The automotive technology program also played host as instructor John Burkholder and Faber discussed the way donated vehicles act as training models before students tackle work on personal vehicles.
The final stop with students present was the animal and veterinary science program, where the lab classroom was busy with clean-up before spring break. Instructor Anne Leidigh shared the success the program has achieved in the two years since its launch. Faber also was interested in the cooperation the program has enjoyed with the local humane society, veterinarians and community members.
Though Faber did not have time to visit the career center's six satellite programs, Cheyney shared their success along with the cooperation the career center receives from associate schools and colleges. He also outlined how the College Credit Plus program is benefiting career-technical students, something Faber would like to see happening more often.
Faber ended the tour saying, "I was impressed. Everything is well organized and well run. The students are learning and are happy, and the instructors are engaged. It seems like a first-class operation."