BCC held dedication and ribbon cutting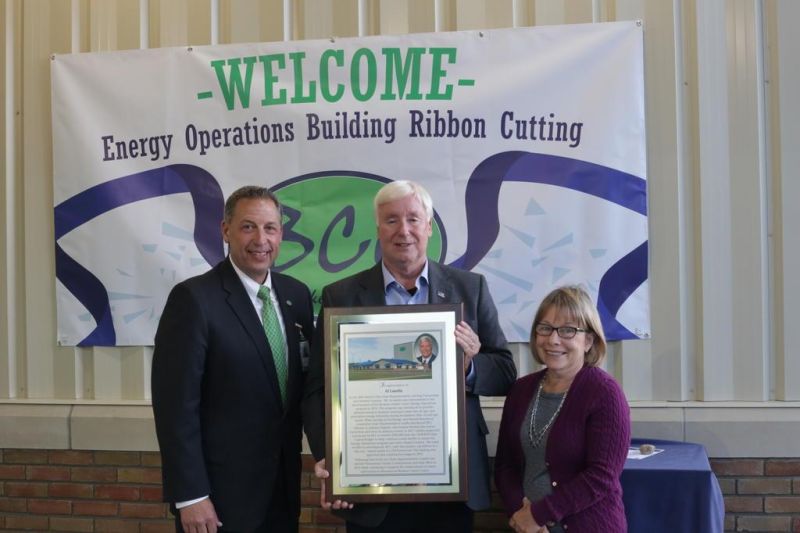 Area dignitaries and school officials gathered Tuesday, Oct. 19 to celebrate the latest edition to the Buckeye Career Center campus.
BCC held a dedication and ribbon-cutting ceremony for the Energy Operations Building, which officially opened in August 2020. The celebration was delayed due to COVID-19. The facility houses the high school energy operations program, natural resources program and the utility lineworker program, in addition to the adult EMS and fire safety programs.
Construction of the 15,000-square-foot building, on the northeast side of campus, began in March 2019. The building features four high-bay labs, four classrooms and one 65-foot-tall indoor lineworker training facility, complete with six climbing poles. Tuscon Inc. served as the civil contractor, and Benchmark Construction was the general contractor for the brick and metal-sided structure.
Partial funding in the amount of $350,000 was supplied by the State of Ohio, thanks in part to the work of then State Rep. Al Landis — now a Tuscarawas County commissioner — and State Sen. Jay Hottinger. Both were recognized at the ceremony for their efforts.
"Sen. Hottinger not only was a driver for our capital grant but has been a supporter of career-technical education and a friend to Buckeye Career Center," BCC superintendent Bob Alsept said. "As you know, now commissioner Landis partnered with Sen. Hottinger to secure the capital grant and helped us begin our energy operations program in 2014."
Four plaques were unveiled at the ceremony to honor Hottinger, Landis, the board of education and Colton J. Boring, a 2015 industrial electricity alum who passed away in 2019. Boring had continued his education at Northwest Lineman College and was an apprentice of the IBEW Local 71. The plaque to honor Boring hangs at the entrance of the utility lineworker lab.
"For some, these plaques are seen as a remembrance of the efforts of those who made this building possible. I see them as a daily challenge to all of us to find new ways to meet our vision, enhance what we do for students and increase our influence on this region," Alsept said. "Let's all embrace the challenge. Our communities depend on us."
In addition to Alsept, BCC Board of Education President Steve Brode, New Philadelphia Mayor Joel Day, Tuscarawas County Chamber of Commerce President Scott Robinson and Landis spoke at the ribbon-cutting ceremony. The event was emceed by BCC public relations coordinator Shyanne Carroll and was attended by nearly 50 people.