BCC readies Energy Operations Program building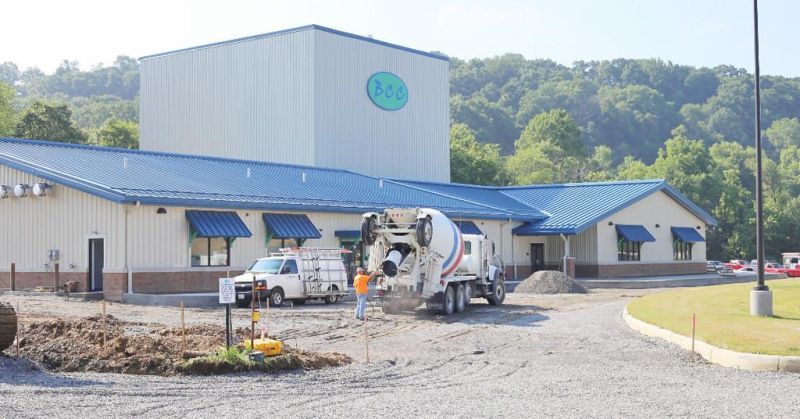 As new developments in providing the country with plenty of energy continue apace, the demand for trained tradespeople continues to be high, and Buckeye Career Center in New Philadelphia is nearing completion of a new $4 million facility that will help address that demand.
Superintendent Bob Alsept said the new Energy Operations Program building will eventually see more than 200 high school and adult students "on any given day in the school year."
The new center's roots began in 2014 when the school began to train students for work in the use of heavy equipment for oil fields, utility lines and pipeline installation.
"There were just 17 students that first year of the program," Alsept said. "Today there are 90. We found ourselves running out of room to accommodate all those, both at the high school level and in the adult education program, who wanted to take the classes. We realized we needed to build a dedicated facility where the program could have its own building, the students their own classrooms and restrooms and a place to take shelter when they need to."
Bids were accepted beginning in 2018, and construction began in spring 2019. The construction project received funding help from a capital grant of $350,000 and a contribution from the family of Colt Boring, a Buckeye Career Center student who passed away last year.
Alsept said the finished building is quite spacious at 15,000 square feet. "There are four classrooms and five labs with two labs for the energy program, one devoted to the study of natural resources, one for EMT and emergency responder training, and a lab with a 50-foot climbing facility to train lineman students in utility pole climbing," he said.
The building will serve both high school students and adults. "It will give us a lot of flexibility in what we're able to do and offer students," Alsept said.
Alsept believes there will be no problem either in filling the classes to capacity or in helping graduates find new jobs. "Placement for skilled workers from the program is about 98%," he said. "They find jobs in energy construction, surveying, transmission line and pipeline construction, and in oil field drilling."
Alsept said the demand for such workers shows no sign of abating. "There are a large number of workers across the country who are coming into retirement age, which will continue for the next several years. The demand will be quite high," he said.
With the COVID-19 pandemic throwing school schedules into doubt, Alsept said the building will nevertheless be ready for the coming fall school semester. "We're finishing up the last of the details now. Paint is being finished up, the parking lot is finished and striped, and we'll be moving equipment in soon," he said.
Alsept said a certificate of occupation for the building is the final step in the works.
The school is planning for student orientation Aug. 24-28, then blended in-person and online classes beginning Aug. 31 through late September when a re-evaluation by the board of current restrictions and state requirements will occur before deciding to make any changes.
If all goes well, Alsept said beginning in late September the building will be available for junior and senior class students for 2 1/2 days each week. "We want to get through the start of the year, and we're hoping to have schedules rounded out fully by the end of September," he said.
Though the administration at Buckeye Career Center is understandably proud of the new training facility, Alsept said the community should not look for a "grand opening" or unveiling event, at least not for a while. "Limitations on gatherings of people will hold that off until it's safe," he said.
Alsept said he's ready for the school year to be underway and for the new energy training facility to fulfill its potential. "We're looking forward to getting the facility up and running. It will add tremendously to the campus, and we have a lot to be excited about," he said.
Full information about the upcoming school year schedule can be found at www.buckeyecareercenter.org.