BCC staff has fall in-service day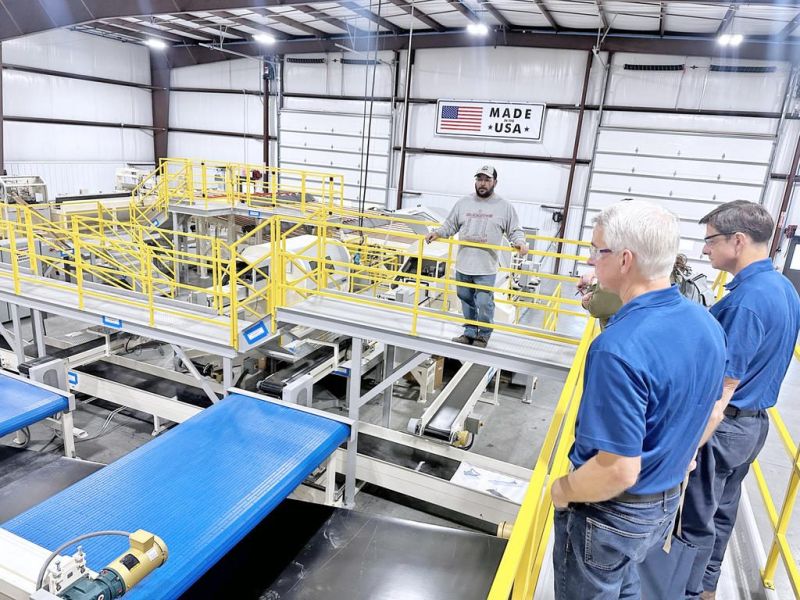 Buckeye Career Center staff members are now more familiar with the needs of area companies following group tours as part of the school's annual fall in-service day. The staff, comprised of academic teachers and lab instructors, split into eight groups and visited two or three area companies/agencies on Friday, Oct. 13.
The educators were divided by cluster, allowing each group to visit places related to what they teach. This initiative was designed to enhance the educators' understanding of the local job market and enable them to guide their students toward career opportunities.
Eagle Machinery & Supply Inc., located in Sugarcreek, was visited by the manufacturing cluster of instructors. The group saw the production plant, known for making machines that produce wood products like flooring. Human resources manager Todd Stoffer felt the visit was essential to help his company establish connections with lab instructors who have a direct line of contact with the future of the workforce.
"This gives them a better idea of what we do here so that when they are in front of their students, they can explain what we do and help the students become interested in a possible career with us," Stoffer said.
Stoffer said establishing relationships is one of his primary goals. "Precision machining and welding jobs are so important to us, and we feel like Buckeye Career Center has a lot of good programs in those areas."
The 22 tour stops provided the staff with insight into the operations, industry trends and skills required by local businesses. Welding instructor Brian Myers was impressed by the technology observed at the manufacturing locations, like Eagle Machinery, which showcased a machine that screens for wood defects.
"It is very important because it reduces rework at the end of the assembly line. Something like that is skills-transferable into the metal field because we check metals the same way," Myers said.
The participating companies and agencies included Benson's, First Federal Community Bank, Miller Studio, the New Philadelphia Fire Department, TuscBDD, the Tuscarawas County Chamber of Commerce, SpringVale Health Centers, Cleveland Clinic Union Hospital, The Inn at Northwood Village, Eagle Machinery, Superb Industries, Tusco MFG, LJ Smith, Bowerston Shale, Designer Stone, The Kimble Company, ProVia Logistics Center, Solace, Shear Design, Mark's Place, Sheckler Excavating and Apex, and Griffeth & Son.