Beacon Hill girls explore employment options during field trip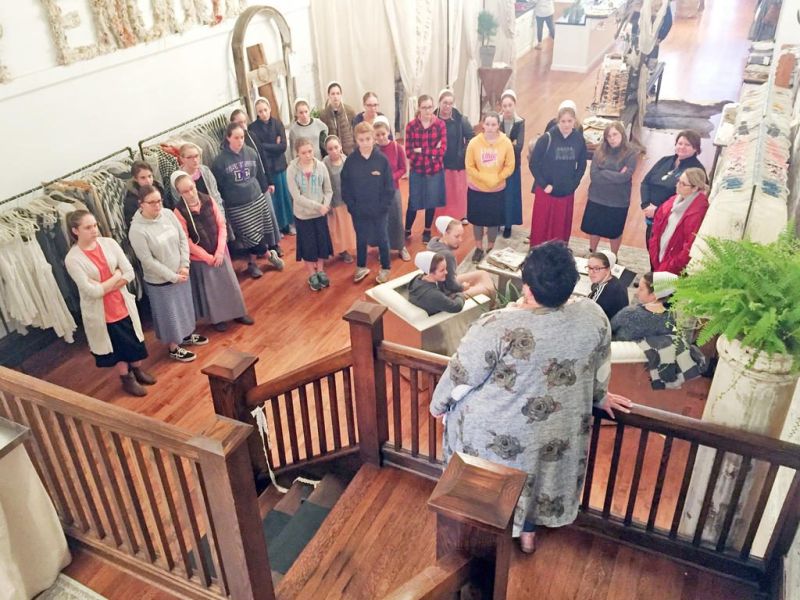 On Wednesday, Feb. 6 girls from Beacon Hill Community School of Mt. Eaton explored Wayne and Holmes counties as they visited area businesses to help them see what types of employment opportunities await them if they choose to pursue a career.
"We wanted to explore some local businesses in the area that the girls would have access to finding employment," said Sheila Norris-Hanna, Beacon Hill principal. "The other part of this trip was to find businesses that are faith-based. Because as a charter school, that is part of our charter that we support those types of businesses."
The Beacon Hill career field trip trek included connecting with area businesses that deal with both ends of the life cycle. The girls began their day with a visit to the Mt. Eaton Care Center, where they toured the birthing facility and got to experience three newborns. The girls have a special connection to the center, having made flannel receiving blankets for new mothers.
"The girls got to see three new babies with their mothers, one born this morning," Norris-Hanna said. "Then we went to the other end of the spectrum."
From there they went to Walnut Hills Retirement Community, where they paired up and visited with the senior residents at the facility. There they shared their own experiences in some of the ways they have served within the community while discussing with the residents what has made them happiest in their lives. In addition the girls were introduced to some of the different roles that are available at the facility.
"It was a delightful experience," Norris-Hanna said. "When the girls first went in, they were shy and unsure of themselves because it is a different experience. By the time they came out, they were giggling and sharing stories and talking about the people they met with. It was fun to see that transformation in the girls."
The third stop on the tour was Keim Lumber, where the group explored the lumber store, getting to see the inner workings and learning about some of the job opportunities available there. With a host of employment opportunities for young women, Keim Lumber discussion centered around communication in the workplace.
"They've got about 30 different options that our girls could explore for employment, which is neat to see," Norris-Hanna said.
Finally the trip found its way to Millersburg, where the group visited with Lena Schlabach, owner of the company, Farmhouse Frocks, who has transformed the apparel store into a company that sells nationwide.
Schlabach, who was raised in an Amish family, talked at length to the girls about her life experiences, how she explored her opportunities and built her entrepreneurial spirit.
"I've known Lena for years, and I know Lena's message is our message," Norris-Hanna said. "She grew up Amish and has made such incredible strides and overcame some great challenges, and what she shared hit it right on the head and connected well with girls."
The girls returned to school to write a reflection on their day, what it meant to them and what they learned that was valuable and informative.
"We always want to generate talks with the girls about potential careers," Norris-Hanna said. "When you're 14 years old, 16 seems a long way away, but it comes pretty quickly. Some of the girls said they would like to work with those newborns, but a lot of them raised their hands and said they would like to work at Walnut Hills."
Ashia Stoltzfus said the one big message she took from the day came from listening to Schlabach speak.
"I think the idea that I am enough and it doesn't matter what other people think but what I think of myself that matters," Stoltzfus said. "The whole day was pretty inspiring."
While she said the businesses they visited were informative, she is leaning toward a different career as a baker.
Abby Byler said the Farmhouse Frocks visit enforced her belief of following her dreams, and hearing Schlabach's inspiring story was exciting. She added getting to see the various employment opportunities available in the area for young women was enticing.
"It's been fun to get out into the area and see all of these places that can provide employment for us when we grow up," Byler said.
Jennifer Weaver said visiting the infants and then chatting with the seniors at Walnut Hills was odd, but when they got into it, they all felt better about what took place once they had gone through the experience.
"You're not quite sure what to say, but once I got into the conversation with a resident, it was very easy and comfortable," Weaver said. "We warmed up to each other quickly, and it became very easy to get into conversation."
Weaver hopes to explore a career in counseling.
"There is a lot to take in for the girls and a lot to learn as they explore the possibilities," Norris-Hanna said. "Hopefully this is the kind of thing that will spur them on to thinking about their future and where they see themselves down the road, no matter what they want to do."