Beacon Hill School enjoys projects through art grant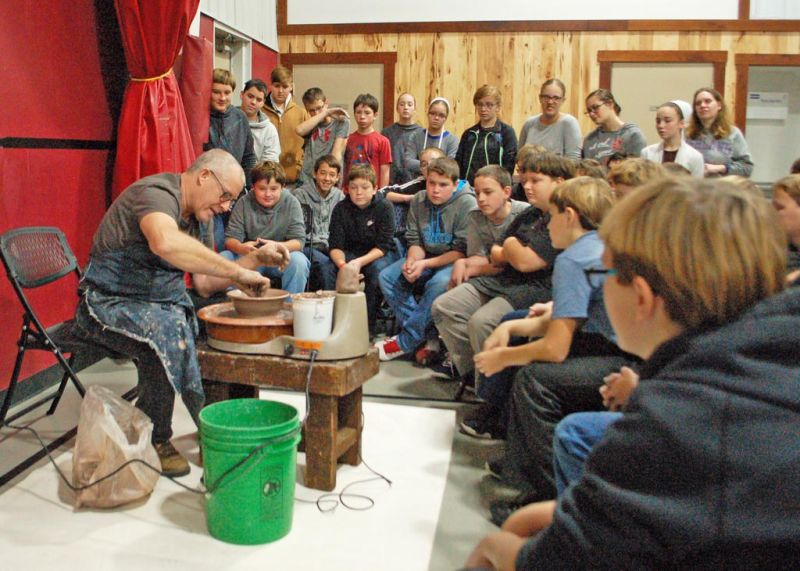 Students at Beacon Hill School in Mount Eaton have been enjoying several artistic projects that were available to the school because of a grant from the Wayne County Community Foundation.
Beacon Hill is a public charter school with a large population of Amish students who traditionally finish schooling after the eighth grade. The enrollment is approximately 64 students.
"We've had so much fun, and we've learned a lot," principal Joy Zuercher said.
According to Zuercher, the first part of eight total sessions was completed early last school year before COVID-19.
"We were having such a great time," Zuercher said, "but then we had to postpone the last-three sessions till this school year because of COVID."
The sessions that were held included throwing pottery with Terry Shue of Muddy Fingers Pottery in Kidron, hand-lettering with Megan Weaver of Letters & Littles in Berlin, charcoal drawing skills with Rachel Neiswander of Millersburg, cartooning with Kristin Lorson of Orrville and photography with John Lorson of Orrville. John Lorson is a published author and photographer and a columnist with The Bargain Hunter. Kristin Lorson is a well-established local cartoonist and painter.
Three more sessions had been scheduled including woodcarving, mixed media and sculpture. These sessions will be rescheduled.
The idea of the programs, Zuercher said, was to expose the students to local artists specializing in each of the fields. The programs were held during the school day and included nearly the entire school.
"Pottery was huge," Zuercher said. "The kids really enjoyed it. They got to make a pinch pot and have it glazed. Most of them had never seen a potter's wheel used. They would see the beautiful works the artist brought and didn't think they'd be able to do it. But when they saw that they could just smash it and start over, that helped them be more ready to try again until they got results they were happier with. So they saw the entire process from beginning to end."
Zuercher said one of the goals of the programming was for students to learn from the process. "We tried to teach them that it wasn't just all about the finished project, but the process to get them there. We wanted them to take a skill or knowledge and make it their own — to see what artists do, how they do it and why they do it," she said.
The Beacon Hill School is geared toward career development because so many of the students don't go further than the eighth grade, Zuercher said.
"Part of what we wanted was to give them a taste and inspire them to go on to add these skills to their personal toolbox of skills. Another component was that we had the students talk about the benefits of art and how it helped them. They learned that they could use art as personal therapy and for stress relief. They learned it can be a strategy they can use in real life and that maybe they can share," Zuercher said.
Zuercher said it was gratifying to bring in artists from the area — Wooster, Berlin, Kidron and Millersburg — and connect the students to people who are already making art out in the world.
"It was great for them to see successful adults using art in positive ways. They were always excited to see what we were going to do next," Zuercher said.
The $2,000 grant was secured from the Wayne County Community Foundation by Zuercher, who had done the application in connection with classes toward her master's degree in school counseling at Malone University.
"I had never written a grant application before, so I was thrilled to have gotten it," Zuercher said.
Zuercher expressed gratitude to WCCF. "I can't thank the WCCF enough for working with us on this, especially in light of the complications due to COVID. Our teachers try to incorporate art into their classrooms, but since we're so small, we don't have a dedicated art teacher. I hope it might be something we'll be able to continue," she said.