Berlin Elementary follows 'Leader in Me' program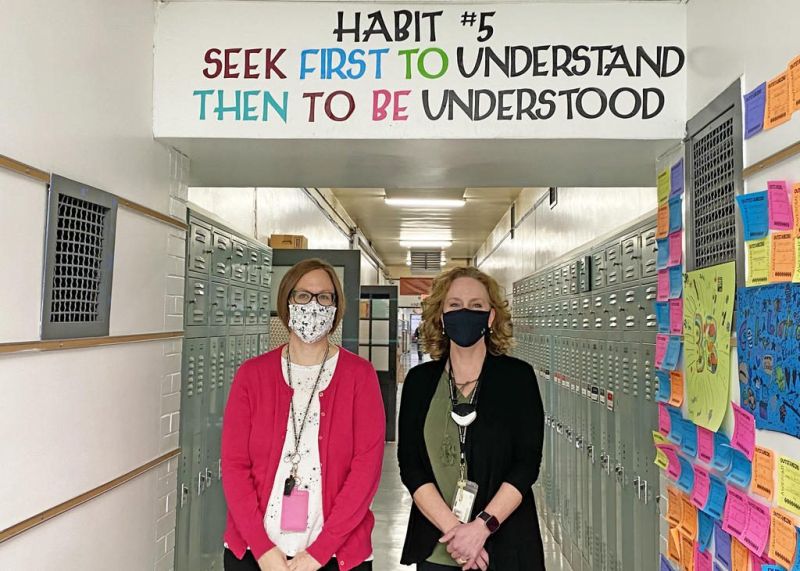 In 1989 Steven Covey wrote one of the best-selling business self-help books ever, "The Seven Habits of Highly Effective People." It ignored trends and pop psychology and focused on timeless principles of fairness, integrity, honesty and human dignity.
The "Leader in Me" program has adapted a framework of the habits for k-12 students, and Berlin Elementary has been successfully using the program to help develop the "whole child" and help them find their voice.
"Our educators begin to see their role, student potential and the purpose of school culture in a new way," principal Darren Blochlinger said.
Parents, educators and school administrators are concerned with their students' physical, mental, social and economic well-being, all of which are factors that can contribute to or hinder academic success. Teachers, staff and administrators at "Leader in Me" schools are empowered to provide support in all of these areas by creating a learning environment that addresses whole-child education.
Blochlinger said he had learned about the program when doing an internship at another school. "It was intriguing to me. I could see where it helped students take responsibility for their own learning and actions," he said.
The school had begun to incorporate the program last year but was interrupted by the pandemic.
"So this is really our first full year, and we think it's a big success," Blochlinger said. "We're helping the students to find their own voice, to allow them to grow and discover what they're best at. And that is, after all, our job as teachers."
According to Blochlinger, the seven steps of the k-12 program are be proactive, begin with the end in mind, put first things first, think win-win, seek first to understand and then to be understood, synergize, and sharpen the saw.
Displays of the steps adorn the hallways and classrooms at the school, reinforcing the program.
The school has both monthly and year-long goals. The overall "WIG" — wildly important goal — is to improve test scores.
"It's easy to set goals, but it's another thing to follow through," Blochlinger said. "A student's goal might be to get an A in math, but what steps do we need to take to ensure that success?"
Students and teachers together make leadership binders for their classrooms, focusing on the steps and tracking progress daily. Students also have their own individual goals, which their teacher and "accountability partners" (other students) reinforce.
"It's impressive how honest the students are with themselves and each other," said Michelle Sauernheimer, a sixth-grade teacher. "We meet every morning to discuss our progress, what's going well and what we have to adjust. We have built-in rewards, like extra recess, which the kids, of course, really love."
"The program really helps build community within the classroom," said Jill Raber, a third-grade teacher.
The school has "Lighthouse Teams" that are student-run and include the audio-visual group, which does the morning announcements.
Leadership students are recognized monthly in the "Hawk Talk" assembly, Blochlinger said. "It's great to see who is exhibiting the leadership skills in a specific habit," he said. "Some kids might seem like they're really shy, but giving them opportunities as leaders can help them and us find out what they're good at and find their voice."
Blochlinger said success with the goals funnels into every other aspect of learning, especially behavior. "The kids learn to take responsibility for their actions," he said. "I always say, 'Do the right thing even when nobody's watching,' and they really take that to heart."