Berlin students get STEAMed as they grow their leadership skills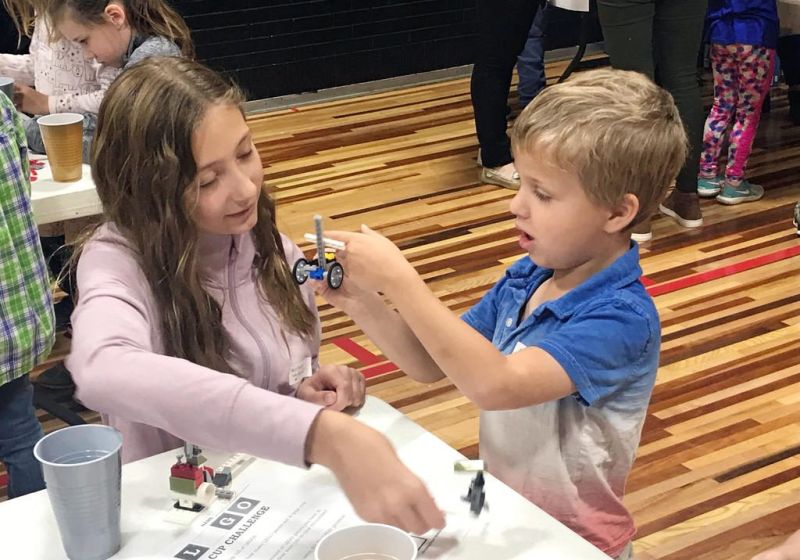 It was full STEAM ahead for students at Berlin Elementary on Monday, Nov. 11, where every student participated in the STEAM Day events in the gymnasium in a program that was designed and performed by the sixth-grade class.
STEAM is an acronym for Science, Technology, Engineering, the Arts and Mathematics, topics that serve as access points for guiding students in terms of developing inquiry, dialogue and critical thinking.
The ultimate goal in developing STEAM concepts is to eventually develop children who are better at problem-solving, engaging with others, working collaboratively and using their creativity.
The event is part of the Leader in Me Lighthouse School program that was a highly regarded standard set by Franklin Covey as a benchmark for students to achieve. The hope for each school working within the Leader in Me parameters is to meet certain criteria that enhance effective leadership and growth in students.
"The day is for students to get involved with skillful activities that will help them with their mind-set in our seven habits," said Paris Miller, who along with fellow sixth-grader Macey Miller greeted the student body as they entered the gym doors.
Those seven habits of a happy child included be proactive, begin with the end in mind, first things first, think win-win, think to understand and then be understood, synergize, and sharpen the saw.
In laymen's terms that simply means be a leader, have a game plan, work hard, find a way for everyone to contribute, listen before you talk, work together and find a balance in life.
The gymnasium was packed with a number of various stations where students worked with different types of building materials, each station designed to inspire creativity.
According to Berlin Elementary principal Darren Blochlinger, the idea behind the Leader in Me program is to encourage the students to think for themselves, giving them a blank slate of materials in which they can create and build something unique of their own invention. He said extending the lesson back into the classroom is something each teacher will continue to do.
As for the value of the event for the sixth-graders, Blochlinger said it is an invaluable tool in developing their leaderships skills. He said they will develop leadership teams called Lighthouse Teams in the near future, and it will begin with the sixth-graders.
"We felt it was important to have the sixth-graders plan the event and lead the kids through the process," Blochlinger said. "They had to do everything, and their participation and leadership will show me that they can work in a Lighthouse leadership setting because there is so much responsibility involved in what we are doing in this event."
The day began with the second- and third-grade students coming in, and Blochlinger said the older children gave the initial foray into the project better balance because the older students have a better grasp on what the sixth-graders want to accomplish. The kindergarten and first-graders came in for the second shift while the fourth- and fifth-grade students finished out the day.
"There was a little trial and error in that initial group coming in, but it gave our sixth-graders some experience in preparing for the littler kids," Blochlinger said.
Blochlinger said with the sixth-grade students receiving so much responsibility, the hope is the younger students see what they are doing and emulate those types of leadership roles when they are the ones leading the way.
"It's about developing great leadership skills here at school, and hopefully the kids will take that home and their parents will see that improvement in them," Blochlinger said. "There is a lot of growth that can take place in events like this. The kids were really nervous coming into this event, so that shows me that they were really serious about taking it to heart and wanting to do a great job, which they have."
Blochlinger said another good quality that comes from this type of leadership role is that the students realize they have to work hard in order to see something positive happen and seeing the rewards of doing a good job. He said leadership and responsibility are earned, and they won't simply be handed everything in life.
Back in the gym, the sixth-graders stayed focused on each student as they built their projects. The sixth-graders moved from student to student, asking questions and giving guidance and encouragement.
"We are here to help the younger kids build and give them instructions," sixth-grader Frederick Schrock said. "Once they start building, we ask them about these habits and how are they using them to build and create. We want to help them to learn to think through what they are building. As leaders this is really going to help us learn more about using these habits."
With the sixth-graders being put in charge of a number of activities throughout the school year, this initial foray into developing leadership is important.
Sixth-grader Maxwell Jones said he and his classmates learned about their jobs the Friday before the event. He said figuring out how to best approach their own personal task is part of the learning process.
"We had to plan out almost the entire day, and I think it is coming along quite well," Jones said of the event. "Developing the habits in all of the students is an important part of this, and it is a pretty big deal and a big responsibility to educate and encourage others."
Jones said it also is a fun time and shows how much the sixth-graders have grown in their ability to tackle big projects and to show their leadership qualities.