Campaign raises more than $190 million in cash and commitments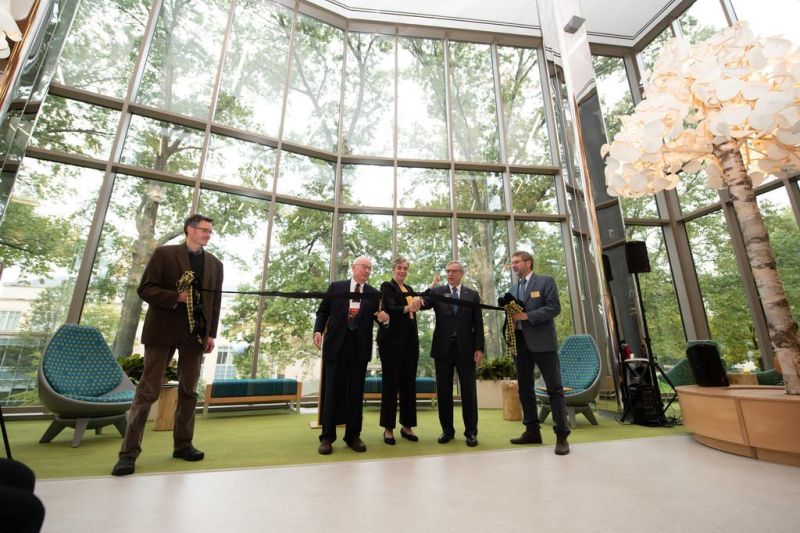 The Scot faithful gathered on campus recently to celebrate the successful conclusion of the largest fundraising campaign in the College of Wooster's history.
Wooster's Promise: The Campaign for Our Future raised just over $190 million in cash and commitments to support five major priorities: student financial aid, academic strength, experiential education, the life sciences and the Wooster Fund. Overall the campaign exceeded its goal by $25 million.
More than 42 percent of Wooster's alumni participated including 5,790 first-time donors and 9,335 who gave in at least two of the campaign's five years. Bequest commitments and other forms of planned giving represented 28 percent of the total dollars raised.
"This is the place where I learned to think, not just learn," said Blake Moore ('80), chair of the campaign leadership team. "When I left, I believed I could do anything."
In all, 1,471 individual donors gave more than $55 million to support student financial aid including the creation of 71 new endowed scholarships. More than $19 million was raised to endow three new professorships and 34 new funds to support faculty scholarship, student Independent Study research and individual academic department initiatives.
Another 10 endowed funds were created to support APEX, the college's integrated center for student academic and career advising, planning and experiential learning, while the Wooster Fund, which provides operating support for every part of the college year round, took in just over $17 million from more than 14,000 individual donors.
Moore said, "This campaign was driven by emotion, from the heart, from the love of this college and what it has meant to so many people."
On Saturday morning the college officially dedicated the Ruth W. Williams Hall of Life Science, made possible by 150 donors who together invested more than $40 million in the future of the life sciences at Wooster.
Designed from the ground up to support the mentored student research at the heart of a Wooster education, the new building is the largest capital project ever undertaken by the college.
It is fully integrated on all four levels with the Severance Chemistry building to the north, and the combined facility is home to Wooster's programs in biology, biochemistry and molecular biology, chemistry, environmental studies, and neuroscience.
It is named in honor of the late Ruth Whitmore Williams, a Wooster alum and longtime member of the board of trustees who, along with her husband, A. Morris Williams, provided the lead gift that got fundraising for the project off to a fast start in October 2013.
As Saturday's dinner drew toward a close, Wooster President Sarah Bolton said, "Wooster is an extraordinary college because we invest so deeply in the promise of every student, meeting them where they are when they arrive and bringing them through a journey of learning and exploration to a place where they can do work that's never been done before. And in so doing, our students achieve their dreams, but they also do more than they had ever even imagined."