Career fair offers Hiland students a glimpse into job opportunities here at home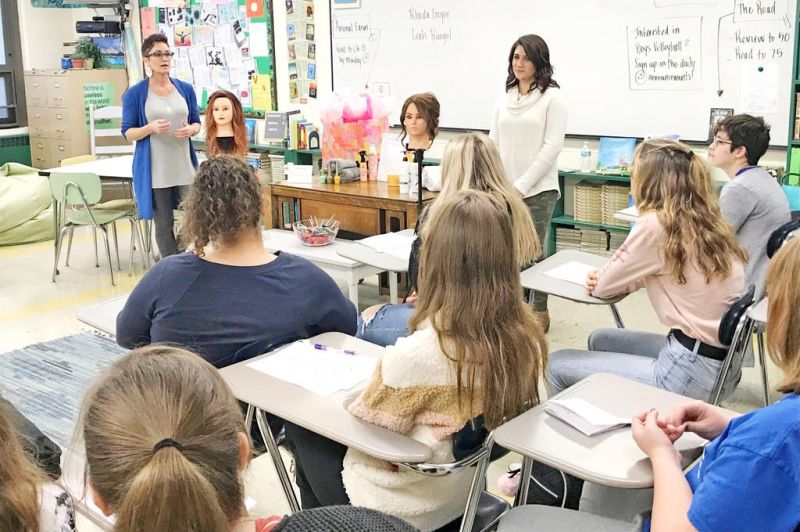 Hiland High School and Middle School guidance counselor Noah Boyd set about to create a day that would allow area business representatives to connect with Hiland students to help them realize some of the opportunities available to them in Holmes County immediately out of high school.
The Hiland Career Fair, which took place Thursday, Nov. 7, also served as a way for those interested in attending college to get some information on opportunities to return to Holmes County once they have graduated to find employment.
With more than two-dozen area business and organization representatives taking a spot in classrooms throughout the high school, Hiland Career Fair allowed students to explore fields they found interesting.
"Essentially this is an opportunity for students in grades 9-12 to connect with different careers and different community members," Boyd said. "It all stemmed from the realization that there is a need for kids to have practical, real-life opportunities for career exploration."
As the guidance counselor, Boyd said he would oftentimes serve as the middle man between community business leaders seeking employees and students who were interested in finding employment close to home.
Boyd recognized a void and decided to explore a way to connect the two sides. He began reaching out to professionals in the area and soon found a willingness by many businesses to make the connection.
Included in the business presentations were Hummel Group, ProVia, Rig & Co., Pomerene Hospital, Hiland High School, EcoSeal, Anazao, Dutchman Hospitality, Mast Trucking, Homestead Furniture, Weaver Leather, Sun Valley Auto Repair, Carter Lumber/Holmes Lumber, Abbey Kline Photography, Rea & Associates, Tekton Engineering, Walnut Creek Foods/Walnut Creek Cheese, S Flynn Designs, Logivision Technologies, Premier Pharmacy, Aultman Physical Therapy, speech therapist Emily Heller, Ohio State ATI, Commercial & Savings Bank, and John Miller, who spoke on entrepreneurship.
In creating the line-up for the event, which began last spring, Boyd tried to build as much variety as possible into the presenters and gave students a wide range of businesses and organizations with which to connect.
"I got a rough draft with as many different types of businesses I could find," Boyd said. "I wanted to give the kids as many options as possible. I started with a list of careers and then just connected them to a local business, and almost everyone I called was very interested in being a part of this."
The students were given a list of presenters beforehand and were asked to rank their top-eight interests in order. Boyd then put them into groups and gave each high school student their agenda for the day.
Each presenter took a classroom throughout the high school to give their five different sessions during the morning hours before all of them convened in the gymnasium and met with just the seniors and a few select juniors.
"In this community we are so blessed to have so many incredible businesses and opportunities for young people coming out of high school," Boyd said. "There are some kids who want to and should go to college, and that is awesome. But there are also those who maybe college isn't a good fit and they have some great opportunities right here in front of them. They just need an opportunity to make connections and build relationships, and this was something we felt could initiate that."
The business representatives were excited to connect with the students, especially because many of them are currently struggling to find capable employees.
"Over the last five years, staying fully staffed has been a challenge at times, and we have to work at finding quality people for full-time employment," Steve Miller of Carter Lumber/Holmes Lumber said. "We are able to make connections with the kids, but what is so great about this is that it gives students an idea about all of the great opportunities that are available to them. This could spur some ideas for them as to what they might want to explore for a career and what fits their interests and talent level. I think it is a tremendous idea. College isn't the right fit for everyone, and today we have 26 great businesses and organizations that they can learn more about."
Rhoda Troyer, owner of Rig & Co., said she is constantly on the lookout for talented and eager individuals for her growing company in Walnut Creek. She said affording the students an opportunity to explore different options opens up a whole new world of possibilities. She also said many young people don't yet know what they want to do for a career after high school and giving them as much insight into what is out there is important.
"Giving them this kind of insight while they are still in school is terrific," Troyer said. "I think the opportunities to find something here in Holmes County are much greater than a lot of young people realize."
One big theme that arose from the event was that of building relationships. Whether it was through internships, gainful employment or making initial connections that could lead to something down the road, Boyd said having the students meet and talk with business people was an important part of the day.
Each senior student had to talk to at least five business people in the gymnasium and have them sign a paper. Boyd even stressed the importance of the relational part of this event to the business people before the students arrived.
Jonathan Mast, owner of Logivision Technologies, said having an opportunity to put a name to a face for future reference was important.
"That interaction is huge, and I have already had students tell me they want to contact me next summer," Mast said. "We have internships available, and there are some great opportunities, and this can open some doors for these kids that they might not otherwise get."
East Holmes superintendent Erik Beun said watching this inaugural career fair flourish was exciting because it gives the students one more way to make a connection, build a relationship and explore what interests them.
"Mr. Boyd did a good job of recognizing a need and then making connections that will help plant some seeds to keep our young, hard-working people right here in the county, whether they go off to college and return home or simply go into the workforce," Beun said. "We are very grateful to our business community and their willingness to be there for these young people."