Central Christian auction helps with student tuition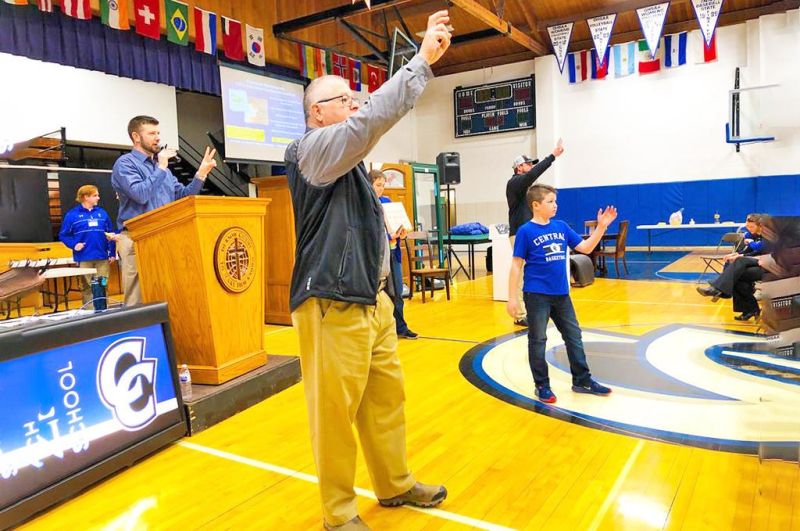 Members of the local community will have the opportunity to help hundreds of children attend school while having fun on Saturday, March 14. During Central Christian School's annual auction, attendees will obviously enjoy the event they come back to year after year, but in addition to the breakfast and auction, there will be a renovation kick-off ceremony to begin the school's much-anticipated plans to update the building.
"Local businesses, families and students donate items," said Christina Lowe, Central's communications and enrollment director. "Our auction is quite unique as special supporters of the school come together to create a match fund, which more than doubles the amount of money raised the day of the sale. The result is often 'hyper' bidding, knowing that the end bid will be more than doubled."
Superintendent Jeanne Zimmerly Jantzi said the auction was started many years ago to make variable tuition possible for those students who attend the school. The school's community comes together to raise money to "provide a high-quality, Christ-centered education with variable tuition based on each family's income and resources."
"This is especially important since Central students do not use the Ed Choice Scholarships from the State of Ohio. Central wants to be a good neighbor to our public schools and raises the funds from the school community, rather than redirecting public school tax dollars for Christian education," Zimmerly Jantzi said.
For auction lovers, Central Christian School's annual event is the perfect way to find just what they may have been looking for, all while participating in a hobby that is getting harder and harder to find as the years go by.
"Central runs a lively, traditional auction featuring nationally recognized auctioneer, (1999 Central Christian School graduate) Joseph Mast of RES Auction Services," Lowe said. "We will have a 'buy it now' table, a silent auction table and bidders can join in from home or out of state if they are not able to attend with online bidding via computer or handheld device."
Hundreds of items donated and handmade by community members, students and staff will be up for bid. Some of those featured include a Ventrac tractor, Lexus SUV and executive coaching package, as well as appliances, bedding, games, hunting-cabin experiences, meals, tools, a cooking class and more, according to Central's director of development Terry Shue.
"The auction has a long history — over 50 years — but over the past eight years it has grown in size using the auction match. For the past several years it has raised around the $400,000 mark annually," Shue said.
Funds for the renovations to the school are raised separate from the auction through donations and other fundraisers held throughout the year. Since October Lowe said $3.3 million has been raised for the building's intended face-lift, thanks to 140 households, as well as businesses donating gift-in-kind and students, faculty and staff donating their time and energy for demolition.
In addition to the breakfast offered prior to the auction, an assortment of food will be available throughout the event. And because the auction is being held this year on Pi Day, plenty of homemade pie varieties will be available.
"The auction is a time for the community to come together, to meet old friends and to have a good time for a good cause," Zimmerly Jantzi said. "Each dollar is matched, and students feel the impact."
The event will be held March 14 at Central Christian School inside of Gym No. 1. Breakfast will begin at 7 a.m., followed by the renovation kick-off ceremony at 8:45 a.m. and the auction at 9 a.m. For more information visit the school's website at www.ccscomets.org or its Facebook page at Central Christian School.
Central Christian School is located at 3970 Kidron Road in Kidron.