Central Christian introduces new approach to private school tuition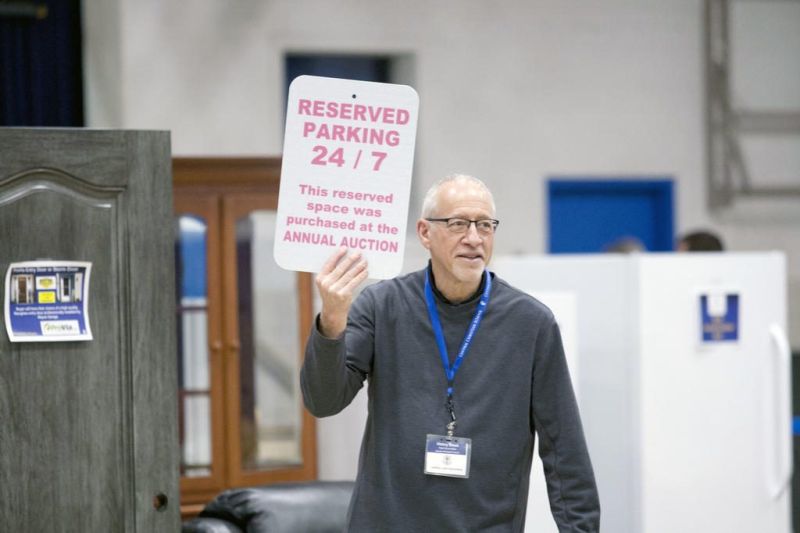 There is a stigma private schools are only an option for families who are financially secure.
Central Christian Schools is taking steps to make sure that is not the case as they pursue a new tuition option that could open the doors of a Christian-based education for any family.
"One of the things that is a concern is that people see Central Christian as an exclusive school that is expensive and not affordable," said Jeanne Zimmerly Jantzi, Central Christian superintendent. "I've found that a lot of families will self-select out without even checking because they believe that they can't afford to have their children attend, and therefore we have a danger of having only families attend who are assured that they could pay or who are able to get assistance, and there is nothing in the middle."
That notion helped generate a discussion about how the school could best address that growing concern. Out of that discussion came the idea to implement a fair balance tuition program.
The goal was to help families who would struggle to meet the financial obligations have much of that burden relieved. That is something the school administration hopes opens doors for families who felt they couldn't afford a private school.
"Education at Central Christian should not be an elite education that excludes people for financial reasons," Zimmerly Jantzi said. "We have created the fair balance tuition fund to ensure that students with diverse life experiences will have an excellent Christ-centered education."
Zimmerly Jantzi said every family wishing to enroll at Central Christian will fill out an online, third-party assessment, much like the current FAFSA forms families fill out for college financial aid purposes.
The assessment is done to generate an idea of each family's unique financial and income resources situation. The school will then create variable tuition based on each family's own unique situation.
"It's a new way of doing this because it looks at each family's situation as the cup half full instead of half empty," Zimmerly Jantzi said. "We want families to be able to pay a fair amount based on income and resources, and so the possibility of having people here increases. It takes away the stigma because everyone is going to fill out an assessment, and that is going to allow us to create variable tuition costs for families based on what they can afford. It is really important for us to create a Christ-based education in every aspect that we do, and we don't want finances to determine a family who wants to experience that be unable to attend because of financial reasons."
According to Terry Shue, Central's director of development, the fair balance tuition program is deeply connected with the fair balance fund that will help subsidize the new program.
The fund will go above and beyond what comes in from tuition revenue and will serve as the financial backbone that will help families who need financial aid have their children attend Central.
Shue said there are three different revenue streams for the fair balance fund.
The first is Community Service Day, where all students all the way down to the youngest students go out into the community and raise money by offering a service of some type. That servant-leadership quality is one that not only brings in funds, but also is at the heart of what Central wants to portray to its students.
"It is raising funds but also an expression of who we want to be in the community because it is giving back in acts of service," Shue said. "It goes beyond ourselves, and it is what the beautiful circle of stewardship is all about."
The second piece of the fund is annual giving that comes from families and businesses throughout the area that come in both annually and monthly.
The third piece of the puzzle is the biggest piece, and that is the annual auction that will take place this year at the school on Saturday, March 9.
Headlined by internationally renowned auctioneer and Central alumni Joseph Mast, the auction takes a great deal of commitment from many people to be successful.
"More than half of our fund will come from the auction," Shue said. "We have a very generous and loyal group of donors who make a matching fund, and that allows every dollar bid, at least up to $100,000, to be tripled by their generosity."
That means a $100 bid will turn into $300 for the school, and it adds up to what Shue calls hyper-bidding, meaning people tend to spend more for items because they recognize their purchase will earn three times the financial power for the school fund.
While the auction will again feature some fantastic items, from a barn or shed from JDM Structures, to a 2007 Toyota Camry Solara from Kidron Kars, to a Ventrac tractor and mower attachment, to a stainless steel grill, a whole-home power wash, games, toys, crafts, household items and furniture, the one thing the Central auction specializes in is creative ways to present purchasing opportunities for people.
"Some of the most exciting options are for special events," Shue said. "Last year the auction raised $24,000 on the new lighting project, and we purchased new LED light bulbs that are now saving us $1,000 every month and will last for 30 years."
Shue said every year the auction features a special project like that, and this year's will be the refurbishing of the old gymnasium.
"Those are the kinds of expressions of generosity in which people aren't taking anything home. They simply want to be a part of this school," Shue said.
Shue said Amish hand-stitched quilts and handcrafted furniture are staples among local auctions. They have shied away from those types of items, preferring to focus on experiences.
One of those experiences is an invitation for two to attend the Barrett-Jackson Auction in Scottsdale, Arizona, an auction that features high-end items. They will have front-row, VIP seats and complimentary food.
"That's a huge one, but they aren't all that big, yet they are all unique," Shue said. "One of them is an experience with one of our teachers who makes maple syrup with his classes. That goes for a premium. There are really some incredible and unique experiences as part of the auction."
A volunteer committee works diligently to procure all of the items, and their willingness to do so is a big reason the auction has so much to offer.
"We enjoy finding ways for businesses to share their service with the community through the auction," Shue said.
With the auction playing such a key role, Zimmerly Jantzi said every penny that comes in will be put to good use because the school wants to exemplify great stewardship.
"When I think of the generosity, I think it is part of the faith of our community and the vision of this school, and when this school first began, it was thought of as a Mennonite school. That vision has grown," Zimmerly Jantzi said. "This should be a school where many people are welcome as we come alongside of people and make attending Central a reality for families who maybe felt they could previously not afford. Creating that diversity here makes Central a really good educational opportunity."
With plenty of food including an enormous breakfast to kick things off, Shue said the Central auction is a party atmosphere filled with goodwill and electricity in the air.
If anyone is interested in making a donation to the auction, they can do so by contacting the school at www.ccscomets.org/auction2019. For more information on the auction, visit them on Facebook and Instagram.