Cornerstone kid wins cooking contest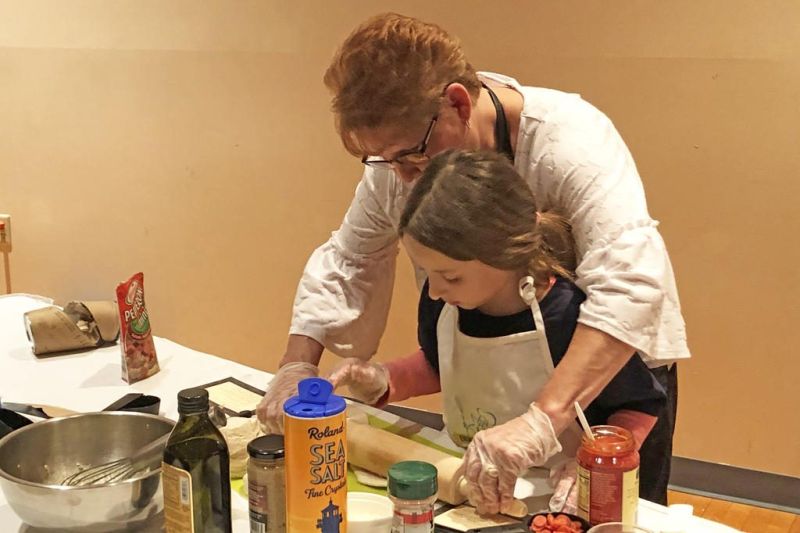 Cornerstone third-grader Chaya Wilson is a champion in the district finals of a national chef competition held recently at Cornerstone Elementary School. Her winning recipe was for pizza knots.
"I've been practicing a lot at home," Wilson said.
Wilson watches cable TV cooking shows and said she's been cooking for the past year or two. Her approach to the contest was simple: "Who knows? If you try your best, maybe you'll win," she said.
Don Lewis is Wooster City Schools food services director, and he originated the idea to enter the competition. "I think Chaya did a really good job, and she did a great job presenting it. Now we'll just have to wait and see what the judges at the next level do," he said.
Wooster City Schools high school and elementary food services staff helped guide the students in preparing their recipes, with the students reading a recipe and measuring and mixing the ingredients.
Marlene Boyer, family and consumer sciences teacher at Wooster High School, also reviewed the recipes to help determine the top three.
Anna Bucher, assistant cook manager at Cornerstone Elementary School, coordinates the school's Farm to School program, which helps the school bring fresh produce and new healthy foods to schools.
This year chefs' clubs met weekly at Edgewood Middle School and Cornerstone Elementary. Students learn about activities such as farming, planting and nutrition. Next year the program will be expanded to all Wooster schools.
Kyle Wilson's entry in the competition was veggie nuggets. Jessica Tawney from Wooster High School food services helped him prepare the dish.
Kyle Wilson said he practiced at home the night before the competition. "Maybe I'll win, but the cheesecake sure looks good too," he said.
The National Future Chefs contest is held by Sodexo, the district's food services supplier.
Elementary school students from Sodexo-served school districts across the United States were challenged to create healthy recipes they'd like to see on their school menus. Through the contest students learn about nutrition, make healthy food choices, build basic math skills and develop cooking techniques by participating in a good-natured competition.
The winners were chosen using the same criteria at each location: taste, originality, ease of preparation, healthy attributes, kid appeal, plate presentation and — the newest criteria — a student chef presentation to a panel of judges.
In year 10 of the Future Chefs Challenge, hundreds of school districts challenged students age 5-12 to create and submit a recipe that reimagined their favorite school lunch meal.
Once the five finalists are chosen in the spring, each will create a video of themselves preparing their dish. The public will then weigh in via online voting to determine the winner, who not only gets special prizes, but also earns a spot on next year's school menu.
The Sodexo Future Chefs Challenge encourages healthy eating habits by actively involving students in good nutrition. Sodexo is renowned for its work in advancing childhood nutrition, health and well-being and understands engaging youth in the creation of nutritious meals is one of the best ways to improve health, fuel minds and improve academic outcomes.
The public can view video submissions and vote for a winning recipe at www.sodexoinsights.com. Voting will end April 29 at 11 p.m. A winner will be announced April 30.