COW staying proactive with COVID-19 strategies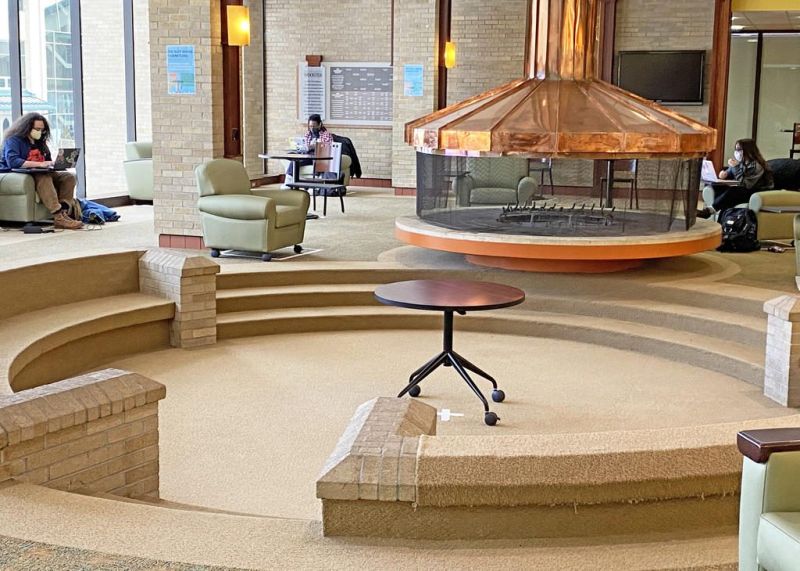 The College of Wooster has taken a proactive approach to addressing the COVID-19 situation on campus this academic year, and those efforts continue into the new year.
The college has returned to in-person classes with approximately 29% of the students electing to continue remote learning this semester, according to The College of Wooster President Sarah Bolton.
"The college has worked with local, state and national public health advisors to develop guidelines for how we would modify operations if campus or community conditions required us to do so," Bolton said in a prepared statement. "Because each situation is unique, our actions will always be tailored to the specific situation and current expert public health guidance. The current operating level will always be publicly available on our 2020-21 Guide Webpage and will include specific guidance regarding on-campus activities."
The college tested all students before arrival and continues weekly testing for all students, as well as dorm wastewater monitoring and regular testing for staff and faculty to ensure any COVID-positive individuals are identified quickly to prevent spread of the virus.
Wooster is unique in that it has a global student body, consisting of students from 65 countries.
The COVID-19 pandemic has presented Visa and other travel restrictions for international students attending colleges and universities across the U.S. including those studying in Wooster.
"International students are welcomed to campus and have the same opportunities and restrictions as U.S. students; however, the pandemic presents particular challenges for international students," Bolton said. "Throughout the pandemic, we have worked to ensure international students who want to go home and can safely travel home are able to do so. For students who want or need to remain on campus, we are providing maximum flexibility for them to do so, as well as providing opportunities for them to continue to gain hands-on research and internship experiences virtually.
"Our approach continues to prioritize flexibility to ensure all students, regardless of location and time zones, are able to learn and receive mentoring and critical campus support services."
For the school's international students, staff members in International Student Services are working alongside faculty to ensure they have course loads that meet the requirements for those remaining in F1 status in the U.S. and are constantly monitoring the situation closely including changing laws and policies, Bolton said.
The college also has been working hard to resume athletic competition. The Fighting Scot men's basketball team played scrimmages Feb. 5-6 against Wittenberg.
"Our ability to play at any time this semester will depend on the institutional and local public health landscape," Bolton said. "For athletics, health and safety protocols have been carefully reviewed including testing protocols, practice re-acclimatization, small group and functional unit work, and, of course, our commitment to masking and physical distancing whenever possible. Coaches have been working on both practice and contest schedules based on institutional and conference parameters. To reduce travel generally, Wooster's schedules will be focused locally, without overnight travel. The NCAA has canceled the national championships for winter sports in Div. III."
Bolton said the college is glad many of its partners in the NCAC conference are finding ways to bring back athletic activity safely.
"Our winter sports (basketball, swimming and diving, and track and field) will be the first to see practice and competition this semester," she said. "There will be no in-person spectators, but we invite the wider community to join us via livestream at woosterathletics.com."
The college's normal spring break has been modified this year to provide two separate rest days for students on March 9 and April 7 in lieu of the normal two-week spring break.
At present, IS Monday is scheduled for March 22, IS Symposium for April 16 and Commencement for May 9. The college has yet to make decisions on the format for these events.
Bolton said the faculty has worked hard to find creative and innovative ways of delivering courses in multiple formats to ensure students have flexibility in choosing how and where they take their classes.
"Our students have been incredibly resilient, showing care for the campus community by wearing masks, adapting to changes in operations with new public health guidance, and finding meaningful ways to connect and create community despite the limitations," she said.