Dalton schools work to create effective environment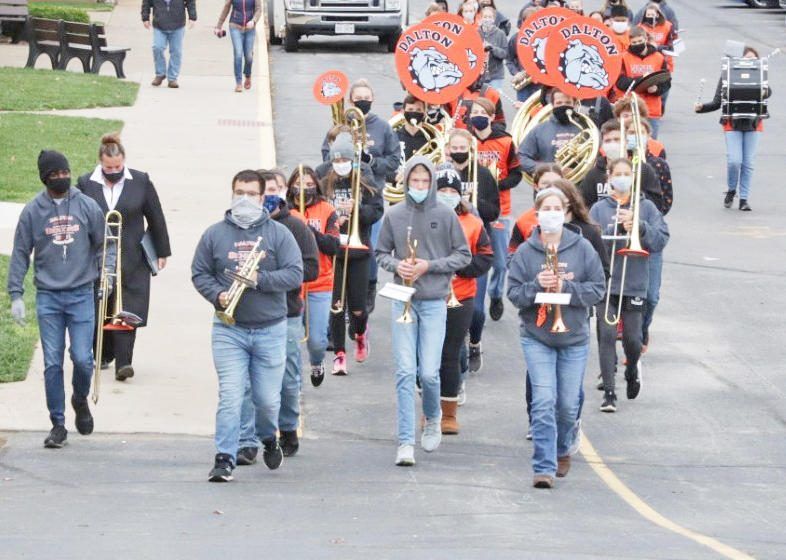 Regardless of one's place in society, it is impossible not to feel the effects of COVID-19, and schools are perhaps one of the most affected parts of the country.
Given the necessity of education, this has been a challenge both educators and administrators have had to deal with head-on, and it has certainly been something of an uphill battle. In the Dalton Local School District, teachers and other school officials have been working tirelessly to create an effective educational environment.
At Dalton it's become a complex situation as different schools in the district have had different responses. The elementary and middle schools have remained in the classroom, having face-to-face classes, and Dalton High School has shifted to remote instruction, having its students complete their assignments from home.
Despite the safety provided by not being in classrooms, this approach is not without its difficulties, both for teachers and students. When schools operate as usual, teachers hold various roles, both being personal mentors for students and academic instructors.
However, the mentorship aspect of teaching has suffered greatly in the pandemic world as teachers' abilities to observe student behavior and body language has suffered in the contemporary online classroom. Like a number of teachers, Dalton High English teacher Zach McFarren has made it so his students can still come to him with their thoughts and feelings.
"During our extended quarantine, I posted a weekly topic inviting students to share how they were truly feeling emotionally and mentally," McFarren said. "I simply encouraged students to write down their thoughts. I truly believe students need an outlet to explore their views on the world around them. It also demonstrates that I care about them, which I do."
These opportunities give students a chance to continue a connection with their teachers in personal ways in addition to academics.
"On Fridays we do not have class, but the whole day is dedicated to communicating with our teachers and getting any assistance that we may need from them," Dalton senior Kiersten Harper said.
Given these opportunities, high school students are not left in an academic vacuum and are allowed time to approach their teachers with any issues they are having in their work.
Additionally, the arts cannot be forgotten in remote instruction. Music, both vocal and instrumental, is a key part of the Dalton High School arts department, with the band and choir performing both in local venues and outside of Dalton.
"As of right now, the band will only be playing at DHS, (which) includes the winter concert, spring concert and graduation," Dalton band director Randy Kaserman said.
Keeping the band together as an ensemble while learning and working from home is certainly a daunting task. However, Kaserman has worked around this too. "I meet with instruments by section through Google Meet during the scheduled time," he said. "It is too difficult to do group playing with 60 people (the full band size), but by doing it by section, there are only eight to 10 people, so it is more manageable."
Keeping the band together as a group, even if those are smaller groups than usual, still keeps a relatively high sense of camaraderie between the musicians, especially given the circumstances.
"I feel (face-to-face instruction) is more beneficial than giving written assignments or having students rehearse on their own," Kaserman said. "Band is a social class and a team, so I feel the more we can keep the students engaged in playing and working together, the better."
Instructing and educating remotely has not been without benefits, however unforeseen they may have been, especially due to the efforts of the DHS leadership including principal Christopher Black.
"The school has done a fantastic job of trying to give us the best senior experience we can have during these times, and I'm grateful for that," senior Kayla Vankirk said. "Mr. Black works with us constantly to figure out what we want and how to make it possible while following Ohio guidelines and keeping us safe."
That is what education is truly about: working with the students to make sure they are as successful as possible and working toward giving them the tools necessary. In a phase of life as rocky and confounding as this year has been, teachers, administrators and students are rightfully pulling together to make it work, giving students the best education they can have.